As you're probably already aware, outdoor magazines such as Bike, Surfer, Powder and Snowboarder have all shuttered their windows and shut down their presses. So now what? Where do you turn for some real human-powered and adventure-based outdoor and journalism? And by journalism, we're not talking about tweets, posts, and pieces written in and curated by whatever advertising banner flies across a website or social media platform.
Print journalism — especially outdoor magazines — is supposed to show an investment in credibility. Its printed editions say, we care and we are serious about what we do. And how do you gain access to a quality outdoor journal? You pay for it, that's how.
We have no problem spending money for independent music, artisan foods and craft beer, as well as the artists we really want to see. To obtain those experiences, we go buy the vinyl, we shop the local markets, we attend the art shows, and we actively support these ventures.
But today, the majority of our best journalists, photographers, editors, and artists are independent operators, some contributing to outdoor journals such as Adventure Cyclist Magazine, BikePacker Magazine (now part of Bikepacking.com), The Surfers Journal, and Adventure Journal. Unfortunately, these magazines could soon disappear if we don't continue to support their work.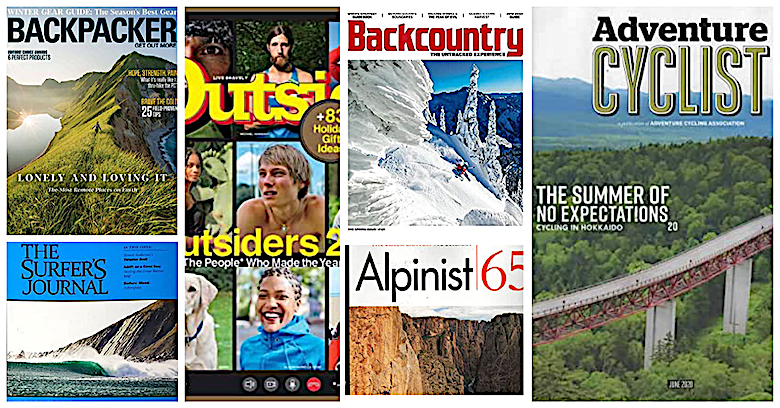 "Ah," you say, "But I can view any of these journals on their websites and see what they are doing." Yes and no.
Yes, you can see the work of these journals — and their journalists — online, and indeed, the quality of the photography is beautiful, and the writing is inspiring. With just a click of a mouse, you can get a fair representation of what a slick, colorful, hold-in-your-hand magazine can give you. But not quite.
Print magazines and journals are the best! They physically arrive on your doorstep and you devour them so fast you can't wait for the next to arrive. And the next issue won't arrive for another three months! So, you keep your back issues. Another plus, no need to plug in, boot up, log on, and go into a search box to find words to read and beautiful pictures to help you escape.
Three months between issues? Sometimes! Quality takes time. 
We're not saying online journalism is without merit. But, honestly, in a short time, online articles are shuffled off to Recent Posts archives, mistakes and typos are corrected and edited. But once a magazine or journal is printed and in your hands, it is
Continue Reading