Emergency Medicine
Advanced EMT (bridge)
Ages 18+ | 23 days | Starting at $2745
A 23-day 'Intensive' bridge from EMT to Advanced EMT (AEMT) initial certification course that satisfies eligibility requirements for the National Registry and North Carolina State AEMT examinations. All 23 days take place in person at our campus in Wilmington, NC.
Overview
Adventure First
The National Center for Outdoor & Adventure Education (NCOAE) is an approved North Carolina Office of Emergency Medical Services (NCOEMS) Education Institution, authorized to offer this 23-day Initial AEMT (Bridge) training. The training satisfies eligibility requirements for the National Registry and North Carolina State AEMT examinations.
We know your time is valuable, which is why this training follows the guidelines set by the National Scope of Practice Model and is designed to help prepare individuals who already have an EMT certification for licensure as an AEMT. NCOAE offers this professional and practical AEMT training, taught by our experienced instructors on the NCOAE campus in Wilmington, North Carolina.
Pre-hospital emergency medicine is an always-changing environment, and each day provides new challenges and unexpected emergency situations. If you like providing medical and trauma assistance in settings from wilderness terrain to urban buildings, our AEMT training is for you. Training consists of classroom, laboratory and actual field experience.
NCOAE's EMS instructors are certified Emergency Medicine professionals ranging from EMTs to Paramedics and RNs and are the best in the industry. They have experience in EMS, hospital, fire service and military settings. Through the virtual platform and in person, they provide expert instruction and individualized training to ensure your EMT training experience meets the high expectations of all NCOAE courses.
EDUCATION ALWAYS
AEMT students must hold a current EMT certification (State or NREMT).
AEMT students must have completed college level math and English prior to course start.
AEMT upgrades the EMT Scope of training, including IV therapy, advanced cardiac arrest care, advanced airway management, and advanced pharmacology.
Along with the classroom time, AEMT training requires clinical experiences in the hospital emergency department and on ALS ambulances. During these clinical hours, the AEMT student must successfully demonstrate full practical knowledge of skills learned.
Upon completion of all classroom and practical skills hours, AEMT students must successfully pass a standardized psychomotor and cognitive assessment before becoming eligible for certification.
This course meets all initial AEMT education requirements for the National Registry of EMTs, National Highway Traffic Safety Administration (NHTSA), and the State of North Carolina.
Skills Acquired
The course is intensive, but we make time for fun along with the fundamentals. Upon successful completion of this 324-hour course, students have up to 24 months to pass the NREMT AEMT exam and/or 6 months to pass the North Carolina State AEMT exam. Individual state requirements for certification vary, contact your state's Office of EMS directly for more information.
This 'intensive' NCOAE training provides students the opportunity to learn through theory and practical applications how to care for patients at an advanced level. Students are prepared for a career in Advanced EMS through lecture, laboratory, and clinical experiences.
Academic Credits
Your work during our A-EMT Training may be eligible for college-level credits through Keystone College or the college or university that you are currently attending:
PHED 1125 F2F 001 — 1st Aid/Safety: 2 credits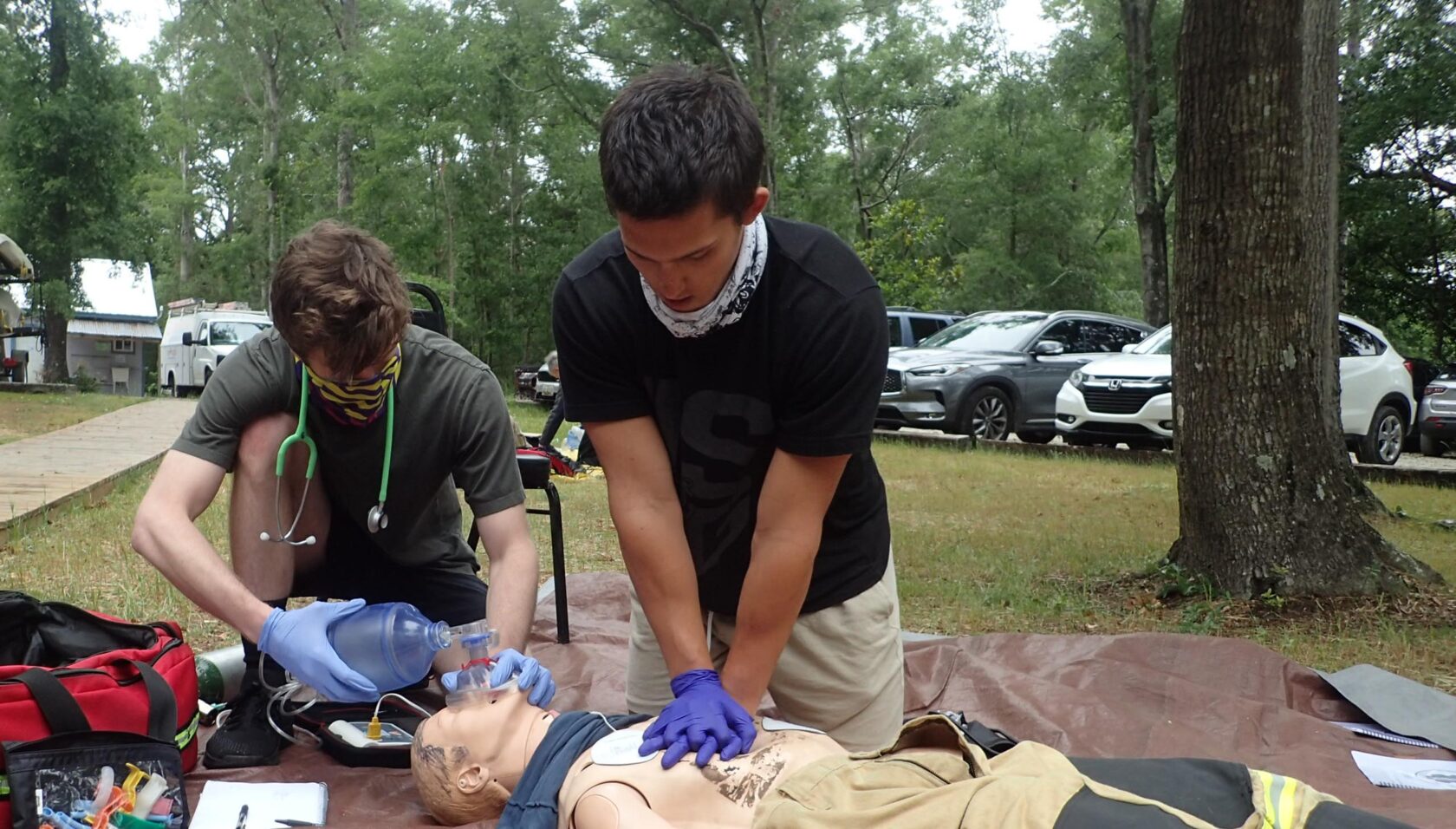 Itinerary
Highlights
Your AEMT certification is designed to train you to provide patient care and transportation, augmenting prehospital critical care and providing rapid on-scene treatment.
AEMTs are usually employed in ambulance services, working in conjunction with EMTs and Paramedics. The AEMT is authorized to provide advanced life support, which is beyond the scope of an EMT.
The text and lecture formats are designed for the students in a single course to achieve the goal of certification under the North Carolina Office of Emergency Medical Services and the National Registry of EMTs as an advanced level EMT.
All 23 days of this training takes place at the NCOAE campus. You'll have housing options including living with fellow students in a rustic cabin or pitching a tent. Accommodations include shower, kitchenette, wi-fi, and 24-hour access to an on-site classroom.
Talk to Us
Have any further questions about the course location, what you'll learn, or what else to expect? Contact us, we're here to help!
Frequently Asked Questions
Will I complete the National Registry (NREMT) written exam before leaving NCOAE?
No. EMS educational institutes across the country are not legally permitted to administer this exam. To take the National Registry exam, you must create a profile on the NREMT website and submit an application for certification as an EMT. Upon successful completion of your initial EMT training, NCOAE will verify your application and you will receive an Authorization To Test (ATT) explaining how to schedule your computer-based and psychomotor exams. NCOAE will help guide you through this process during your training.
Does tuition cover the cost of the NREMT Exam?
No. Not everyone decides to take the NREMT exam, therefore it is not included in the cost of tuition.
Will I complete the NREMT psychomotor exam evaluation during this course?
No. Currently, the National Registry requires a two-week waiting period upon successful completion your A-EMT training. To this end, you will be responsible for locating and scheduling an A-EMT psychomotor exam evaluation upon successful completion of your training.
When do we sign up for clinical and how much time is required for clinical?
You will be assigned a clinical ride-along site and time during the first week of class. You will be required to participate in 48 hours of clinicals in the ER and 48 hours of clinical ride-along time on an ambulance to be completed with our partners throughout the state of North Carolina.
What prerequisites do I need to have to attend this training?
Be a minimum of 18 years of age on or before the end date of the course.
Have a high school diploma or equivalent
Have completed college level math and English
Provide documentation of vaccination for MMR, HBV, Varicella (vaccination or prior Chicken Pox infection), Flu (October-March) and COVID-19. Students who have started the HBV series meet the requirement.
Provide documentation of Tuberculosis screening (skin test or chest x-ray result) conducted within 12 months of course completion date.
Complete a 12-panel or greater urinalysis drug screen within 6 months of course completion date.
Complete criminal history background check with CastleBranch
Provide proof of current EMT credential (State or NREMT) and proof of 500 or more hours of EMS or other patient care experience
Complete all assigned pre-course training.
What is the average age of students?
On average between 22 and 38 – but we commonly have older students as well.
Will I have any free time during the Advanced EMT training?
Due to the intensity of this course, there will not be a lot of free time. You will be in class five days a week for presentations, lectures, and practical skills training, and your weekends will are reserved for you to complete your 96 hours of clinicals.
Will NCOAE provide me with extra resources if I fail the NREMT exam on my first attempt?
If you fail your first attempt of the NREMT exam, we recommend that you contact NCOAE and request resources and extra support to prepare you for your second attempt.
What is the difference between the basic EMT and the Advanced EMT (Intermediate) training?
The A-EMT training focuses on advanced life support, whereas the basic EMT focuses on basic life support. The A-EMT training emphasizes IV therapy, advanced cardio, and advanced pharmacology.
Who takes the A-EMT Intensive course?
Anyone who has successfully completed and is currently credentialed as a basic EMT, and anyone pursuing a career in advanced life support and emergency medicine.
Can I upgrade to a Wilderness EMT after completing this training?
Yes. Anyone who possesses an EMT-B or A-EMT certification is eligible to upgrade to a Wilderness EMT (W-EMT). To do so, you must successfully complete a W-EMT training in order to be eligible for the upgrade.
Are financial scholarships available for the A-EMT course?
Is college credit available for this course?
Yes. If you are currently enrolled in a college or university, you will need to contact your academic advisor and provide them with a syllabus to include: lab hours, practical skills hours, and classroom hours. Your academic advisor should be able to guide you through the process of obtaining credit hours for this course.
Are meals provided?
Food is not included. There are restaurants and supermarkets within walking distance from our campus. Students living on campus have access to both refrigerated and dry food storage space as well as the use of utensils, a coffee maker, hotplate, microwave, and toaster oven for students to prepare meals on-site.
What is it like to live on-campus?
Students may bring their own camping equipment, or choose to stay in one of our shared-space, 'rustic' cabins. The cabins have no power and each sleeps up to four students. The on-campus housing option charge applies regardless of whether or not students choose to camp or stay in a cabin. Housing includes outdoor shower access, use of the kitchenette, and trash/recycling removal. Please let us know what your housing preference is when you register.
What if I want to stay off campus?
NCOAE highly recommends that students stay on campus during the training. For one thing, it is likely the most economic option available. This helps students assimilate the high volume of information that they are receiving and promotes collaboration between classmates. However, if you would prefer to stay off campus, Wilmington has lots of great options for temporary housing. Contact our office and we can recommend hotels, motels, and campgrounds close by.
Does this class require me to be stuck with needles?
Yes. This class requires active participation of all students to practice sticking needles and being stuck with needles in pursuit of learning skills necessary for IV therapy.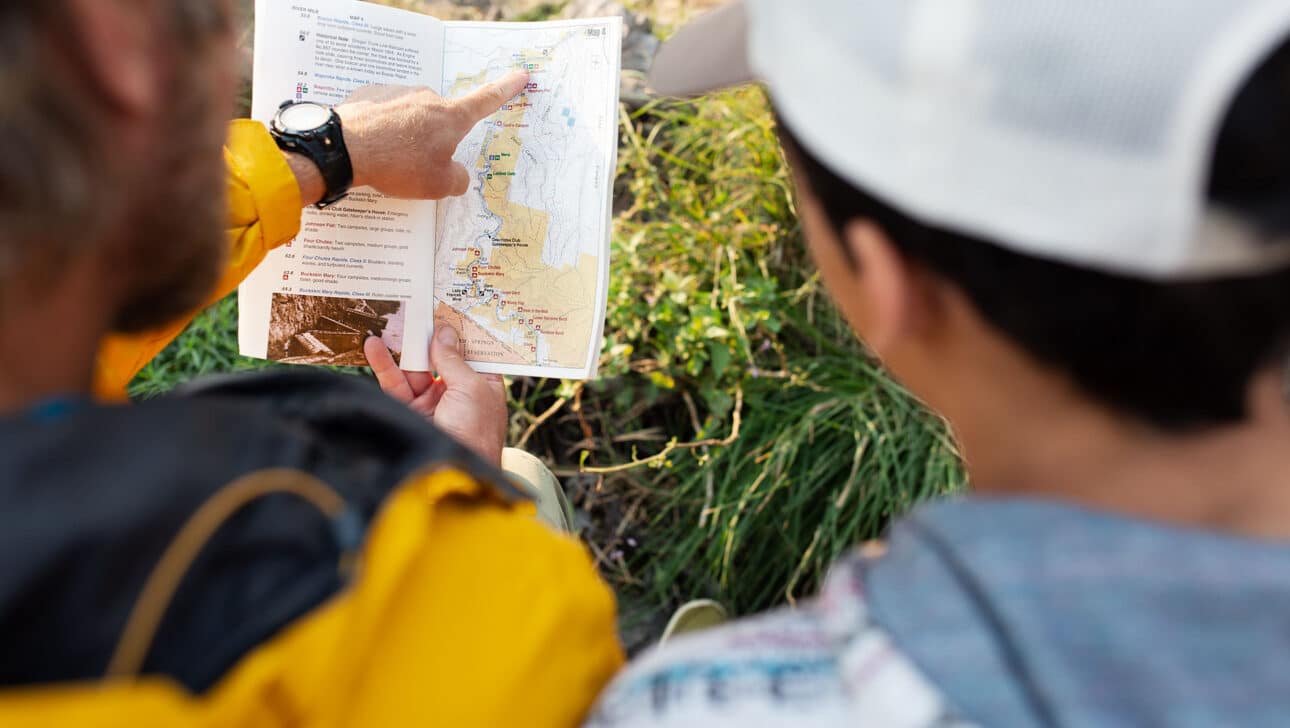 Participating in an NCOAE course has been one of the greatest experiences of my life!
It helped me to grow emotionally and taught me skills that I am able to transfer into my everyday life. I am truly grateful and lucky to have been a part of this program