Lodging & Meals On Campus
While The National Center for Outdoor & Adventure Education offers courses and expeditions across the globe, in Wilmington, North Carolina — where we offer a number of unique medical trainings and custom outdoor programs — we're headquartered on a 15-acre wooded campus that offers housing options for students enrolled in one of our programs.
If you're enrolled in an NCOAE program that occurs on our Wilmington campus, you may bring your own tent and stay under one of our covered tent pads (a flat spot with a covered roof that we've designated to pitch a tent), or you may stay in one of our rustic cabins.
The standard rental price for accommodations is $20/night for a tent pad, and $35/night for a space in a shared cabin.
About Our Cabins
Each cabin sleeps up to four students, and cabins are separated by gender. While our cabins have power and air conditioning, they do not offer heating elements. As a result, we recommend that you come prepared for the weather you expect during your course or training.
Please note that our cabins are basic. They were designed with a functionality-first mindset and are not capable of offering a level of luxury found in an Airbnb or high-end hotel.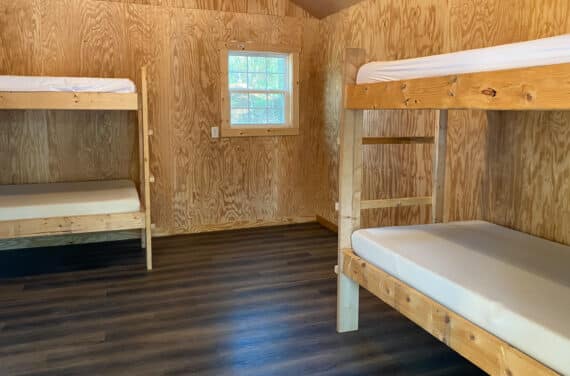 About Our Tent Pads
Using one of our tent pads eliminates pitching your tent on uneven ground, rocks, roots, and other natural debris. And unlike our cabins, tent pads offer no access to power.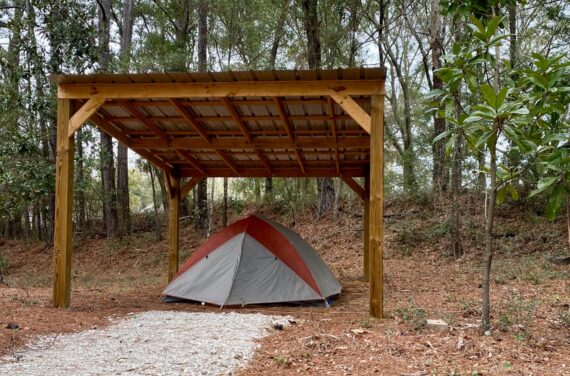 Additional On-Site Housing Details at NCOAE
Facilities
On-site housing at NCOAE includes 24/7 access to our on-campus facilities, which include bathrooms, showers, classrooms, and kitchenette spaces with refrigerators, freezers, pots/pans, dishes, utensils, food storage, hot plates, microwaves, and toaster ovens.
Wifi
Free wifi is available with a guest password, and central heat and air is found in most on-campus buildings but not in any of our cabins.
Food & Location
Meals are typically not provided for on-site trainings. However, a grocery store, coffee shop, and several fast-food and casual dining options are within walking distance of our campus. There are also nearby parks, hiking trails, beaches, and waterways for use during time off and downtime from courses and trainings.
Reserving Your Spot
Please note: Since on-campus housing is limited, it's a good idea to reserve your spot upon enrollment in your course/training. If you'd prefer to stay off-site for a Wilmington-based program, please contact our office for recommendations on local hotels and campgrounds.
Lodging & Meals for Outdoor Expeditions that Start in Wilmington
On-campus meals and lodging are typically included in the tuition for outdoor expeditions that start from our Wilmington, N.C. campus.
Once your group departs our campus, you'll spend most nights during your course in a backcountry / wilderness setting. We'll be living in tents and traveling to new camping areas most nights, enjoying evenings by a campfire, identifying stars, and sharing highlights and observations of our day(s) in the backcountry.
Participants in these courses stay in a two- and four-person tents with people of the same gender. When conditions allow, we may sleep out on a tarp under the stars.