Our Core Values
NCOAE is committed to engaging students through a theory of change that can help you understand who you are – so you can make a difference in the world.
That's the power of the National Center for Outdoor & Adventure Education (NCOAE) Core Curriculum.
NCOAE's philosophy is founded upon the promotion of self, plus the support within thriving community, plus the acquisition of action skills equals impact.  This theory of change defines and directs who we are, what we do, and how we do it.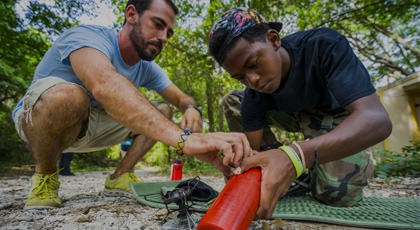 SELF

Each NCOAE course starts with understanding that everyone is a unique individual, with their own strengths, weakness and values. We believe that understanding who you are can help you to find your path in the world.

COMMUNITY

An integral part of our curriculum is designed to help connect each other and develop a healthy and effective community.
ACTION

The best way to learn is to do! That's why we give you opportunities to practice what you are learning every step of the way.

IMPACT

And, at the end? Your job is to learn how to take it all with you and share it with others in your home and community.