Meals and Camping — Expeditions
MEALS
Here at The National Center for Outdoor & Adventure Education, we're actually pretty well known for creating gourmet meals in the backcountry. And since we carry all of our food either on our backs or in our boats, much of our foodstuff appears in dehydrated forms, such as pasta or rice.
That's because water weight is, well, weighty. And we'd much rather leave room in our packs for fresh vegetables, fruit, and fun snacks to mix things up.
Meals in the backcountry offer a variety of options — from meat and grains to fresh-baked bread, not to mention pizza made from scratch. Our students are taught to cook meals on the trail, often discovering they've developed cooking skills that they gladly bring home.
Custom-Made Menus
There's always plenty of delicious food on an NCOAE trip, and each course includes its own custom-made menu, with portion sizes and quantities designed to meet the dining desires of every group.
For shorter trips, we pack up everything and bring it with us. During longer expeditions, we bring along our non-perishable items (like rice, pasta, and snacks), then restock freshies (fruits, meats, veggies) from local vendors along the way.
No matter the adventure, we always ensure your menu has a balance of:
Fruits and vegetables
Carbohydrates and sugars
Protein
Healthy oils and fats
Oh, and you can always count on us to have portions available for seconds or extra snacks available for even the hungriest of our students. Most breakfasts and lunches are served buffet-style, while dinners are often served family-style.
Dietary Restrictions
We can easily accommodate most food allergies and dietary restrictions, including those related to peanuts, tree nuts, soy, dairy, gluten, and even vegan and vegetarian students.
EXAMPLE MENU ITEMS
Typical breakfast items
Cereal and/or granola with milk, yogurt, and fresh fruit
Blueberry pancakes with sausage
French toast with eggs
Breakfast sandwiches (English muffins, eggs, bacon or sausage and veggie patties, cheese, and spinach)
Breakfast burritos (tortillas, eggs, salsa, veggies, beans, cheese)
Hash browns with peppers and onions
Scrambled eggs and sausage
Bagels and cream cheese
Oatmeal with dried fruit, nuts, and brown sugar
Cheesy grits with bacon
Typical lunch items
Sandwiches – turkey, ham and cheese, and peanut butter and jelly
Summer sausage and cheese wraps
Chicken salad wraps
Tuna wraps
Chicken Caesar wraps
Taco salad
Pizza pitas
Typical dinner items
Pizza (homemade, personal pan)
Chicken and/or veggie stir-fry
Shepherd's pie
Potato mashers
Polenta w/peppers, onions, & sausage
Fiesta chicken
Thai peanut noodles
Mac and cheese
Pesto pasta
Chicken alfredo
Bean and rice burritos
Chicken and veggie quesadillas
Quinoa with chicken and veggies
Lentil rice curry
Chicken and rice
Spaghetti
Hamburgers and hot dogs
Gado gado Indonesian salad
Chili and rice
Chicken noodle soup or ramen
Typical snack items
Fresh fruits like apples or oranges
Peanut butter pretzels
Chex mix
Goldfish
Granola bars
Trail mix
Dried fruit – mangos, apricots, pineapple, banana chips, etc.
Pretzels
Carrots and celery with hummus
Chips and salsa
String cheese
Beef jerky
Typical dessert items
S'mores
Cookies
Brownies
Rice Krispy treats
Ice cream sandwiches or popsicles
Cherry or strawberry cheesecake
Oreo cheesecake
Vanilla or chocolate cake
Apple crisp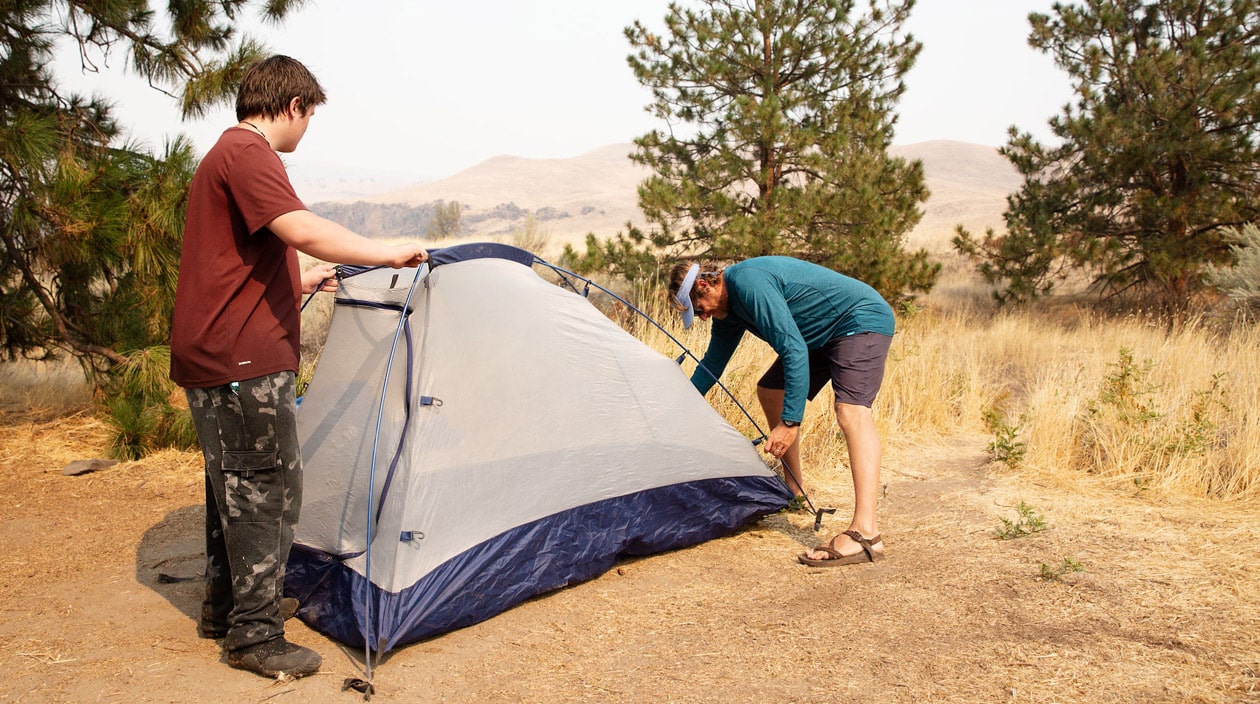 CAMPING
All of our outdoor expeditions begin and end at one of our many basecamps around the globe. After an orientation, we spend time helping you get to know your group and prepare for the first expedition leg of your journey. Topics covered include menu planning, gear selection, trip planning, and how to "pack out" for group expedition travel in remote wilderness areas.
Then you'll head out with your group to explore some of the most beautiful mountains and rivers in the world, from the rolling peaks of the Appalachians to the snow-capped volcanoes of Patagonia. We'll be living in tents and enjoying our evenings in different areas most nights, identifying the stars, and sharing highlights of our learning.
While there are no predetermined distances, you'll travel three to five miles a day on a typical course. You may travel several miles one day and none the next. Either way, you will learn to embrace and appreciate the unknown and the unexpected.
HYGIENE
We know one of our students' biggest concerns is how they'll stay clean without showering. The great news is, it's surprisingly easy! You'll typically shower about once a week, and your instructors will teach you how to maintain good personal hygiene in between, including using wet wipes each day to clean yourself and how to create and use a bathroom in the woods.
When you're outdoors and away from your normal routine, you realize you can still have a ton of fun even if it's been a few days since you've washed your hair. It's important to remember that if you're stinky, that means everyone else is stinky, too.
Each trip's packing list has a comprehensive and detailed section on toiletries. Also, a lot of our trips include time on or near the water, whether it's an alpine lake, a freshwater pond, or a meandering river. You'll have plenty of time on these courses to splash around and rinse off, leaving you feeling clean and refreshed.
Hygiene Kits
Regardless of our location, each group will have a hygiene kit, which will include plenty of hand sanitizer, soap, and hygiene wipes. Students and staff will wash their hands before and after every meal and after each trip to the bathroom.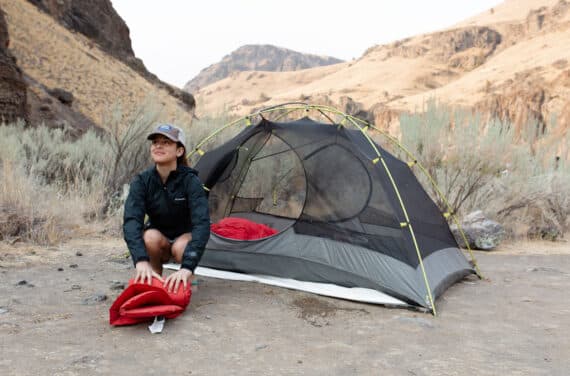 Laundry
On longer courses, there may also be the opportunity to do laundry once or twice during your course. Pay attention to the quantity of each item on your pack list in order to ensure you have enough clean clothes to get you through each section of your NCOAE adventure.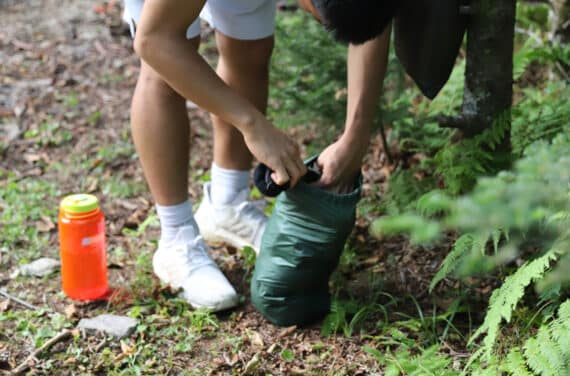 Start Your Adventure
Now you know what to expect, find the perfect expedition for you!