Teen Expeditions
Teen Mountain Expedition — North Carolina
Ages 13–14 | 7 days | Starting at $1895
Discover North Carolina's mountains, as you explore the wilderness on a summer backpacking expedition!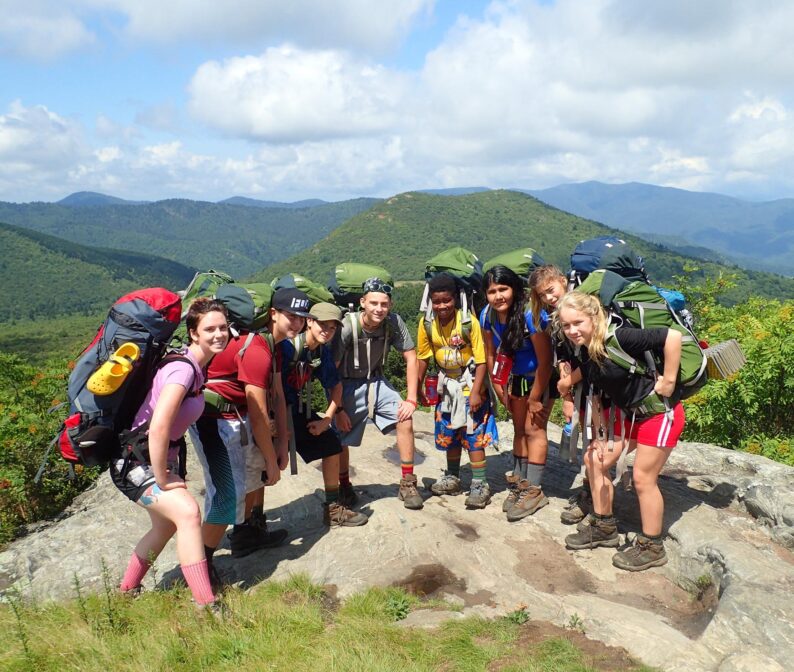 Overview
Adventure First
At the National Center for Outdoor & Adventure Education (NCOAE), we know adventure. Immerse yourself in outdoor adventure, while learning the technical skills to travel & explore remote destinations in wild North Carolina!
Explore some of America's most historic terrain – the majestic Blue Ridge mountains. Travel along cold-mountain streams, cascading waterfalls, and mountain passes, as you explore the Pisgah National Forest!
This 7-day backpacking teen adventure course is designed specifically to build sustainable lifelong leadership traits while simultaneously teaching you how to master outdoor survival skills. During this 7-day overnight camping expedition you'll experience a one-of-kind excursion highlighted by hiking and backpacking through the gorgeous outdoor terrain of North Carolina. This wilderness leadership adventure is specially designed for teens, as NCOAE teaches lifelong skills that will resonate you beyond anything you can learn in a classroom.
During your expedition, you will have the opportunity to sharpen your backpacking skills, as you travel through the Appalachian mountain range, exploring rocky ridges and breathtaking mountain vistas. You may even get the chance to apply your new skills in the last few days of the course with a "graduation climb" up a mountain peak.
EDUCATION ALWAYS
Leave No Trace (LNT) Awareness certification
Expedition planning
Remote wilderness camp craft
Backcountry navigation
Backpacking skills
Experience best practices in environmental and civic responsibility
Course Details
Fly-In/Fly-Out
Wilmington International Airport (ILM)
Alternative drop off/pick up locations
Please contact the NCOAE office.
Register for Course
Skills Acquired
Develop Backpacking skills
Explore the Appalachian mountain range
Challenge yourself in new and rewarding ways
Gain the skills necessary to explore the wilderness
Advance your knowledge of outdoor skills, leadership skills, environmental science, and more
Academic Credits
Not currently offered for this expedition.
Itinerary
Highlights
Gain new leadership and outdoor skills
Make new friends and lasting memories
Explore wild and remote North Carolina mountains from the trail to the rivers
Challenge yourself like never before
Eat amazing backcountry meals
Location
On the Map
Pisgah National Forest
The Art Loeb Trail
Black Balsam Knob
Talk to Us
Have any further questions about the course location, what you'll learn, or what else to expect? Contact us, we're here to help!
North Carolina Teen Expedition Program Video
Frequently Asked Questions
What is the 7-day North Carolina – Teen Backpacking Adventure?
The North Carolina – Teen Backpacking Adventure is a multi-day wilderness adventure during which you'll participate in backpacking and camping activities – while learning how to travel in the backcountry.
You'll visit a variety of remote areas in the North Carolina Appalachian Mountains, such as the Pisgah National Forest, the 30-mile-long Art Loeb Trail, Black Balsam, and the Shining Rock Wilderness Area. Along the way, you'll explore the rugged ridges of these mountain areas as you practice the basics of camp setup, backpacking, and other outdoor skills.
How far will I be hiking?
You and your group will travel more than 20 miles across mountains, cool mountain streams, and cascading waterfalls, practicing backpacking skills needed to explore rugged, remote areas around the world!
Where will we be staying?
We'll be living in tents and enjoying our evenings in different areas most nights, identifying the stars and sharing highlights of our learning.
Is the 7-day course offered in other locations or on different dates?
We offer this course in a variety of locations and during different periods throughout the summer to accommodate the destination and schedule that works best for you.
You can also explore the Pacific Northwest and North Carolina on other multi-day teen expeditions!
What do I need to do to physically prepare for this course?
You do not need to be an "Ironman" to participate in this course. That said, you will be required to carry your own pack, with your own gear and some group gear. Your pack will weigh between 30 and 40 pounds at any given time. You will be hiking over rugged terrain, crossing rivers, and climbing rugged ridges.
What is the average group size and instructor/student ratio?
Each group has two or three instructors and eight to 12 students. We maintain an instructor-to-student ratio of no less than one instructor for every six students.
What are the minimum and average ages of participants?
Students enrolled in this course are 13-14 years old.
What gear and equipment do I need?
NCOAE provides all necessary group gear and food, but you will want, or be required, to bring certain items for yourself. We encourage you to contact NCOAE with all of your gear questions as early as possible. Start planning now by viewing the NCOAE pack list for this course.
Beyond my tuition, what will I need to pay for in North Carolina?
Your tuition with NCOAE covers all major costs related to your room, board, and lodging, except when specified in the itinerary. Students should bring a small amount of spending money for personal items; such as souvenirs, extra snacks, and gifts.
What kind of food will I be eating?
Since we will be carrying all of our food on our backs, we'll be eating many of the items that begin in their dehydrated forms; water weight is not something we want to carry. Expect meat, vegetables, fruits, grains, and even fresh baked bread and pizza! Of course, you'll be making them all from scratch — learning to cook backcountry gourmet on the trail.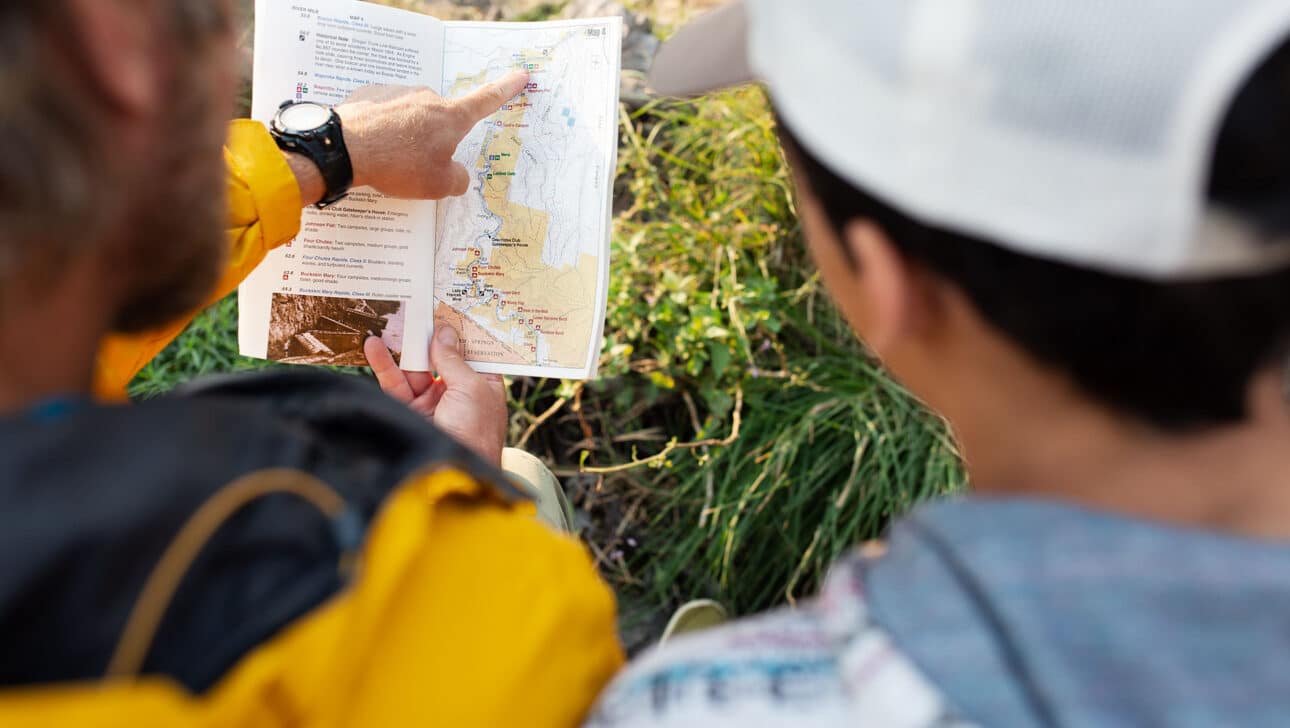 Hiking through the Pisgah National Forest with NCOAE while learning about Leave No Trace (LNT), wilderness travel and myself, all gave me a new appreciation for the wilderness and a growing passion for environmental conservation. My experience has changed my outlook on life and influenced my focus of study in college. Because of the NC Teen Adventure and NCOAE, I have decided to major in Environmental Studies at UNC Asheville. As my passion for the wilderness continues to grow I will be enrolling in more courses with NCOAE and maybe even apply someday to be an instructor.
Participating in an NCOAE course has been one of the greatest experiences of my life!
It helped me to grow emotionally and taught me skills that I am able to transfer into my everyday life. I am truly grateful and lucky to have been a part of this program