NCOAE Curriculum
Judging from the headline atop this particular blog post, you can gather that this is the fourth in a series of posts about the curriculum we offer here at The National Center for Outdoor & Adventure Education (NCOAE). And if you haven't taken a look at the first three installments, it would behoove you to do so (see: Getting to the Core of the NCOAE Curriculum, Part 1; Getting to the Core of the NCOAE Curriculum, Part 2; and, Understanding the NCOAE Curriculum, Part 3).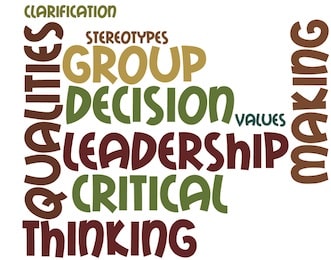 In those three posts, as well as this final chapter on the topic, we discuss the deeper social topics that are covered in our educational groups (Ed Groups), which are a key component to the delivery of our one-of-a-kind curriculum.
As background, it's important to note that the objective of our curriculum is to assist in the development of skills that will help our course participants' to become even better citizens of the world. That's a lofty objective, but in our mind, it hovers way above what we can teach about map & compass reading and basic camp craft (which of course we do teach, as well). Because without these particular "people skills," interacting with others in any environment — outdoor adventures included — can become an unrewarding and unruly undertaking.
In past blog posts on this topic — and again, please read those before continuing forward on this last installment — we discussed such acquirable skills as conflict resolution, civic responsibility, feelings identification and defense mechanisms, to name a few. In this, our fourth and final curriculum series entry, topics include group decision-making, values clarification, stereotypes, critical thinking, and leadership qualities.
Let's get the ball rolling with our seventh Ed Group topic — group decision making.
Making decisions at the group level can be (more…)
Continue Reading
TALK TO US
Have any further questions about our courses, what you'll learn, or what else to expect? Contact us, we're here to help!