Adult Courses
Here at the National Center for Outdoor and Adventure Education (NCOAE), we're especially proud of our Women's Wilderness Initiative, which enables women of nearly all ages to ditch the spouse, the kids, the job and the college coursework for a full seven days and — instead of all that — focus on themselves.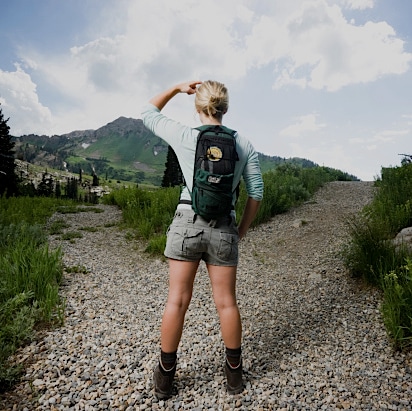 Notice we didn't use the word "pamper." As a matter of fact, the only pampering that goes on during these weeklong wilderness excursion is mental in nature. That's because we take care of everything. By the time you show up for our North Carolina Women's Wilderness Initiative course, we've already handled the logistics. The food is purchased, the meals are prepped, the course transport van is gassed, your gear is ready and the route is already vetted and selected.
Your role on a Women's Wilderness Initiative is to unwind from your day-to-day tasks, focus on setting personal goals, develop additional leadership skills, and have fun backpacking in the great outdoors and river rafting with a group of like-minded women.
We're firm believers that being in the backcountry allows for a freedom that can't be found in an urban or suburban setting. Backpacking by its very nature sets a subtle pace and we only go were our feet can take us.
Things slow down tremendously when you're on the trail, and this allows for (more…)
Continue Reading
TALK TO US
Have any further questions about our courses, what you'll learn, or what else to expect? Contact us, we're here to help!