Outdoor Education
As you've probably heard or read, last month was the hottest June our planet has ever experienced — topping a prior record set in 2019. In fact, according to the European Union's Copernicus Climate Change Service, the nine hottest Junes ever occurred over the past nine years.
In addition, extreme heat creates crispy conditions, and last month's torrid temps were all the kindling needed to promote the one of the worst wildfire season in Canadian and North American history. Add to that a record-breaking cyclone in southeast Africa, heatwaves across Asia, and extreme flooding throughout the world. Oh, and this just in: June sea ice levels in Antarctic were at their lowest level since scientists began keeping records.
All of this highlights what many of us have sensed and now know for certain: Climate change is upon us — and that's a scary situation for those of us who work in the outdoor industry. The cumulative effect of all of these climate catastrophes has created what the American Psychology Association (APA) calls "eco-anxiety." 
According to the American Psychology Association, eco-anxiety is "the chronic fear of environmental cataclysm that comes from observing the seemingly irrevocable impact of climate change, and the associated concern for one's future and that of next generations."
Media coverage adds to the angst
This fear is evident across our land, with hand-painted yard signs and a variety of bumper stickers on vehicles, all advocating that "Science is Real." Newspaper editorials push for "immediate action," or ask, "Are We Too Late?" Such articles often crowd out other headlines and newscast bulletins, which only increases our angst.
These conversations about our planet's future — most of them based on science — have had an effect on most everyone's emotional state. Words have weight, words plant ideas. And ideas spread faster than anything else, for good or bad.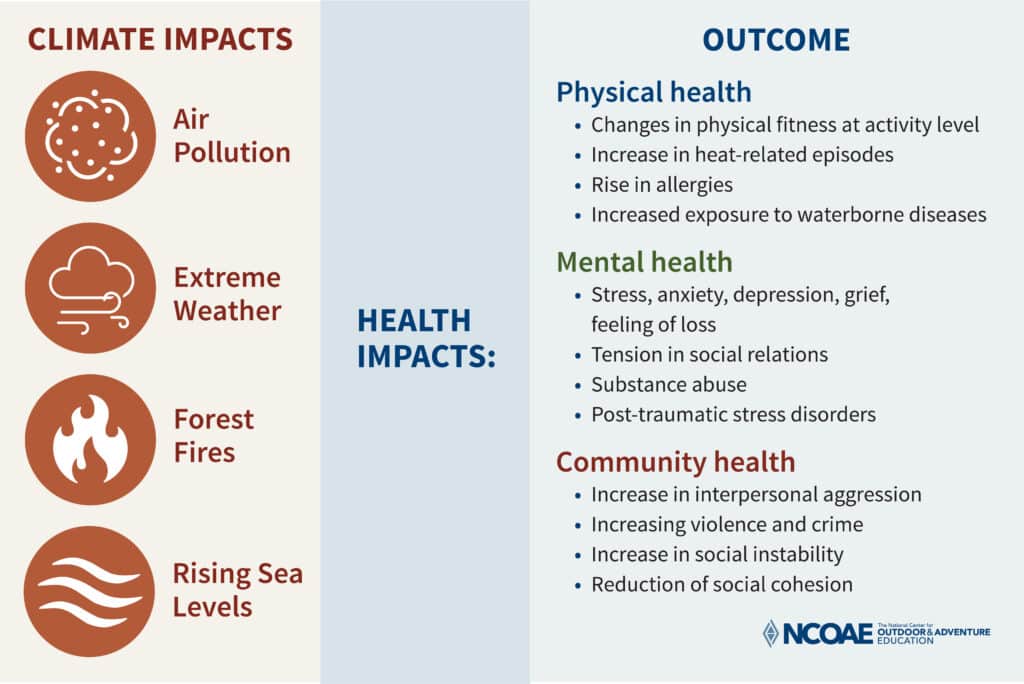 Some people pay attention, some don't notice, and some dismiss the science out of hand, pushing the notion aside without realizing they are being affected at a cellular level by the emotions that are under the surface. This is what is happening, and sometimes we see it, sometimes we miss it, but in the end we're all going to feel it personally, or collectively. (more…)
Continue Reading
Land Management
Most libraries and bookstores offer up books in the science and nature section that address climate change, with titles that range from "Hot Hungry Planet" to  "Climate of Hope." Many of these books focus on global warming, polar bears in the Arctic, flooding and other environmental crises on continents around the world.
However, for those of us working in the fields of outdoor education, adventure-based recreation, and summer camp, we don't need books and photos from foreign lands to persuade us that changes are occurring on our planet — and happening at an alarmingly fast rate.
We see these changes on the rivers we run, mountains we climb, trails we traverse, and camping sites we claim and reclaim for seasonal programs. For many of us who facilitate outdoor education programs, we've observed (more…)
Continue Reading
TALK TO US
Have any further questions about our courses, what you'll learn, or what else to expect? Contact us, we're here to help!