Tag
NCOAE Educator's Handbook
Outdoor Education
What happens when someone answers the call to outdoor adventure and enrolls in a wilderness education, outdoor education, or backcountry expedition like the ones we offer at The National Center for Outdoor & Adventure Education (NCOAE)?
They're pretty much guaranteed they'll be engaged in an experience that involves adventure, challenges, and fun, but most important — learning. I mean, just do the math: "Adventure" and "Education" is at the tail end of our name.
Our Educational Framework (see below) is the basis for what we do within the practice of outdoor education, just as the Experiential Learning Cycle itself defines how we do it, and our Theory of Change explains why we do it.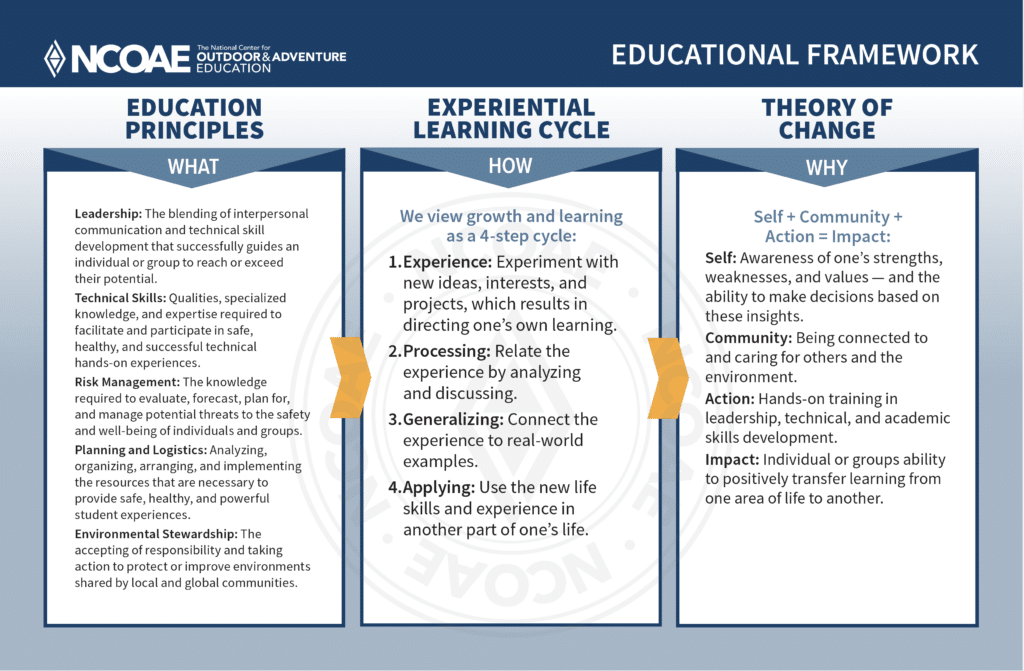 At NCOAE, we are undeniably invested in teaching technical outdoor skills, the science of applying risk management to wilderness and backcountry expeditions, and planning and logistics — the cornerstones of living safely and in relative comfort during an adventure-based expedition. Our course areas are spread across the globe and provide a unique context to engage in lessons on environmental stewardship and Leave No Trace's principles of outdoor ethics. However, one of the top areas upon which we focus during an NCOAE expedition is leadership.
Our students are guided to process, generalize, and apply what they are experiencing during an NCOAE program, with the ultimate objective of (more…)
Continue Reading
TALK TO US
Have any further questions about our courses, what you'll learn, or what else to expect? Contact us, we're here to help!