What happens when someone answers the call to outdoor adventure and enrolls in a wilderness education, outdoor education, or backcountry expedition like the ones we offer at The National Center for Outdoor & Adventure Education (NCOAE)?
They're pretty much guaranteed they'll be engaged in an experience that involves adventure, challenges, and fun, but most important — learning. I mean, just do the math: "Adventure" and "Education" is at the tail end of our name.
Our Educational Framework (see below) is the basis for what we do within the practice of outdoor education, just as the Experiential Learning Cycle itself defines how we do it, and our Theory of Change explains why we do it.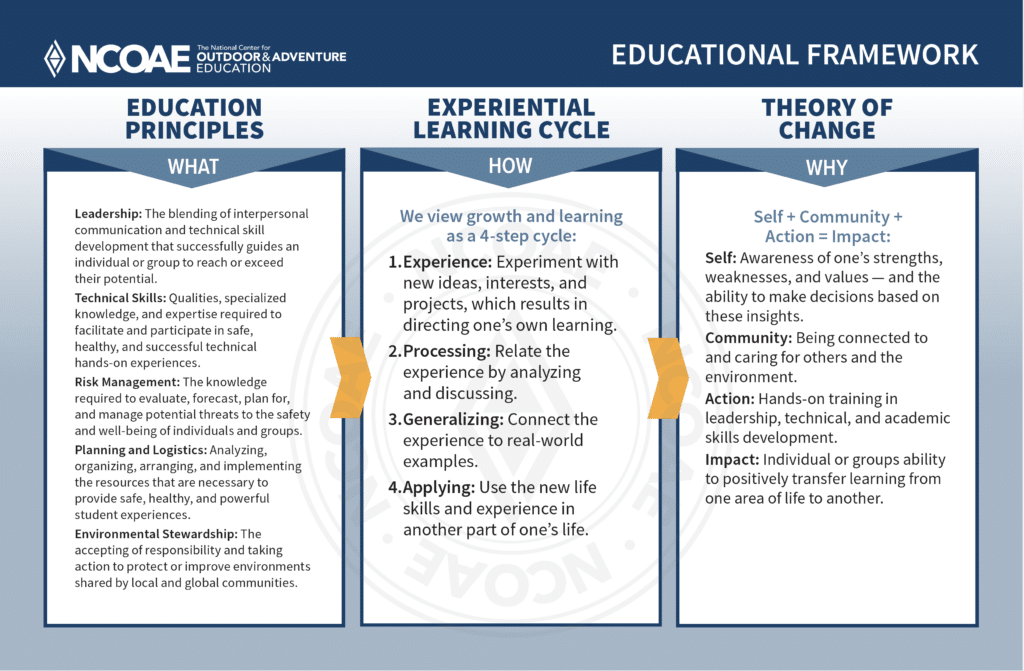 At NCOAE, we are undeniably invested in teaching technical outdoor skills, the science of applying risk management to wilderness and backcountry expeditions, and planning and logistics — the cornerstones of living safely and in relative comfort during an adventure-based expedition. Our course areas are spread across the globe and provide a unique context to engage in lessons on environmental stewardship and Leave No Trace's principles of outdoor ethics. However, one of the top areas upon which we focus during an NCOAE expedition is leadership.
Our students are guided to process, generalize, and apply what they are experiencing during an NCOAE program, with the ultimate objective of focusing on personal growth. Each student rotates through roles of Leader of the Day, Gear Crew, and Cook of the Day, as well participating in our trademark practice of journaling, processing and reflecting on each day's experience.
The leadership component of our Educational Framework emphasizes characteristics that are the hallmark of excellent leaders by focusing on the following fundamentals:
Identification and understanding of our feelings — where our true roots lie, how we experience them, how we express them to those around us, and how our expression affects group dynamics.
Effectively sharing information we have learned with others in a direct and succinct way that engages team members in a variety of modalities suited to a variety of learning styles.
The importance of clear communication and strategies for ensuring that we are using language that is easily understood and reflective of the pertinent information that will effectively help a team reach its goals.
Understanding our defense mechanisms and what triggers them, as well as how to give and receive positive and constructive feedback to keep us on a path of continuous improvement.
Ensuring that we have a clear understanding of our values and how they serve as a guiding force in our own lives as well as their importance as guideposts in steering us toward modeling integrity and authenticity.
Recognizing the signs of stress in our lives and learning effective strategies for managing it.
Understanding and developing the ability to think critically and act with confidence when making decisions by thoughtfully analyzing our decision-making process and recognizing and factors, internal and external, that interfere with that process.
Each of these fundamentals of leadership and personal growth is explored fully in the lessons we facilitate and are covered in the NCOAE Educator's Handbook — our living document outlining all aspects of the NCOAE curriculum.
Students who complete an NCOAE expedition leave their course with the knowledge and skills required to plan and prepare for living safely and relatively comfortably in the backcountry, as well as the technical skills necessary to execute their plan.
However, we accept that not every student will return to the forest or the wild rivers, and we're okay with that. We aren't in the business of creating backpackers, paddlers, or rock climbers (although we love it when we inspire students to continue close a relationship with nature and wild places). What we strive to accomplish is to provide course participants with a fuller understanding of themselves as people and the importance of reflecting on their experiences to grow as human beings and effective leaders and make a positive impact on their communities as they return to their lives — wherever they may live.
– – – – – – – – –
About the Author: Cameron "Cam" Francisco, MEd, is the Associate Director of Outdoor Education at The National Center for Outdoor & Adventure Education (NCOAE). Prior to joining the team at NCOAE, Cam spent 19 years as an independent school educator and administrator. A member of the Association for Experiential Education (AEE), Cam is a certified Wilderness First Responder (WFR) and is certified in CPR by the Red Cross. His hobbies include fishing, soccer, skateboarding, hiking, and camping.
TALK TO US
Have any further questions about our courses, what you'll learn, or what else to expect? Contact us, we're here to help!