NOLS and Outward Bound
As an accredited outdoor and adventure education provider, we here at The National Center for Outdoor & Adventure Education (NCOAE) know that people are diligently doing their homework in their search to find the best guided wilderness trips for their children or for themselves.
And topping their list of questions is this query: What makes NCOAE different from programs like Outward Bound, programs like NOLS, and even traditional summer camps? How do you make a well-informed choice between our outdoor education company's offerings and those offered by a summer camp, tour operator, GAP semester provider, or an unaccredited outdoor adventure programming company?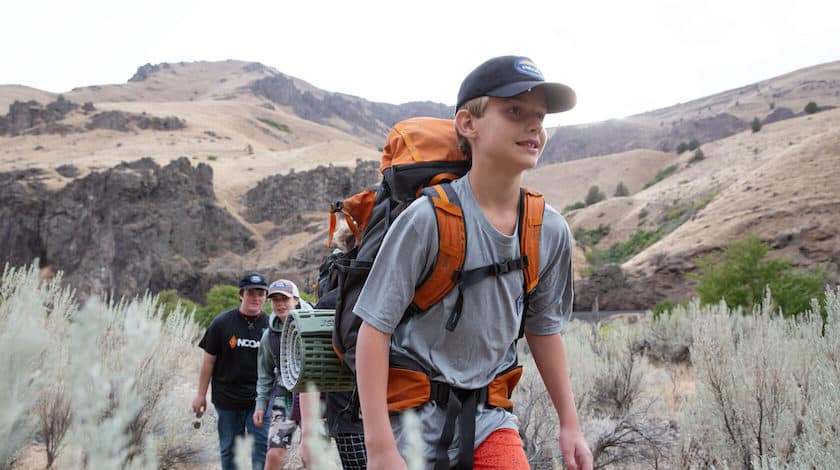 Many organizations like ours seek to set themselves apart from the top two standard bearers, namely, The National Outdoor Leadership School (NOLS) and Outward Bound (OB). Truth be told, NCOAE's similarities to those organizations far surpass our differences. In fact, like so many other organizations, we trace our pedigree back to programs like Outward Bound and NOLS.
NOLS and OB are leaders in the field, and for very good reason. They've been around longer than most every other outdoor education and adventure programming organization out there. Both brands are highly recognizable and trusted, and each has trained hundreds of thousands of people — many of whom have gone on to found outdoor recreation companies of their own.
In addition, these two organizations play leading roles within the outdoor education industry, from convening the annual Wilderness Risk Management Conference each fall to publishing industry-leading research. They're also refreshingly upfront and transparent about reporting their in-field near misses and fatalities.
We share that transparency with both organizations, including other attributes, such as accreditation by the Association for Experiential Education (AEE). And like NOLS and OB, we have our own curriculum. We hire, train, and retain only the best instructors; we place an emphasis on our staff's professional development and continuing education; we participate in annual in-person industry educational and networking events; we offer courses in unique and challenging destinations; and we have our own policies and guidelines according to how and where we operate.
But rather than comparing and contrasting ourselves to organizations like NOLS and Outward Bound, we think it's most helpful for prospective students and their parents to compare what we offer to other options, such as:
Residential summer camps
Tour operators
GAP programs
Semester programs
Urban summer programs
Other outdoor and adventure-based schools
What we'd like to do in the sections that follow is outline what sets NCOAE apart from other forms of experiences that you or your child may be considering, starting with residential summer camps.
Residential Summer Camps
Residential summer camps are supervised by professional adults, college students, and counselors in training (CITs) to foster personal growth for children by providing them with fun educational and recreational programs in a safe environment.
Residential summer camps generally share the following characteristics:
Living units of 12–50 students, often divided into smaller groups for specific activities
A wide array of activities such as arts & crafts, sports, outdoor activities, and environmental pursuits
Opportunities for students to try new things and be somewhat in charge of new responsibilities, such as cleaning the bathhouse
Limited backcountry activities in which campers have the option, but not the obligation, to participate
Meals mostly prepared by camp kitchen staff and served in the dining hall with limited opportunities for campers to cook meals for themselves and their campmates
Centralized lodging, meals, and bathhouse facilities
Routine environment and activities coordinated from a central home base
NCOAE programs offer outdoor and adventure education experiences that promote personal growth the acquisition of technical outdoor skills, and stewardship in communities and in nature. Our outdoor and experiential education programs are characterized by the following:
Small groups with a 1:6 instructor-to-student ratio
Programs for individuals, school groups, university groups, nonprofit groups, and others
Outcome-focused curriculum
Activities chosen carefully to optimize experiential education outcomes
Opportunities to try new things and develop higher levels of responsibility and leadership
Backcountry meal prep with participants largely in charge of meal preparation
Group participation in most activities, followed by expertly facilitated end-of-day discussions about what was experienced and learned
Wilderness environment — most activities/adventures are conducted on unique wilderness land and water wilderness environments
Backpacking — participants working together, participants carry everything they need to live in the backcountry
Smaller, more cohesive groups that enable instructors and guides to support the development of the group dynamic more effectively
Tour Operators
Tour operators focus on delivering fun recreational activities that may also be, tangentially, educational. They often share the following characteristics:
A specific activity or package of activities, such as kayaking, whitewater rafting, or bird watching
An emphasis on fun and recreation
Limited education focused on a narrow skill set such as paddle techniques, water safety, local flora and fauna, or local/regional history
Highly regimented — participants follow instructions with little so no opportunity to take on leadership roles
Full-service guided tours in which participants primarily play a passive role, mostly as sightseers
NCOAE's outdoor and adventure education experiences are designed so students may be fully engaged. In contrast to a tour guide experience, participants can look forward to the following:
A custom array of educational and recreational opportunities, with human-powered outdoor recreation activity serving as the vehicle used to drive personal growth, group dynamics, and leadership development
Active engagement in a range of educational lessons/activities, focused on technical skill development, leadership development, and environmental sciences
Opportunities for students to learn and grow — and then lead
Experiential education for developing the technical outdoor skills to live comfortably and safely in the backcountry
A highly customized personal, interpersonal, and leadership development curriculum
Gap and Semester Programs
Gap and semester programs are generally travel educational experiences that students take as a break from more formal classroom studies — usually before enrolling in a college, university, or trade school. These programs are generally characterized by the following:
International travel
Duration of three to six months
High-school, college, and adult offerings
Cultural and foreign language immersion opportunities
Limited backcountry experiences (not part of most gap and semester programs)
Remote locations for some programs
In contrast, NCOAE's outdoor and adventure education experiences involve both domestic and international travel — mostly in a backcountry environment:
Domestic and international travel; for example, from New Hampshire to Oregon to Ecuador
Shorter duration — 42-day and 60-day programs
Travel that is split into different legs/segments
Cultural immersion opportunities
Backcountry activities
NCOAE's core experiential learning and personal, interpersonal, and leadership development curriculum
Course offerings tailored to domestic and international locations
Programming for 18-plus aged participants exclusively
Urban Summer Programs & Day Camps
Urban summer programs are typically day camps for keeping young children physically and mentally active and engaged with one another in a community setting when they are not in school or home from a break in their community's academic offerings. Characteristics of urban summer programs include the following:
Mostly day camp programming
Primarily based in urban areas
Broad array of activities such as dance, sports, skateboarding, and crafts
Supplemental outdoor activities such as archery and pool activities
Less defined curriculum
Local community input on program design
Short trips to natural environments, but primarily focused on activities/experiences in urban settings
NCOAE's outdoor education and adventure experiences are uniquely different. We offer:
Primarily outdoor-based programs with limited time in any urban settings
Primarily overnight, multi-day programming with limited (if any) day programs
Backcountry wilderness environments
Development of technical outdoor skills
Personal, interpersonal, and leadership development curriculum in small-group settings in a wilderness environment to improve group dynamics and an understanding and appreciation of one's individual and collective impact in a community
Other Outdoor and Adventure-Based Schools
Many providers of outdoor education and adventure programming are more limited in scope than we are and less flexible in their programming:
Focus primarily on outdoor skill development
Less focus on personal and interpersonal reflection and growth and on leadership development
Inability to customize programming
Limited to a few course areas and unable to roll out new ones to address changes in student needs and demands
Limited flexibility to pivot in response to client or staff feedback when warranted
More focus on allowing the environment and the physical experience of an expedition dictate the individual student's learning and experience
Unaccredited by the Association for Experiential Education (AEE)
Here at NCOAE, we pride ourselves on delivering personalized outdoor education and adventure experiences that meet the unique needs of every individual and group that participates in our programs. We offer:
A well-rounded experience, with time for learning and challenge but also for relaxation and reflection, enabling participants to generalize and internalize so they can apply their learning when they return to their home or school communities
Outdoor activities that extend beyond participation to meet the outcomes defined in our unique core curriculum
Customized experiences for each partner organization and each class/year of students
Flexibility and passion for continuously improving our programs
The ability to pivot as needed to meet the school/organization/individual group needs
A careful balance of technical outdoor skill and leadership development
Sensitivity and flexibility regarding the pace of learning to ensure that participants are not pushed too hard or too far into a place of anxiety and frustration
Optimization of group dynamics and group bonding to reinforce the application of personal and leadership development and skills in a community setting
Bound by the Association for Experiential Education's (AEE's) strict standards of accreditation for program governance and administration, risk management, participant transportation, backcountry equipment and nutrition, and more
Choosing Between Outward Bound, NOLS, and NCOAE
We, at The National Center for Outdoor & Adventure Education, possess expertise not only in the principles and curriculum that drive our unique approach to outdoor education and adventure programming but also in the theories that guide outdoor experiential education itself. By staying informed about alternative programs available to you or your child and actively engaging in networking and educational opportunities provided by our industry membership and trade associations, we are confident in our ability to assist you in making an informed choice regarding the matters discussed in this blog post.
We encourage you as an informed consumer to continue your research and ask numerous questions. If we can be of additional assistance, please reach out to us by calling our headquarters at (910) 399-8090 or emailing us at info@ncoae.org.
Continue Reading
Conferences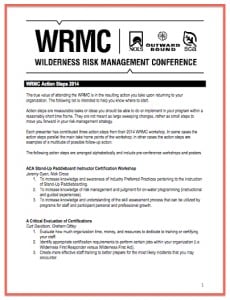 A rock fatally struck a National Outdoor Leadership School (NOLS) student on the head 25 years ago, and the subsequent rescue efforts — in darkness and stormy weather — later resulted in an active collaboration between NOLS, Outward Bound and other outdoor education organizations to take a closer look at their risk management and safety practices.
The student, 24-year-old David Black, was fatally injured when another climber dislodged a rock above him, hitting Black in the head. Black was one of three students and a NOLS leader who were descending Mt. Warren in Wyoming's Wind River Range on a midsummer afternoon in 1989.
In a review following the incident, leaders from both NOLS and Outward Bound agreed that there were contradictory practices in place between the two organizations — guidelines that were supposed to provide protocol before, during and after such incidents occur in wilderness. Buoyed by Black's family — which challenged NOLS to do something about the lack of communication between industry players on the topic of risk management — NOLS organized the Wilderness Risk Managers Committee. In addition to NOLS, the group consisted of leaders from Outward Bound, the Wilderness Medicine Society, Exum Mountain Guides, the Association for Experiential Education, the National Park Service, National Safety Network, American Alpine Club and The Outdoor Network.
A year later, the committee had outlined a list of concerns that could have an adverse impact on each organization. Among those topics were suggestions to tone down the risk of some outdoor adventures in order to ensure safety. The concerns also targeted a need for consistency when it came to gathering data following an incident in the wild, and the problems associated with reliance on tech gadgets that can remove self-sufficiency from the experiential education equation.
The committee also agreed that it was to remain a collaborative communications group rather than a rule-making body, and it set about a plan to host a larger gathering of outdoor professionals the following fall. What followed in September of 1994 was a gathering of nearly 200 outdoor education leaders, guides and other stakeholders in Washington State for the first-ever Wilderness Risk Management Conference (WRMC).
Much has been accomplished over the past two decades, with the fledgling forum developing into an international conference for outdoor education organizations of all scopes and sizes. These groups share the wilderness with others for the purpose of education, adventure, personal growth, leadership development and service learning. But specifically, the conference is a place for discussions about the risks that come with the rewards of a guided outdoor adventure.
And in each of the past 21 years, the WRMC has concentrated on risk management — including program administration, legal considerations, staff training and program practices. This annual risk-management revival has resulted in a better prepared and much more organized outdoor and experiential education industry.
This year's Wilderness Risk Management Conference took place last month in Atlanta, Ga. For those of us who weren't able to attend, the WRMC created a handy guide with key takeaways from each of the workshops presented over the three-day conference. Those takeaways appear below, and we encourage all of our industry peers to review what's being recommended.
Presented below in alphabetical order, followed by the name of the workshop's presenter(s) and the session's key conclusions: (more…)
Continue Reading
TALK TO US
Have any further questions about our courses, what you'll learn, or what else to expect? Contact us, we're here to help!