News
NCOAE's Celine Adair Awarded Women of Achievement Honors
Celine Adair, our own co-founder and director of operations, has been recognized with a Women of Achievement Award for her work in social justice, presented earlier this week by the YWCA Lower Cape Fear.
The award ceremony — held each year since 1985 — is the YWCA's signature fundraiser to recognize and celebrate the accomplishments of women and young leaders in southeastern North Carolina. Celine joins more than 300 other women leaders who have achieved this status over the past three-plus decades.
The YWCA organization's programs and services promote racial justice and gender equity for thousands of women, children and their families in the Lower Cape Fear region, which is home to The National Center for Outdoor & Adventure Education's world headquarters. This year, 56 nominees demonstrated excellence and commitment in their careers, schools and communities, with the adult women nominees separated into nine categories.
The group determined that Celine's background and accomplishments make her the perfect model and mentor to represent social justice for women — and especially young people — in that particular category.
This lifelong enthusiasm for working with women, children and teens began immediately after high school, when Celine discovered a love for backpacking and rock climbing that came as the result of a North Carolina camp program that particular summer. In fact, the young Celine said she knew her life's work would be in outdoor and experiential education well before she returned home and unpacked her knapsack.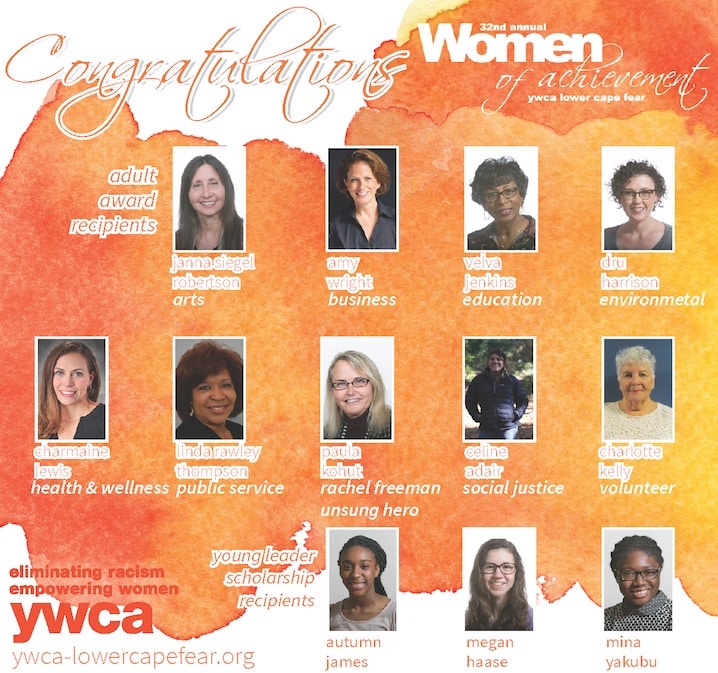 Later, Celine discovered she could use the transformative power of the outdoors to assist young people challenge themselves to overcome self-doubt and loss. With that at the top of her mind, this young outdoorswoman earned a bachelor's degree in Therapeutic Uses of the Wilderness Experience from Prescott College, and later, a master's degree in Marriage and Family Therapy from Argosy University.
With her newfound therapeutic training and an enthusiasm for working with children and teens, Celine rose through the ranks to become the clinical supervisor of a homeless shelter for displaced children and youth. Supervising a residential staff of 15, she provided individual and family therapy for shelter residents and their families and responded to crises that often arise in such an environment.
Fast-forward two decades and Celine — along with husband Zac Adair — became co-founders of NCOAE. Our Education Without Walls program, which falls under Celine's purview, serves hundreds of local students and their families who live in poverty and suffer from the impact of homelessness.
It is through this program that Celine was able to help a single mom whose child was in our outdoor program by finding her full-time employment. She also connected another student to free tutoring, which enabled him graduate from high school on time.
In addition, Celine has facilitated countless meetings for families both at NCOAE and in her previous positions at other local nonprofits that resulted in kids who are now better prepared for adulthood and families that are stronger and more cohesive. In between such personal projects, Celine took it upon herself to write dozens of letters of recommendation to colleges, touting the attributes of students who participate in our Education Without Walls program.
Locally, Celine has been active on several boards in the Wilmington area, including the Tri-County Interagency Council on Homelessness and the Community Child Protection Team. She also developed the Women's Wilderness Initiative — a weeklong outdoor adventure offered by NCOAE tailored for women who are not regular backpackers and rafters. The purpose of this initiative is help women connect with nature, with each other, and with themselves. This program uses NCOAE's core curriculum to foster bonding between women and to develop confidence in themselves.
To place an emphasis on eliminating racism and cultural humility, Celine developed educational lessons with titles such as "The Bystander," "Stereotypes," and "Critical Thinking." The curriculum she developed for NCOAE invites program participants to examine themselves and their personal worldview with objectivity and empathy. In fact, the program requires students to cultivate a new way of seeing and participating in the world. It is a means of leaving room for others' opinions — to transfer the values and skills learned in the backcountry to real-life situations in the students' own communities.
We're certainly proud of Celine's accomplishments and her latest public accolade. So if you happen to spot her on the NCOAE campus or in the backcountry, you might want to give her a thumb's up. She deserves it.