Wilderness Cooking
Some veteran backpackers claim the only time a heated can of Dinty Moore stew tastes delicious is when eaten outdoors, but today there are many quick and easy ways to pull together a gourmet meal from what you can grab out of your backpack. The trick is knowing what to pack!
Truth is, we here at The National Center for Outdoor & Adventure Education (NCOAE) are among the go-to experts when it comes to wilderness cooking for large and small groups that enjoy the backcountry. That's because our veteran field instructors and leaders have had years to develop ways to transform mundane mountainside meals into Five Star (OK, maybe Four Star) dining experiences.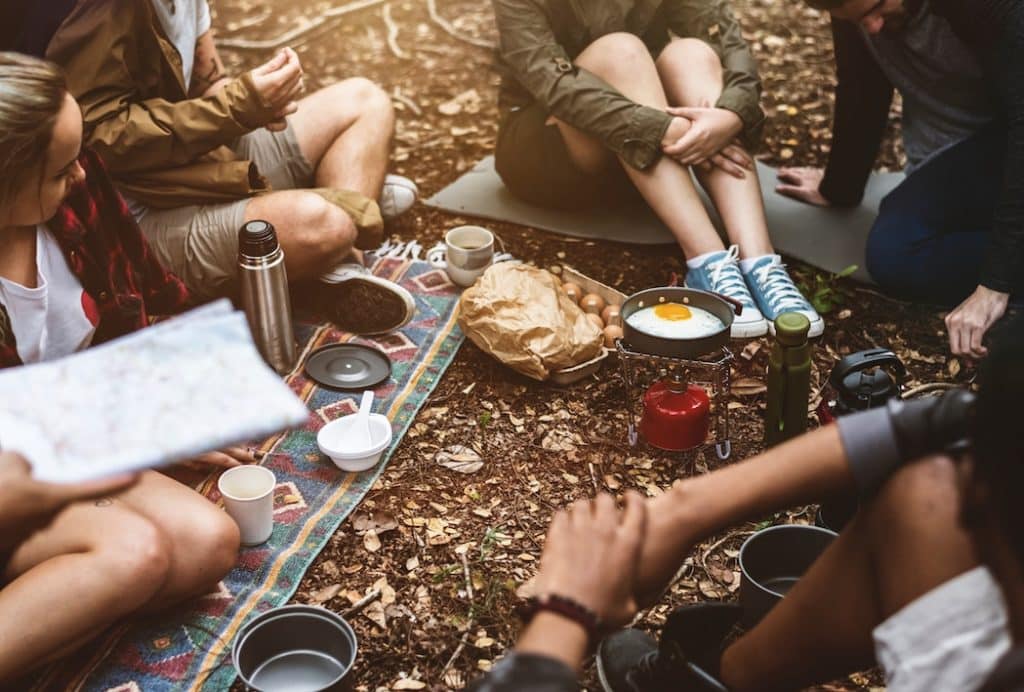 The secret? It's all in what you pack in your gear. And with some advance preparation and careful planning, you can spice up your backcountry cooking menus to taste just as delicious on your weekend trail trek as they do for us on, say, an Outdoor Educator Course in Patagonia.
Real estate inside your backpack is always at a premium, but here are a few items that — come lunch or dinnertime — will make you glad you squirreled them away next to your clean socks and underwear: (more…)
Continue Reading
Wilderness Cooking
They say man only needs two tools in life: WD-40 to make things go, and duct tape to make things stop. To that short list, we'd like to add the Banks Fry-Bake Pan — a truly lightweight frying pan that's perfect for cooking — and baking — in the backcounry. Fact is we take at least one of these backcountry gastronomic gadgets along on every single one of our courses here at The National Center for Outdoor & Adventure Education. Next to a map and maybe a compass, it's the most important tool we carry with us.
Keep in mind that we aren't getting paid a cent for praising this product. Why then are we choosing to devote an entire blog post to it? First off, we're doing it because we can. You know — freedom of speech and all that. But the real reason is to let our outdoor wilderness course participants — as well as outdoor and wilderness educators across the globe — know that backpacking and outdoor exploration is often a game of weights and convenience. And we can't think of many things that are as light or as easy to use than Banks' durable cooking pans.
But here's what really sold us at NCOAE on the concept of carrying these pans everywhere we trek, hike, raft, climb and camp: Along with our friends over at the National Outdoor Leadership School and Outward Bound, our founders and staff have been using Banks Fry-Bake pans for decades, never once disappointed by their durability and function.
There's just something about eating in the outdoors that makes the experience almost surreal to the palate. Think about it. Where else but in the wilderness does a big can of stew taste like something from a five-star restaurant? Nowhere else, that's where!
And with Banks Fry-Bake pans, outdoor enthusiasts and cooks alike can fry freshly caught fish, steam up a pot of veggies, stir-fry chicken, and sauté nearly anything else. You can even bake a cake, should you have a birthday boy or girl on your excursion. Talk about versatile; see the recipe for carrot cake at the end of today's post!
What these lightweight pans do is take the place of those heavy cast-iron Dutch ovens that used to take up half the room in your (more…)
Continue Reading
TALK TO US
Have any further questions about our courses, what you'll learn, or what else to expect? Contact us, we're here to help!