Some veteran backpackers claim the only time a heated can of Dinty Moore stew tastes delicious is when eaten outdoors, but today there are many quick and easy ways to pull together a gourmet meal from what you can grab out of your backpack. The trick is knowing what to pack!
Truth is, we here at The National Center for Outdoor & Adventure Education (NCOAE) are among the go-to experts when it comes to wilderness cooking for large and small groups that enjoy the backcountry. That's because our veteran field instructors and leaders have had years to develop ways to transform mundane mountainside meals into Five Star (OK, maybe Four Star) dining experiences.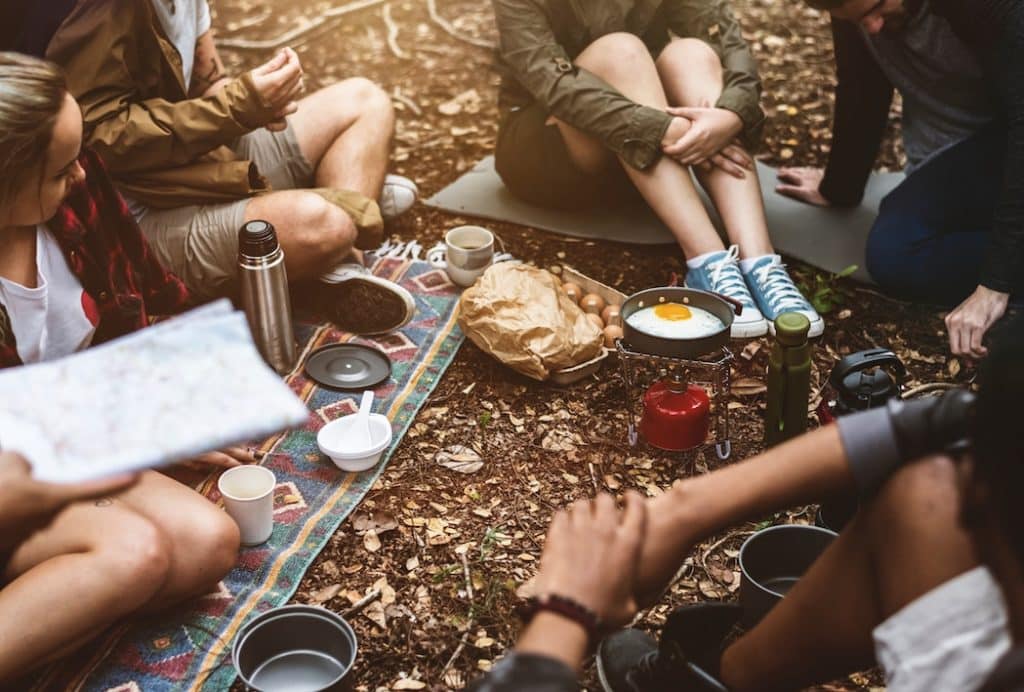 The secret? It's all in what you pack in your gear. And with some advance preparation and careful planning, you can spice up your backcountry cooking menus to taste just as delicious on your weekend trail trek as they do for us on, say, an Outdoor Educator Course in Patagonia.
Real estate inside your backpack is always at a premium, but here are a few items that — come lunch or dinnertime — will make you glad you squirreled them away next to your clean socks and underwear:
Pack a spice kit. Salt and pepper are standard taste enhancers but consider this:
A packet of spice weighs next to nothing, takes up hardly any space and absolutely does the most for improving any backcountry meal.
By planning your meals ahead of time, you can customize your spice kit to fit your meal choices. If you love Italian food, pack Italian spices. Like a little heat? Stow some cayenne pepper or chili powder.
NCOAE field guides bring an extensive spice kit on all of the courses they lead — a package that typically includes: black pepper, cayenne pepper, red pepper flakes, basil, oregano, parsley, Italian seasoning, onion powder, paprika, garlic powder, chili powder, cumin, ginger and curry powder— and always hot sauce. Depending on the dishes included on our backcountry menus, we may toss in some extras, like turmeric, coriander, nutmeg, rosemary, and more.
Add nuts as a topping. A small number of peanuts, mixed nuts, pecans, or pine nuts sprinkled on top of a pasta dish or a bowl of hot breakfast cereal goes a long way — and it's an easy way to add needed protein and extra flavor.  If nut allergies are an issue, consider opting for dried fruit, sunflower seeds, flax seeds, or dried edamame as an alternative.
Sauces delight. Be sure to pack a mix of sauces to change up that pasta or rice dish. Among our personal favorites are dried, pre-mixed sauces that include spaghetti sauce, alfredo sauce and pesto sauce. These are available in small pouches from your local grocery store, or in bulk from online vendors, including Amazon. Toss in a pouch of chicken or tofu and sprinkle some parmesan cheese on top and you have a gourmet backcountry Italian kitchen.
Asian-inspired ingredients. We love making a "backcountry pad Thai," using ramen packets, peanut butter powder, dried mixed veggies, and some spices. Consider packing a small bottle of soy sauce or teriyaki sauce to add some extra flavor.
Don't be afraid of making some things from scratch. Here at NCOAE, we love making pizza on the trail. It becomes a fun group activity for those days when there's a little down time. Prep the dough, let it rise 20 minutes, then the fun begins. We get the whole group involved in making their own personal pan pizzas. Cheese, pepperoni or veggie? It's all possible.
Bake a cake. A little dehydrated egg powder, cake mix, and some veggie oil is all you need. Just mix it all together, cook on low on your camp stove, and suddenly there's a cake in camp. Our favorite pan to use is a Fry Bake. Made in the USA, this small family owned business has been making baking pans for outdoor schools since 1979. (For more info on the Fry Bake Co., read our earlier write-up: The Pan That Started A Backcountry Cooking Revolution.)
Eat your fruits & veggies. Most fruits and vegetables are available in dehydrated forms, and we here at NCOAE love bringing these dried-but-healthy foods with us in the backcountry. Everything from broccoli to mixed vegetables for side dishes or to be incorporated in the entrée. And dehydrated mangos, bananas and peaches are delicious as snacks or dessert.
And while they do take up some space, think about stashing some fresh vegetables or fruits in your backpack. A few onions, a bell pepper, and a couple of carrots can make a huge difference in your main course.
And consider this: By Day Three, that apple you've been holding onto is going to taste amazing!
TALK TO US
Have any further questions about our courses, what you'll learn, or what else to expect? Contact us, we're here to help!