Staff Profiles
Editor's Note: The work we do here at The National Center for Outdoor & Adventure Education (NCOAE) matters because positive and profoundly empowering experiences are created when people choose to engage with themselves and one another in unique wilderness settings. With that in mind, we're going to use our blog to introduce you to some of the very talented and highly skilled team members here at NCOAE who administer and guide our unique wilderness experience.
And here to start things off is Jill Valle, who earned her bachelor's degree in psychology at Boston College and her master's in counseling psychology from Lesley University. She is a licensed mental health counselor in Massachusetts and is a member of the California Association of Marriage and Family Therapists. Jill is also an outdoor educator and artist who has worked with adolescents and adults for the past 15 years. She adamantly believes that the power of creativity and the wilderness can foster growth and empowerment in individuals and groups. 
But don't take out word for it… here's Jill, in her own words:
NCOAE: Tell us about a time when you realized you had the power to do something meaningful.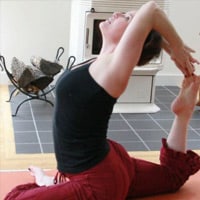 Jill: When I was in college I was doing an internship in the inner city. It was a program that worked with at risk kids, helping them develop the skills to apply for, interview for and secure jobs in the community. I was most inspired by watching the students go through this process — the power of simply connecting with kids and allowing them to feel heard and seen, and supporting them in making a difference in their lives.
NCOAE: What was your guiding light in choosing to work as an outdoor educator instead of choosing a career such as a lawyer, computer tech, business management, etc?
Jill: It wasn't really a choice – I couldn't imagine doing more "conventional" nine-to-five work. The guiding force was a drive to do work that was meaningful, inspiring, transformative and healing – all of which I find in outdoor education
NCOAE: What influenced your decision to work for NCOAE?
Jill: Celine Adair – NCOAE's co-founder and operations director – and I met while facilitating outdoor education experiences for Maui Surfer Girls in Hawaii. Our connection was instant and our chemistry while leading groups together was natural, authentic and transformational for us and for our participants. NCOAE's mission and vision aligns with my philosophy about learning, growth, development and life in general and it is a privilege to be a part of the team.
NCOAE: What do you think about when you are alone on the trail?
Jill: I think about the beauty around me, the gratitude I have for being outdoors, the miraculous ability of my body to carry me through this world. Sometimes I think about nothing except the sound of my breath. Sometimes my mind wanders. Sometimes I am fully in the moment with the sights, sounds, creatures I may encounter along the path. I think about how amazing the quiet can be and I listen. I listen for the deep murmuring of my heart and soul. Some of my best inspirations, ideas, and insights come to me when I am alone on the trail.
NCOAE: What gets you excited?
Jill: Tapping into creative energy and getting out of the way to let it move through me. There's taking photographs and making art, a delicious meal shared with family and friends, road trips, spontaneous adventures, surfing, yoga, laughing long and hard, being outdoors in nature, train travel, thinking up my next (more…)
Continue Reading
TALK TO US
Have any further questions about our courses, what you'll learn, or what else to expect? Contact us, we're here to help!