Editor's Note: The work we do here at The National Center for Outdoor & Adventure Education (NCOAE) matters because positive and profoundly empowering experiences are created when people choose to engage with themselves and one another in unique wilderness settings. With that in mind, we're going to use our blog to introduce you to some of the very talented and highly skilled team members here at NCOAE who administer and guide our unique wilderness experience.
And here to start things off is Jill Valle, who earned her bachelor's degree in psychology at Boston College and her master's in counseling psychology from Lesley University. She is a licensed mental health counselor in Massachusetts and is a member of the California Association of Marriage and Family Therapists. Jill is also an outdoor educator and artist who has worked with adolescents and adults for the past 15 years. She adamantly believes that the power of creativity and the wilderness can foster growth and empowerment in individuals and groups. 
But don't take out word for it… here's Jill, in her own words:
NCOAE: Tell us about a time when you realized you had the power to do something meaningful.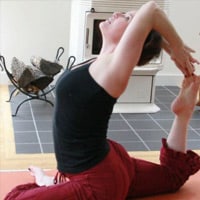 Jill: When I was in college I was doing an internship in the inner city. It was a program that worked with at risk kids, helping them develop the skills to apply for, interview for and secure jobs in the community. I was most inspired by watching the students go through this process — the power of simply connecting with kids and allowing them to feel heard and seen, and supporting them in making a difference in their lives.
NCOAE: What was your guiding light in choosing to work as an outdoor educator instead of choosing a career such as a lawyer, computer tech, business management, etc?
Jill: It wasn't really a choice – I couldn't imagine doing more "conventional" nine-to-five work. The guiding force was a drive to do work that was meaningful, inspiring, transformative and healing – all of which I find in outdoor education
NCOAE: What influenced your decision to work for NCOAE?
Jill: Celine Adair – NCOAE's co-founder and operations director – and I met while facilitating outdoor education experiences for Maui Surfer Girls in Hawaii. Our connection was instant and our chemistry while leading groups together was natural, authentic and transformational for us and for our participants. NCOAE's mission and vision aligns with my philosophy about learning, growth, development and life in general and it is a privilege to be a part of the team.
NCOAE: What do you think about when you are alone on the trail?
Jill: I think about the beauty around me, the gratitude I have for being outdoors, the miraculous ability of my body to carry me through this world. Sometimes I think about nothing except the sound of my breath. Sometimes my mind wanders. Sometimes I am fully in the moment with the sights, sounds, creatures I may encounter along the path. I think about how amazing the quiet can be and I listen. I listen for the deep murmuring of my heart and soul. Some of my best inspirations, ideas, and insights come to me when I am alone on the trail.
NCOAE: What gets you excited?
Jill: Tapping into creative energy and getting out of the way to let it move through me. There's taking photographs and making art, a delicious meal shared with family and friends, road trips, spontaneous adventures, surfing, yoga, laughing long and hard, being outdoors in nature, train travel, thinking up my next adventure, finding new music that I can't stop listening to, collaborating with like-minded hearts and souls, staying up talking all night because you don't want the conversation to end, ice cream, connecting, silliness, trying something new, serendipity and synchronicity.
NCOAE: On a scale of one to 10, how weird are you?
Jill: How do you define weird anyway? Perhaps I am just consumed by my various neuroses and that is where I am getting the number seven (7). I think my association with weirdness is related to things I get obsessed with. I get weirdly obsessed with things large and small — lately it has been a salad from Costco (I don't even have a membership to Costco) that I ate for lunch for three weeks straight — my friends are trained to just buy it for me when they go. When I was living in San Francisco I ate at the same restaurant four days a week for a month, same thing every time (clearly the weirdness is related to food?). Although I do not have cable television I watch a lot of TV, but I do not think of myself as someone who watches a lot of TV? I have watched the full series of 24 five times. What can I say? I'm a sucker for Jack Bauer. When I find music I like (or one song in particular) I repeat it and repeat it and repeat and repeat it until I burn out. I am obsessed with design — mid-century modern especially. I collect cameras, art books, rocks, Indian god/goddesses statues, and cookbooks. Maybe all of this makes me weird; maybe none of it makes me weird. Perhaps a better question would have been, "What are you obsessed with?" My friend and I spent seven years sending each other a package once a month with a list of all of the things we were currently obsessed with, and including a gift representing one such obsession. Seven years, we never missed a month. I have shelves full of our "O Files."
NCOAE: What was the last costume you wore?
Jill: The last costume I wore was a prom dress, pink wig and boa for a photo shoot, in Venice, California, at night, on a roof. And that's all that is fit to print!
NCOAE: Who is your role model, and why?
Jill: Hmmm…so hard to choose. The one that just came to me is Julia Child.  Her story resonates with me because she did not learn to cook until she was 36, and did not write her first word until she was 40. Then she went on to be known for her cooking and her writing! I sometimes think of myself as a late bloomer — still searching for that "thing" — for my purpose and what I am here on this planet to do. I am encouraged by Julia Child because of her fearlessness in the face of fear, her willingness to take risks and the fact that for quite some time she had no idea what she wanted to "do" with her life. Another similar story belongs to that of one of my mentors from graduate school, Ann Webster. She had been in the fashion industry for 20 years and her favorite aunt became sick with cancer. Her experience of her aunt's illness challenged her to revaluate what she was doing with her life. She began volunteering in a hospital visiting cancer patients, which led her to pursue her doctorate in health psychology at the age of 40. She now runs the Cancer/HIV Mind Body Program at Massachusetts General Hospital. Ann is vibrant, joyful and her passion for life and living is contagious. I have always said that "I want to be Ann Webster when I grow up," and I think what I mean is that I want to be passionate about everything that life has to offer and I want to live it as fully as I can. Both Julia Child and Ann Webster represent aspects of this for me and for those reasons they are two of my role models.
NCOAE: A penguin walks through the door wearing a sombrero. What does she say and why is she there?
Jill: "I'm on my way to El Cholo for tequila shots; TGIF! I have a driver waiting outside." Then she snaps her fingers and does a little spin.
NCOAE: If you had a super-power-strength, what would it be and why?
Jill: That of a Jedi Warrior – Control, Sense, Alter. Being tuned into self, other, the energy of the universe and being able to use the powers to make positive change.
NCOAE: One of your favorite moments in the last year?
Jill: Hiking a 10-mile trail to Tomales Point in Northern California with friends amidst wild flowers, the sound of the ocean crashing below, eerie beautiful fog, wild elk, and an old deserted barn.
NCOAE: What would you do in the event of a zombie apocalypse?
Jill: I would find Brad Pitt ASAP.
TALK TO US
Have any further questions about our courses, what you'll learn, or what else to expect? Contact us, we're here to help!