Staff Profiles
Here at The National Center for Outdoor & Adventure Education (NCOAE), it's not always necessary for employees to be front and center in order to be seen as a vital asset to our operations.
Take Liz Shirley for example. Sure, this veteran outdoor program director can often be found leading our clients on a variety of backcountry trips and programs. And to be sure, hers is a friendly face around our North Carolina headquarters. But as our fulltime program coordinator, Liz most often can be found working behind the scenes — primarily on course logistics.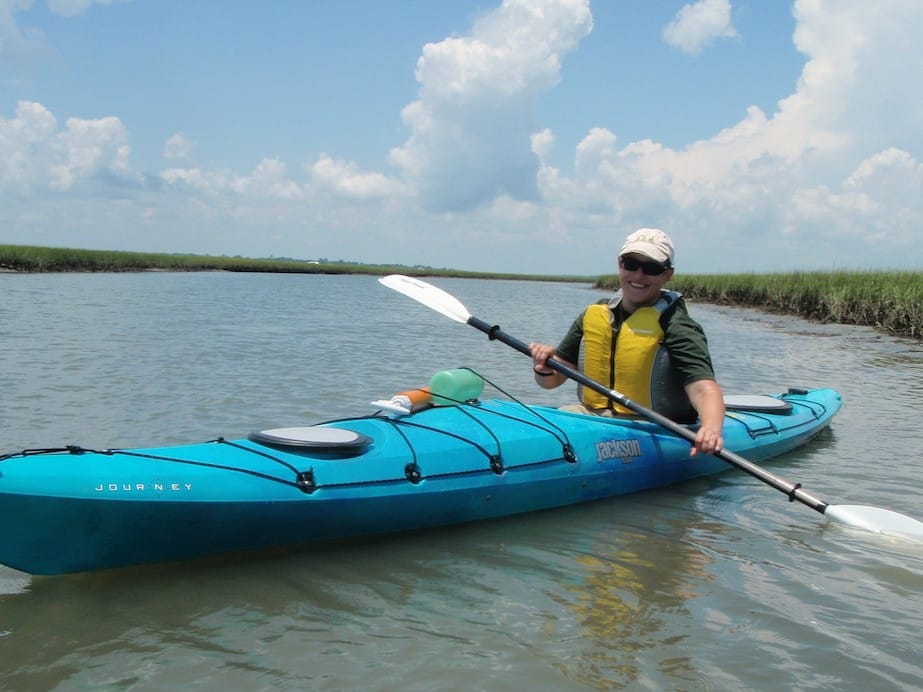 This busy outdoor education industry executive is in charge of staff recruitment, training, and supervision; planning new course areas; and the always evolving processes we have in place for communicating with clients and students. She also oversees all of our trip logistics — an area of focus that includes course schedules, gear, food and transportation. In addition, Liz works with our founders to review and update our corporate policies and procedures when the need arises.
Describing herself as an outdoor jack-of-all-trades, Liz was able to tear herself away from her responsibilities to answer a few personal questions about herself for this post.
Here's what she had to say:
NCOAE: Where did you go to college, what year did you graduate and what did you study?
Liz Shirley: I graduated in 2007 from Oklahoma State University with a Bachelor of Arts degree in English and a minor in Leisure Services. I knew by my junior year of college that I wanted to work as an outdoor professional, and I haven't looked back.
NCOAE: What was the gateway to your outdoor addiction?
Liz: I'd have to say scouting. I began at the age of five, camping and exploring the outdoors with my troop. There was also a creek behind my house growing up, so I was often down there and in the woods tromping around — building forts, catching crawdads, etc. Then, when I was 15, my Girl Scout troop went on a five-day wilderness trip in the Boundary Waters Canoe Area Wilderness, a 1m+-acre wilderness area within the Superior National Forest in northeastern Minnesota, and after that I was hooked on the backcountry experience.
NCOAE: Who was it that most shaped your early outdoor experiences?
Liz: My parents took my brother and I camping a lot when we were young. Our family vacations almost always consisted of a visit to a state park to camp or a stay in a cabin. The place we went most often was a tucked-away campsite in Oklahoma along the banks of the Illinois River. I vividly recall pulling up through the woods in the family Buick. We'd set up camp, then spend our days swimming, fishing, canoeing, and exploring along the river. We roasted hot dogs or sometimes a fish we'd caught for dinner.
NCOAE: How have you been shaped by the outdoor places you've visited?
Liz: Where to start! I can't imagine who I'd be without outdoor experiences because they totally shaped who I am today. Early experiences built my confidence and allowed me to discover a place where I belong. I found that today, I learn something at every new place I visit. I learn about the history of the area and its environment, and I learn about myself. It continually shapes me.
NCOAE: Give us a quick and dirty timeline of the progression of your outdoor experiences?
Liz: As a kid, I mostly experienced the outdoors by exploring the woods around my house, being part of family camping trips, and participating in Girl Scouts. When I was 19, I became a camp counselor and they sent me as a co-leader on a backpacking trip to the woods of Missouri. After that summer, I became a canoe guide, leading extended day wilderness expeditions in the Boundary Waters and Quetico Provincial Park (a large wilderness park in Northwestern Ontario, Canada, renowned for its excellent canoeing and fishing). My experience just grew from there. I've led backpacking, canoeing, kayaking, and skiing trips across the United States, and worked in many capacities as a trip leader, outdoor educator, naturalist, program director, camp director, and course director.  
NCOAE: Was there ever a time when you thought this is nuts and I should quit doing this?
Liz: Never. Bring on the nuts! Seriously . . . it's all about what you can push through. I recall one portage in the Boundary Waters where I suddenly sank chest deep in mud, with a canoe on my shoulders and mosquitoes swarming around. On a course in Alaska, my co-leader and I literally swam our canoes through the mud — participants and gear loaded up in the boats. The lake we had planned to "paddle" only had about an inch of water in it. There are many more stories and many more challenges. But that's all part of the fun.
NCOAE: If you had a non-outdoor industry sponsor who would it be?
Liz: A coffee company that would happily provide a delicious dark roast. Enjoying unlimited free, fair trade, shade-grown coffee every morning on the trail would be excellent.
NCOAE: What excites you when you think about your future in the outdoor education industry?
Liz: All the new experiences that are out there and new skills to learn. There are so many ways to experience the outdoors and I love them all — at least every one that I've tried. I'm looking forward to picking up new outdoor sports, like surfing, and continually experiencing new places.
NCOAE: If you had super power strength, what would it be and why?
Liz: Flying, definitely flying. I can think of a whole new realm of outdoor experiences that could go with my new super power.
Continue Reading
TALK TO US
Have any further questions about our courses, what you'll learn, or what else to expect? Contact us, we're here to help!