Bikepacking
Consider what it is you like best about the Appalachian Trail or the Pacific Crest Trail, and then ask yourself this question, keeping in mind that, hypothetically, you were born decades earlier than you really were:
Benton MacKaye, the father of the Appalachian Trail — or perhaps Clinton Churchill Clarke, who conceived the notion of the Pacific Crest Trail — have asked you to scout the proposed routes to help with the writing of a guidebook.
Would you do it?
"Yes please," would be my immediate response.
Granted, it's a little late to do original onsite research for those two hike-thru heavens, but let's move ahead to the 21st century and Logan Watts. A decade ago, from his home in the mountains of North Carolina, Logan launched a website called Pedaling Nowhere, which has since become BikePacking.com — a site has garnered an enormous following.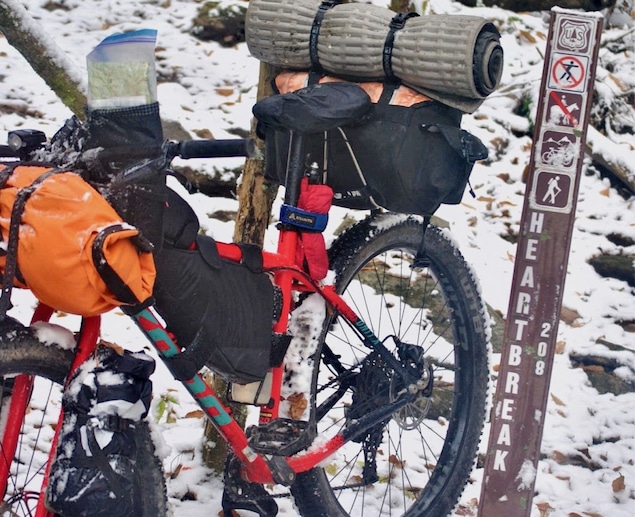 (If you're unfamiliar with the term or activity, according to the editors of BackPacking.com. bikepacking is the "synthesis of all-terrain cycling and self-supported backpacking. It evokes the freedom of multi-day backcountry hiking and travel off the beaten path, but with the range and thrill of riding a nimble bicycle. It's about venturing further into places less traveled, both near and far, via singletrack trails, gravel, and forgotten dirt roads, carrying the essential gear, and not much more.")
Getting to Know Bikepacking.com
BackPacking.com started out as a place to share bikepacking stories, product review and profiles of people, their bikes and the routes they were riding, and by 2014, as more and more routes were catalogued, readers looked forward to everything from challenging and life-changing expeditions to day trips that, by the way, can also be life changing.
Bikepacking's following grew to a point where a print journal — The Bikepacking Journal — was launched (which is now published in April and October of each year), and bikepacking "collective" was formed, which has grown to have enormous influence on the bike industry.
Many of the routes you can find on the website were originally published by
(more…)
Continue Reading
TALK TO US
Have any further questions about our courses, what you'll learn, or what else to expect? Contact us, we're here to help!