Teen Courses
Well, it's official. We've just wrapped up and put a bow around another successful season of adventure-based programming in the Pacific Northwest, with all of our expeditions originated from our base of operations in Maupin, Ore., alongside the wild and scenic Deschutes River.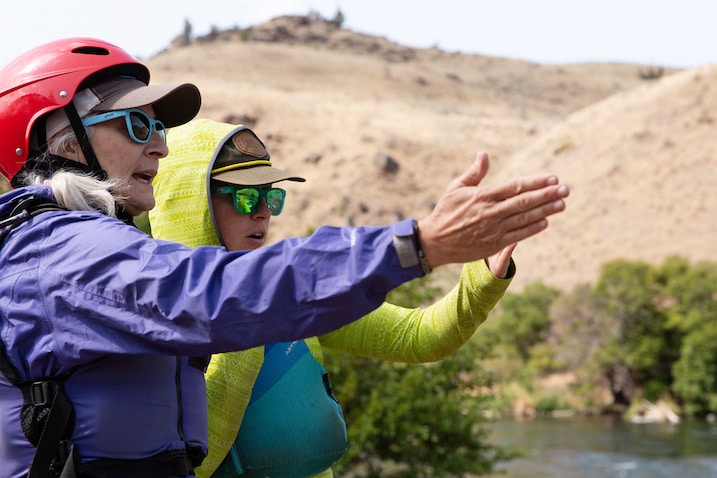 And, of course, we here at The National Center for Outdoor & Adventure Education (NCOAE) are already making big plans for next season's explorations of the Pacific Northwest. Our custom trips feature a range of course options to fit every organization's or adventurer's schedule, all set against the background of some of this country's most breathtaking terrain — the rugged and remote Cascade Mountains. During your trip, you'll be guided through deep canyons, hike along alpine meadows, traverse cold-mountain streams, explore cascading waterfalls, and enjoy remote mountain passes.
For the 2022 season — in addition to custom programs for schools, youth organizations, and other groups — we continue to offer a range of (more…)
Continue Reading
About NCOAE
Much like most educational institutions this past year, we find ourselves looking down the road toward new beginnings. And for us here at The National Center for Outdoor & Adventure Education (NCOAE), that means new wilderness courses, upgraded emergency medicine education courses, and more wilderness medicine education programs. Long before 2020 faded into the rearview, we took a fresh and hard look at what we do, why we do it, and how we can do better by you — our students and client organizations.
As we emerge from the pandemic, we've designed courses that offer our participants more flexibility, greater breadth of instruction, and fresh course areas that will draw you deeper into the wild and yourself.
If your desire is to help yourself to adventure, here are a few of our offerings:
Emergency Medicine Education and Wilderness Medicine Education
We have worked hard to make Emergency Medicine Education and Wilderness Medicine Education easier to access and more flexible to participate in. Our hybrid medical courses enable you to start things off in your own home. That's because one of the largest obstacles facing our students in the past was leaving home, quitting a job, or getting time off from work, and spending their savings on accommodations and food for extended periods of time. For some people, this trifecta of changes meant they had to abandon their dream of becoming part of the medical workforce.
Here at NCOAE, we design course that exceed industry standards, which means you will be a leader in knowledge and practice. Depth of instruction is not compromised by the hybrid format. In fact, our hybrid courses will prove to be a huge win for you, as studying from home only enhances the hands-on education that occurs once you're on-site with us for the practical portion of your training.
(more…)
Continue Reading
Outdoor Educator Training
For those interested in a career as an outdoor experiential educator, The National Center for Outdoor & Adventure Education wants to help you get onboard that particular ship.
But as the late comedian Jonathan Winters suggested when he famously quipped "If your ship doesn't come in, swim out to it," that vessel isn't necessarily going to snuggle up to the dock and pick you up. It's up to you to do the basic footwork — or perhaps backstroke is a better analogy — in order to achieve your career objectives.
Many people ask us if a formal education is necessary for a career in outdoor and adventure education and we answer that question by posing another: Does a piece of paper make for a master educator? Then we answer our own question by saying, "It depends."
In the end, it's you who must decide what role you want to play in the outdoor industry. If your objective is to spend a few years going "wild" as a fledgling field instructor, then just head out and apply for a job. Or let's say you want to become a leader in a specific area of the outdoor experiential education field. In this case, gobble up some on-the-job experience and a fistful of certificates and get to work.
However, if what you seek is a career as a lifelong experiential educator — with a comfortable salary and maybe some good health insurance — some formal education might be required. The secret is to find ways to get a good education without being (more…)
Continue Reading
TALK TO US
Have any further questions about our courses, what you'll learn, or what else to expect? Contact us, we're here to help!