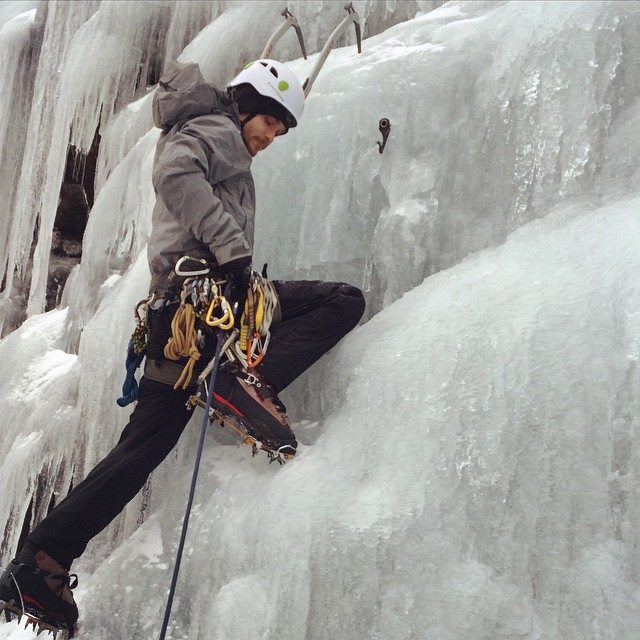 North Carolina native Forrest Stavish is a National Center for Outdoor & Adventure Education (NCOAE) field instructor who also happens to be a lifelong hiker, backpacker and climbing enthusiast. He is a member of the American Mountain Guide Association (AMGA), where he received his single-pitch climbing instructor certification, and is a qualified Wilderness EMT. He holds a SARTECH II search and rescue certification and on top of all that, he is an Assistant Fire Chief.
As we do from time to time here on NCOAE Blog, we thought it would be appropriate to find out more about this ace climbing instructor, so we put him on the spot and posed some serious — and some fun — questions for him to answer:
NCOAE: Tell us about a time you realized you had the power to do something meaningful.
Forrest Stavish: After taking my Wilderness First Responder (WFR) training, I realized that I could use the skills I learned to help my local community. And I continue to do so as a volunteer EMT and Assistant Fire Chief.
NCOAE: Who is your role model, and why?
Forrest: I can narrow it down to two people — one being someone I know and the other I never met. Stephen Mullaney, NCOAE's staff development director, would definitely be one of my role models because of his endless wisdom in the art of teaching. Every time I am around him I feel like a sponge soaking up all the different ways to engage a group. My second role model would have to be Tommy Caldwell for his many feats in the climbing world, especially his most recent ascent of the Dawn Wall on El Capitan. To be missing an index finger and be one of the best climbers in the world, he's worth looking up to.
NCOAE: What do you think about when you are alone on the trail?
Forrest: There are many thoughts that pass through my head when I'm out solo. The one thing that sticks out the most is the thought of how small we are in this vast universe, but how much of an impact we can make — whether it's good or bad.
NCOAE: What was the last costume you wore?
Forrest: I can't really remember the last time I wore a costume. It would have to have been when I was a kid during Halloween. I was most likely a pirate because that's what I always wanted to be for Halloween.
NCOAE: If you had a super power strength what would it be and why?
Forrest: The one super power that I would love to have would be teleportation so I could travel when and wherever I want and I wouldn't have to sit in traffic.
NCOAE: A penguin walks through the door wearing a sombrero. What does she say and why is she there?
Forrest: She says she is here because the penguin population is struggling due to climate change and that she needs my help to spread the word.
NCOAE: What would you do in the event of a zombie apocalypse?
Forrest: I would probably stay home because I live in a very rural area and the likelihood of zombies coming to where I live would be very slim. If they did come, I also have the high-point advantage so I could pick them off with a rifle.
NCOAE: On a scale of 1 to 10, how weird are you?
Forrest Stavish: This is a hard one because weirdness is kind of subjective, but I'd say I'm pretty normal. I guess I'm a two.
NCOAE: One of your favorite moments in the last year or two?
Forrest: Climbing and summiting Mount Rainier, the highest mountain in Washington and the Cascade Range. It was a memorable experience that taught me a lot about myself and what we are all capable of doing.
TALK TO US
Have any further questions about our courses, what you'll learn, or what else to expect? Contact us, we're here to help!