Back in December of last year, we asked key NCOAE administrative and field staff to share some of the things for which they were most grateful. Those gratitude's, as they've become to be known around here, comprised our year-ending blog post for 2018. And if you read that post, you may recall that today's featured staff member — NCOAE EMS Program Director Julius McAdams — thrives on teamwork and the quality of our students.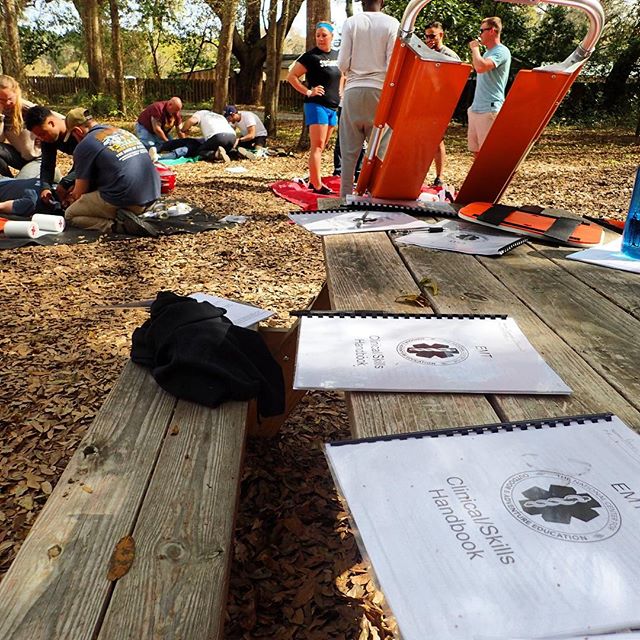 Born and raised near our headquarters in Wilmington, North Carolina, Julius ascended to the role of Program Director in early-October of 2018, having previously served as one of our very capable and enthusiastic EMT Training Instructors. In his current position, Julius is responsible for coordinating and scheduling all of The National Center for Outdoor & Adventure Education's emergency medical services-related trainings, as well as teaching some courses and helping prepare our students to pass the National Registry of Emergency Medical Technicians (NREMT) exam.
As we do with our staff profiles and 'get to know us' posts, we asked Julius to tell us about his background, and here's what he had to say:
NCOAE: What previous companies did you work for and what job titles did you hold prior to coming to work for NCOAE?
Julius McAdams: I have worked within the emergency services field since 1997 when I took a volunteer position in in rural Pitt County, N.C. Two years later, I joined New Hanover Regional Medical Center as a paramedic, later becoming a field training officer and a shift supervisor.
In 2007, I transferred into the Medical Center's Vitalink/Airlink Critical Care Transport team as an emergency services supervisor and instructor. I was also a member of the Center's Bicycle Emergency Response Team and was a tactical paramedic with the New Hanover County Sheriff's Office Emergency Response Team.
NCOAE: What college did you attend and what degree did you earn?
Julius: I graduated from East Carolina University in 1998 with a Bachelor of Music in Music Education.
NCOAE: Do you hold any professional certifications or designations?
Julius:Among my professional certifications and designations are:
Basic Cardiac Life Support (BCLS)
Advanced Cardiac Life Support- (ACLS) Instructor
Pediatric Life Support- (PALS) Instructor
International Trauma Life Support (ITLS) Instructor
Prehospital Trauma Life Support- (PHTLS) Instructor
Neonatal Resuscitation Program Provider (NRP)
National Registry EMT-P (NREMT-P)
UMBC Critical Care Emergency Medical Technician- Paramedic (CCEMT-P)
Board for Critical Care Transport Paramedic Certification-Certified Flight Paramedic (FP-C)
Department of Homeland Security Emergency Medical Technician-Tactical (CONTOMS)
Low and High Angle Rescue certified
Water Rescue certified
NCOAE: When you're not hard at work at NCOAE, what are your favorite outdoor activities?
I most enjoy hiking, camping, kayaking, fishing and competitive shooting.
TALK TO US
Have any further questions about our courses, what you'll learn, or what else to expect? Contact us, we're here to help!