Blog
Staff Profiles
Staff Profile: NCOAE Co-Founder and Director of Operations Celine Adair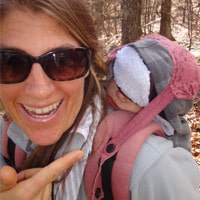 Editor's Note: In our continuing effort to introduce the staff at The National Center for Outdoor & Adventure Education (NCOAE), we decided we'd go straight to the top of the ladder and quiz Celine Adair, our co-founder and director of operations.
Celine is in charge of a lot of things here at NCOAE, including grant writing, staff development, policy development, curriculum development, office management, student and parent liaison, and some billing and bookkeeping in her free time. Originally from a small town about an hour north of New York City, Celine majored in wilderness therapy and marriage and family therapy, receiving a Bachelor of Arts degree in 1999 from Prescott College (Ariz.) and a Masters degree in marriage and family therapy in 2005 from Argosy University.
Celine is married to Zac Adair, NCOAE's executive director and the second "Co" in the co-founder set. Here's Celine in her own words:
NCOAE: So how did a girl from Brewster, N.Y., end up in a college in Prescott, Ariz.?
Celine: It was big wonderful chain of events that lead me to Arizona. I was awarded a soccer scholarship for a Division III school in Virginia. When I arrived, I immediately knew I was in the wrong town and at the wrong school. To make things worse, I injured my ankle in the preseason and was unable to play a lick of the game that got me there.
I was young and I didn't have the courage or insight to do anything about my unhappiness, so I quickly turned into an unmotivated freshman. That spring I crossed paths with a director for a summer camp in North Carolina who offered me a job because she saw that I worked well with kids. 
The director asked what are my special interests were and I referenced the environmental group 'Unless' that my best friend and I started in high school. The director put me on the backpacking and rock climbing staff, thinking it would be a good fit. By the end of that summer, I had slept out under the stars more nights then I was inside under a roof — and I thought that was the greatest concept ever! Before that summer I had never even seen a backpack, a camp stove or a topo map.
However, my first attempt of living this new dream was a failed mission. I applied for a job in Utah to lead three-week-long backcountry courses. They turned me down, big time. I still remember the phone interview — which was really more like HR lecturing me that I was too young and inexperienced.
I didn't want to return to school, in the wake of my freshman year failure where I achieved horrible grades and had a throng of not-so-great people hanging out in my dorm room.
I came across Prescott Colleges' 1996 course catalogue and I thought, "This is were I need to be." So I made it happen. I came up with a plan and I implemented it. I pick up my grads, became a certified EMT, trained and worked on the Gauely and New River and applied to transfer to Prescott my junior year.
NCOAE: Tell us about a time you realized you had the power to do something meaningful.
Celine: That same summer I was hired at the camp, I climbed "The Daddy," which is a classic climb in Linville Gorge, N.C. It's an easy climb, but long and exposed. The last pitch is a summit pitch and when you top out, you are on this beautiful mountaintop in an amphitheater of rock. I had a feeling of being limitless.
And then, of course, there was the adventure of giving birth to my son, Sawyer.
NCOAE: On a scale of 1 to 10, how weird are you?
Celine: Not at all. I mean, I guess a little. It really depends on the day and if I've had my exercise. Things can get weird when I don't.
NCOAE: What are the greatest challenge facing outdoor education programs in America today?
Celine: Land use management. In order for businesses to operate in areas that are deemed "public lands" — national parks and national forests — we must apply for a special use permit. These special use permits are becoming increasingly more difficult to acquire. Many of the rangers districts are not offering any special use permits until a "needs assessment" is completed, which we've be told could be as long as five years. It's a great conundrum because on one hand, I'm glad to know the lands are being restricted and protected, but on the other hand, what good is "public land" if we can't access it?
NCOAE: Who is your role model, and why?
Celine: This has always been a hard question for me. To pinpoint one person when there are many, many individuals — athletes, poets, farmers, monks, and moms — who inspire me to be my best self. But when I was thinking about this question today, three words kept coming up in my head: accountability, kindness and honesty.  
And that describes Tom. He my Uncle and he impacts and inspires me nearly every time I interact with him by consistently providing accountability, kindness and honesty to our world. He is insanely hard working, but very loving. He is super smart, but not arrogant. And he's honest without being abrasive.
NCOAE: Tell us about the last time you wore a costume.
Celine: Last year, which was the first year in for EVER. I was a sunrise (see photo to right). 
NCOAE: If you had one super power, what would it be?
Celine: I'd go back in time and stop the development and pouring of mass amounts of concrete. Or I'd have gecko powers with sticky feet and hands to crawl up high vertical places.
NCOAE: A penguin walks through the door at NCOAE headquarters wearing a sombrero. What does she say and why is she there?
Celine: "I'm here to see Sawyer, I hear he is really into penguins."
NCOAE: Finally, tell us about one of your favorite moments in the last year.
Celine: As the co-founders of NCOAE, Zac and myself refer to the organization as our first child. I love my job. I get up every morning super excited to improve our policy and curriculum in order to impact more individuals in more profound ways.
But I have two side of me, with two different needs. One side is thrilled with policy and curriculum; the other side wants to go play outside — right now! So, my favorite moments in the last year have all been those nuggets of time that I get to tap into the reasons I originally came to co-found a national outdoor education program.
Camping with my friends and family on the Laurel River, rainbows at the beach with Sawyer, the breeze just when I need it, planting cucumbers (and other goodies), the full moon over Ojai, surfing with my honey or running in the rain — any and all of these count as my favorite.
TALK TO US
Have any further questions about our courses, what you'll learn, or what else to expect? Contact us, we're here to help!