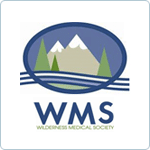 One thing we don't do here at The National Center for Outdoor & Adventure Education is work within a vacuum. We depend heavily upon many organizations that went before us or that help us realize our mission and full potential.
Today, we'd like to shine the light on one of those groups that works behind the scenes to ensure that our efforts in outdoor education, adventure travel and backcountry guiding continue to benefit from standards that keep us and our clients safe and sound in the wilderness.
Specifically, we'd like to tell you briefly about the Wilderness Medical Society (WMS), which was formed in 1983 by three California physicians — Drs. Paul Auerbach, Ed Geehr and Ken Kizer — who integrated the sound principles of medical practice within a wilderness setting.
The specific purpose of the Wilderness Medical Society was to encourage, foster, support, and conduct activities or programs concerned with life sciences, which may improve the scientific knowledge of the membership and the general public in matters related to wilderness environments and human activities in these environments.
As envisioned by these three physicians, WMS evolved into the world's leading organization devoted to wilderness medical challenges. What challenges? These include wild animal attacks, wilderness trauma, expedition and disaster medicine, dive medicine, search and rescue, altitude illness, and weather-related illnesses.
This society explores health risks and safety issues in extreme situations on and off the trail, including mountaintops, remote jungles, deserts, caves and caverns, oceans and rivers — and even outer space — and then shares what it leans with organizations like us at NCOAE.
The society publishes a medical journal, a quarterly newsletter, a number of educational presentations on wilderness medicine topics throughout the year, and it presents guidelines for caring for those requiring emergency care in a wilderness setting. In addition, WMS fosters Student Interest Groups (SIGs) on 71 medical school campuses.

Eighteen years after the formation of the Wilderness Medical Society, the Academy of Wilderness Medicine began to take shape under the direction of David Just, former executive director, and Dr. James R. Liffrig, a WMS board member. Dr. Liffrig became the first director of the academy and developed the core curriculum.
The academy — which is open to all Wilderness Medical Society members — is an adult education program that presents a broad range of information in the discipline of wilderness medicine. The backbone of the academy is its core curriculum, which presents program design, curriculum review, lesson and topic materials, and outcomes as assessment.
Members enrolled in the academy's Registry of Wilderness Medicine must complete a 100-hour wilderness medicine curriculum and accumulate credits prior to becoming designated as a Fellow of the Academy of Wilderness Medicine (FAWM).
It's little wonder that we at The National Center for Outdoor & Adventure Education continue to shake our heads in admiration of the work that's been done by the Wilderness Medical Society over more than three decades. And we're going to continue to advocate for its beliefs and processes for a long time to come.
TALK TO US
Have any further questions about our courses, what you'll learn, or what else to expect? Contact us, we're here to help!