Blog
Life At NCOAE
Living Outdoors Not Always a Choice, But Laguna Beach Man Makes It Work
One of our vendors lives and works out of an ocean-view condo in Laguna Beach, California, where taking long walks throughout that quaint Southern California "Art Colony" is an added bonus for many of its residents. A far cry from our wooded headquarters of Wilmington, North Carolina, our vendor's office is set squarely between reality and the Pacific Ocean.
During one such salt-air stroll, he came across an affable homeless man who sets up shop most days in front of Laguna's historic movie theatre. Sporting a neatly trimmed grey beard and a big smile, the open-air entrepreneur sells colorful, custom-designed patches for application to denim jackets and trousers. As you can see from the image below, these unique patches are, as their creator says, "perfect for Deadheads." And anyone else with a taste for whimsy.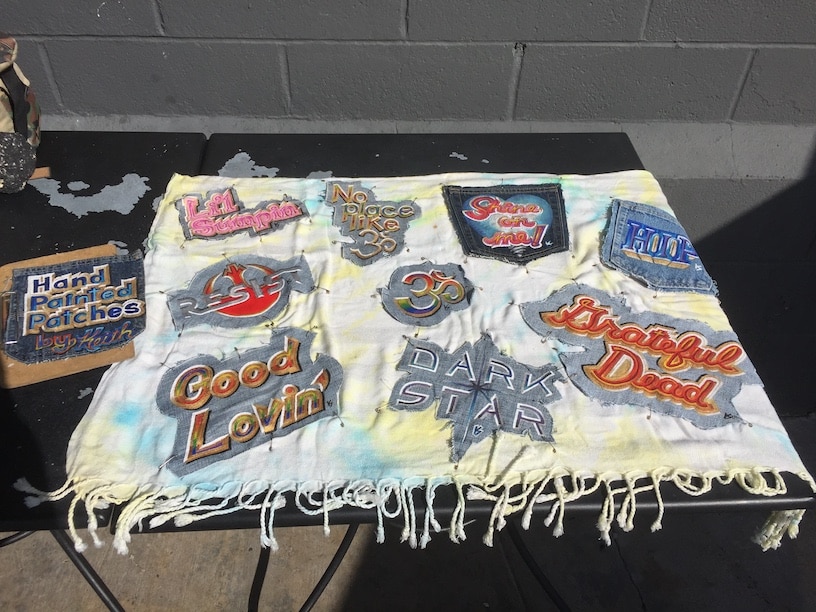 The pair struck up a conversation and our vendor found Keith Sanderson to be a friendly, upbeat man who enjoys selling his patches and chatting up the locals — whom fondly refer to each other as "Lagunatics" — in that free-spirit community. He also caters to the hordes of tourists who frequent the town's nearby boardwalk on any given day.
During one such friendly exchange, our vendor noticed a new sign next to Keith's patches that read, "Will work for a new backpack." Spotting his frayed and forlorn North Face backpack lying on the ground nearby, our vendor made a call to our North Carolina headquarters and asked if we might be interested in digging up a used pack from our gear shed and donating it to Keith.
After hearing about his cordial nature and simple living quarters (Keith sleeps under a group of nondescript trees tucked away from public view in a nearby park), we went one step further. We asked our vendor to send us Keith's height and weight, and then together we ordered him a new Kiva 70+5 Backpacking / Expedition pack from Osprey (a bag that's only available to outdoor education and adventure recreation programs like ours).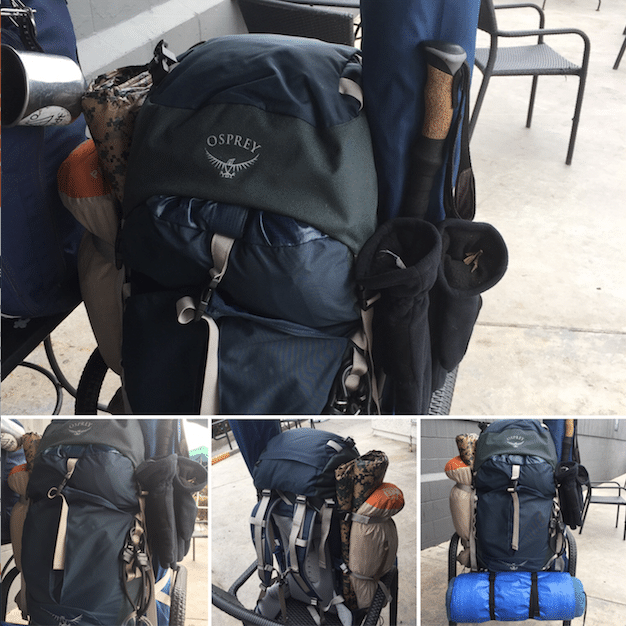 (As an aside, if you're not familiar with Osprey or why we here at The National Center for Outdoor & Adventure Education are so loyal to that brand of backpacks, please read our post from last May entitled, When It Comes to Program Backpacks, NCOAE Opts for Osprey.)
What prompted us to respond was our longtime support of causes related to homelessness and the residentially challenged. Witness our incubation of Education Without Walls — now a not-for-profit organization of its own. Education Without Walls is a year-round, prosocial program designed to help motivated teens with significant financial needs achieve academic and personal goals.
Truth be told, the majority of Education Without Walls' participants live at or below the Federal Poverty level, with many coming from families considered homeless but whom are working to improve their situation. When we heard about Keith and his optimism despite homelessness, it pulled on our heartstrings and we wanted to do something to help someone who — like the youth participating in Education Without Walls — was working on improving his situation in life, as well.
How does Keith do this? By hand-drawing and then painting the patches he sells to passersby. Specifically, he applies acrylic paint by brushstroke to 100 percent recycled cotton denim that he finds at local thrift stores, then displays his wares for sale. How much you ask? Keith says he'll accept whatever you're willing to pay. He is emphatic when he tells our vendor that he never panhandles (unless you consider offering to create works of art in exchange for an occasional meal or payment to be panhandling — in which case, anyone creating and selling art is technically a "panhandler").
When his work day is done, Keith returns to the nearby park where he sleeps well, knowing that his art and good-natured approach to tourists and residents alike is as much a part of the fabric of the town as is its art galleries. And that's saying something, because among Laguna's claims to fame is a No. 1 national ranking when it comes to economic impact of the arts on a per capita basis.
In fact, Keith is so much a part of the local community that he's currently working on a commission for a patch for the Laguna Beach Police Employee Association (Laguna Beach PEA). Shown below, once the patch is done, the PEA will turn Keith's artwork over to an embroidery shop, which will produce patches for use by local law enforcement.
During most days, Keith can be found quietly working on his designs on the outdoor patio at the Starbucks directly in front of Main Beach (Laguna's most popular public beach). There, the store's manager — a friendly woman named Amanda who calmly leads a team of dedicated partners (i.e., employees) who together interact with their share of homeless people — says, "We love Keith. He doesn't bother anyone and is just another customer."
And most important, Keith said he is grateful for his outdoor living arrangement. "I see a lot of people who have it all and they are miserable." He said that as long as he's not a burden to others and can maintain his free nature, he's happy. "I love being able to create something that no one else is doing," adding he has no immediate plans for the future, preferring to live in the now.
He says drug addiction does not dictate his outdoor living arrangement, listing off his "must haves" in order of importance: caffeine, nicotine, sugar, and then THC in a distant four. "Exactly in that order," he said, laughing.
If anyone reading this post is interested in connecting with Keith to commission a colorful patch, feel free to contact Zac Adair, NCOAE's co-founder and executive director, at (910) 339-8090. And if you ever find yourself between reality and the Pacific Ocean (i.e., in Laguna Beach), be sure to say hello to Keith for us!
TALK TO US
Have any further questions about our courses, what you'll learn, or what else to expect? Contact us, we're here to help!