It's official. We've symbolically planted a National Center for Outdoor & Adventure Education (NCOAE) flag in the ground and established a basecamp for our South American operations in Southern Chile/Northern Patagonia. What does that mean to you?
It means that — as of the final days of last year — we officially have a base of operations from which we can now run our future trainings and outdoor courses when in South America. Fittingly, the basecamp was established at the outset of one of our Patagonia-based 24-day Outdoor Educator courses, witnessed by a group of students we took down from the University of North Carolina-Wilmington.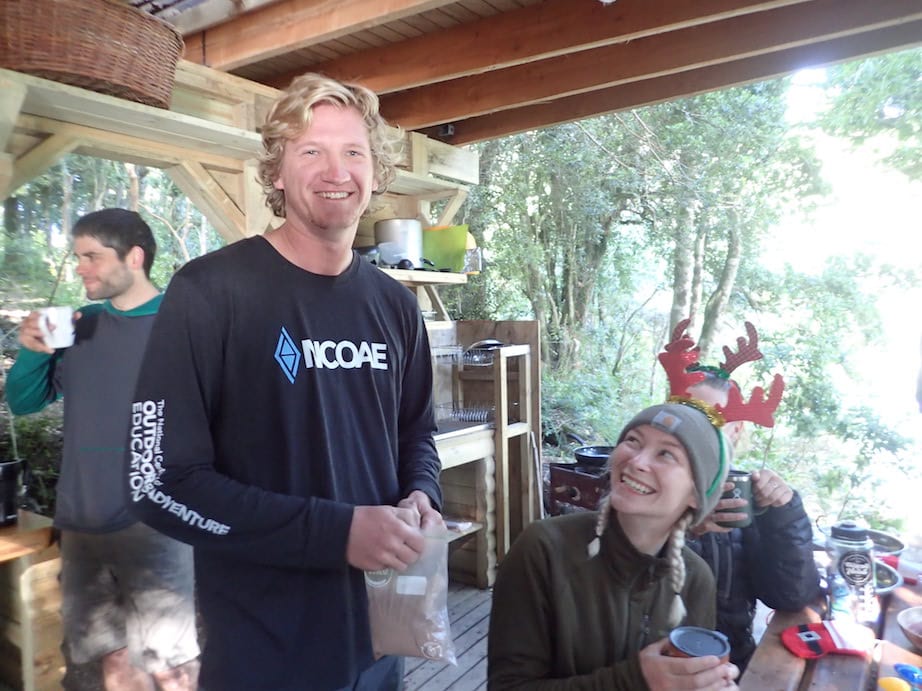 Located alongside a river, the basecamp offers unique accommodations that include a treehouse dormitory, hosteria (which is an inn-like facility), eco-friendly domes, a riverside group kitchen area, and quiet forested areas for camping.
Among the highlights of the property is a treehouse dormitorio offering sleeping quarters nestled within the forest trees. Constructed over, around, and in between the forest, the result is a building that incorporates reliable cool summer breezes, an abundance of shade, and neighbors that include native animals and indigenous plant life.
The kitchen area, which is adjacent to the river, offers a shared space for group meal preparation, including seating, a food storage area, fire circle and all the standard kitchen amenities. Among these culinary comforts are a stove and oven, refrigerator, and a sink with running water. All of this just a few yards from the beautiful Rio Trancura, which is well known for its kayaking and river-rafting challenges.
Features of the campsite and dorm areas include a large treehouse shower —with warm water — an authentic Chilean quincho (mud hut) that serves lunch and dinner daily, laundry services, and a shared workspace/studio in our eco-dome.
Our new digs are ranked among the best places to camp in Pucon, and a favorite destination for an entire community of experienced travelers and adventure tourists from all over the world. And with this comes the opportunity for outdoor- and environmental science-minded college students to sign up for our Patagonia Winter Break'19/'20 Whitewater Paddling & Backpacking adventure.
Those who complete this two-week-plus adventure can earn up to six college credit hours that include Wilderness First Responder certification (three credit hours); Leave No Trace trainer certification (one credit hour); and Environmental Sustainability or Outdoor Leadership (two credit hours) through the University of North Carolina-Wilmington's Department of Environmental Sciences.
The course enables students to advance their knowledge of environmental science and outdoor education curriculum while exploring Chile's wild wilderness areas. Upon arriving at the airport and driving to Chile's Maipo Valley, students receive several days of instruction in basic camp craft and our core curriculum. What follows are:
Three days in Banos Colina, a high-altitude hot spring
A six-day trek to the 19,193-foot-high Volcan San Jose summit
Entry-level training in whitewater kayaking, stand-up paddleboarding and rafting —ending with views of towering Volcano Villarrica.
The trip draws to a close with a three-day raft and camping trip on the Rio San Pedro, known for its turquoise-colored waters.
The '19-'20 winter break adventure will be the first opportunity for us to show off our new basecamp. If you're interested, call us at (910) 399-8090.
TALK TO US
Have any further questions about our courses, what you'll learn, or what else to expect? Contact us, we're here to help!