For this year, Halloween is history, Thanksgiving looms in the near future, and Christmas is still far enough away that it doesn't feel like Christmastime — unless you've visited the decorated and well-lighted malls and outlet stores over the last month or so.
Fortunately, when you tire of planning for family visits and turkey dinner with all of the trimmings, you can always set aside an hour or so to get psyched for your next outdoor adventure. And an excellent way to do that is to check out the list below of outdoor themed films that come highly recommended by our own staff here at The National Center for Outdoor & Adventure Education.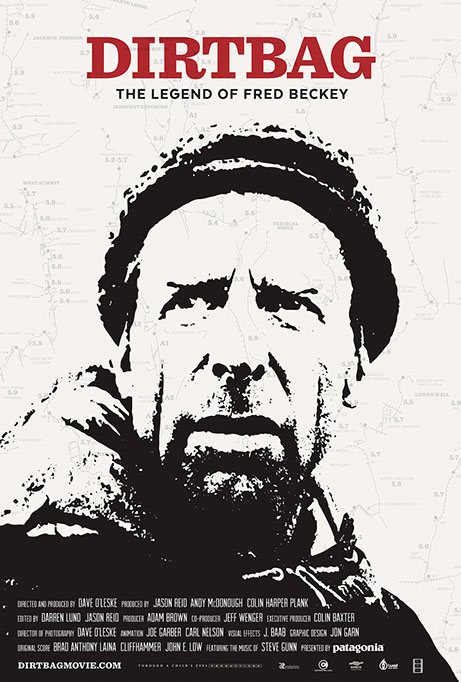 These films are guaranteed to provide some respite — and inspiration — for your next human-powered outdoor recreation adventure. Because, while we love and cherish our friends and families, we have an unconditional love affair with everything backcountry and wilderness related. We even argue with our friends about how much more we love the outdoors that they do.
So, we suggest you take a break during the hectic holiday hassle, maybe get together with a few of those above-mentioned friends, and watch one or more of these recommended films. Because there's just something to be said about outdoor films — the beauty, camaraderie, the suffering, and the humor. 
We think this is one of the most beautifully filmed documentary outdoor action movies made in a long time. If you're a big fan of the Thomas Campbell surf films, this just might be something you want to check out. The film documents mountain bike adventures around the world, with a wide range of notable riders. Filmed on tight single-track trails to infinitely open landscapes, riders challenge the open trail as well as manicured areas complete with jumps, landers and berms built into the landscape. Then there is the full-on park style riding with tracks, big jumps, drops and kickers.
Return to Earth's soundtrack is eclectic and fits perfectly with the landscape, style of riding and filming. Much of the music might not be something you would choose to listen to, but when combined with the film's content, you find yourself immersed in a mood deliberately set by the filmmakers. You don't want to like the song, but now you do!
Dirtbag: The Legend of Fred Beckey
Most of us hope that at age 70, 80 or 90-plus years, we are still sleeping in the outdoors, hiking in wild places, and still exploring personal limits by attempting to haul ourselves up rock faces and down rivers. That describes Fred Beckey, who died at 94 while still living the dream.
If you watch the film and are interested in learning more about Fred, read Robert D. McFadden's excellent writeup, Fred Beckey, Conqueror of North American Peaks, Dies at 94 in the New York Times.
Running! Sometimes it's painful just to say the word. Brendan Leonard, a storyteller, filmmaker and accomplished outdoorsman, documents his running of the Run Rabbit Run ultra-marathon. Be prepared to laugh, cry, swear, and then be inspired to try something ridiculous — like running 100 miles.
Foothills: The Unlinked Heritage of Snowboarding
Amazing… a little-known history comes to life in this mini documentary about the deep roots preceding the sport of snowboarding. This film makes you wonder why we spend so much money on having fun. Beautifully filmed, culturally eye opening, and full of fantastic turns and enormous smiles.
So much has already been written about this film that retraces Yvon Chouinard's and Doug Tompkins' 1968 trip to Patagonia, that if you haven't watched it, it's about you did!
This is just a fantastic seven-minute documentary about John Shocklee, a man who lived with his parents until he was 26, took a minimum-wage guide position at the age of 39, and now at 52, still hasn't landed what society would classify as a real job. However, the decision to refuse to grow up has worked out well for Shocklee, who splits life between ski guiding at America's rowdiest ski mountain — Silverton, Colo. — and rowing dories through the Grand Canyon. He lives in an alley shack, wears Teva sandals like they're going out of style and makes about as much as an 18-year-old busboy. And that's just fine by him. John Shocklee: A Fairy Tale taps into this man's fountain of youth. Hint: It involves mountains, snow, and '90s hip-hop, and is a must-see film in the seven-minute-film category!
Join big mountain skiers Dane Tudor and Christina Lustenberger as they travel up the  mighty Columbia River, home to some of the best skiing in the world. From Trail through Revelstoke and on to Kinbasket Lake, through the famed Selkirks, Monashees and Rocky Mountains, Dane and "Lusti" move northward through a unique mountain culture. A land of stark contrast, where dams and development give way to wilderness, massive snows, and a sea of peaks.
Karl Meltzer: Made to Be Broken
Ultrarunner Karl Meltzer has long dreamed of setting the speed record for covering the entirety of the Appalachian Trail. Now he sets out for his third and final attempt to run 2,188 miles in less than 46 days, eight hours and six minutes.
Now Streaming on Netflix
If you need even more inspiration and have access to Netflix (or your parents do), these films featuring human-powered outdoor adventures are now available on the world's most popular online streaming media-services provider:
Fishpeople: In this exploration of the life-changing power of the ocean, six people from very different backgrounds find purpose and meaning in the sea.
The Down Wall: Cameras follow Tommy Caldwall and Kevin Jorgeson as they take on the staggering challenge of free-climbing Yosemite's most formidable rock formation.
Mountain: Featuring breathtaking imagery and thought-provoking narration, this film takes viewers to the summits of some of the world's most amazing mountains.
Under an Arctic Sky: Six fearless surfers travel to the north coast of Iceland to ride waves unlike anything they've ever experienced — all captured with high-definition cameras.
Footprints – The Path of Your Life: This documentary film follows 10 men who agree to walk the Camino de Santiago, a 500-mile, 40-day trek that will challenge their strength and faith.
This is a just a small sample of inspiring stories and films available to adventure aficionados on a lazy day. If you are inspired to participate in such an adventure, and you find yourself in need of a partner, let NCOAE know. We can get you to the places that inspire films like these. Or, you could always go out and make a film to inspire others, send it to us, and let us premier it for you.
TALK TO US
Have any further questions about our courses, what you'll learn, or what else to expect? Contact us, we're here to help!