Stereotyping is never a good thing — primarily because such finger-pointing prejudices are usually unsupported by fact. Take, for example, the 140 million Americans who either dabble in human-powered outdoor recreational activities to some extent or are fully immersed in everything related to the backcountry and Wilderness itself.
That's almost half the nation's population, if my math skills are accurate. Yet whenever the beneficial goings-on of the Outdoor Industry Association (OIA) are in the headlines, many local and state politicians conjure up a negative image in their heads. "Oh yeah, those deadbeat climbers, those slacker surfers, those burned-out mountaineers."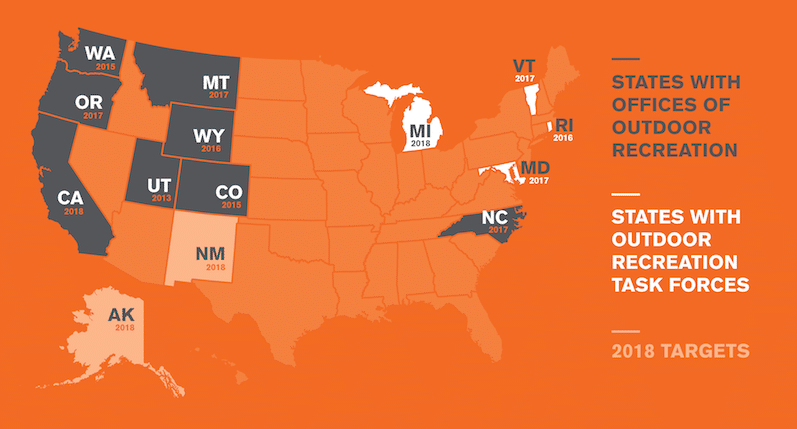 These closed-minded politicians fail to recognize who their outdoor constituents really are, and what the outdoor recreation industry means to the economy. And that includes activities from the local and state level, all the way up to the top — the National Park Service.
A report recently released by the Outdoor Industry Association estimates our industry produces $887 billion in annual revenues, and employs an estimated 7.5 million people, both fulltime and seasonally. Let me repeat that — $887 billion, with a B!
Statistics like these have local and state government officials beginning to sit up and take notice. And it's got many of them thinking that maybe saving all these wilderness treasures might just be worth the expense. As a result, some forward-thinking states are creating offices of Outdoor Recreation with director-level positions. Take North Carolina for instance — which is home to The National Center for Outdoor & Adventure Education (NCOAE). It's the first state east of the Rocky Mountains to create such a position.
So, what does this mean for you and future outdoor aficionados? It could mean more public boat ramps, bike lanes and a more generous approach to how we responsibly set aside and use our public lands. Should we blow up the mountain in order to get to what's inside? Or do we allow people to use pristine wilderness areas year after year, generation after generation?
Take a look at the towns and municipalities located near outdoor recreation hot spots. That's where you see hotels, homes, schools and businesses begin to crop up, along with jobs to support these wilderness-close communities. That means additional tax revenues deposited in city and state coffers.
Nowhere is this more apparent than in Summerlin, Nevada, which sits on the western outskirts of Las Vegas and abuts the Red Rock Canyon National Conservation Area. Red Rock of course is home to nearly 200,000 acres featuring world class climbing routes and hiking trails that attract nearly 2,000,000 visitors each year. As for Summerlin, there you'll find a community of 100,000 residents with an estimated average annual household income of $140,000!
Recently, our industry has been making its voice known through action. Environmental issues that hurt wilderness areas have resulted in OIA exerting its influence to pull out of conferences and events in states where such issues seem to have taken a back seat. A good example was when the state of Utah took a hit after state officials ignored our concerted effort to save public lands. As a result, the nation's largest trade show for manufacturers and retailers of outdoor recreation equipment, clothing, and accessories relocated it annual gatherings to neighboring Colorado, where public lands aren't under threat from the state's elected officials.
Our people have power, and they've shown they are not afraid to flex their muscles when it comes to the environment.
In addition, these newly appointed state directors of recreation are hitting the pavement — or trail — to hear comments from outdoor recreation area advocates, asking them what they want, what they see as problems, and more important, where they see room for improvement. The idea is to strike a balance of recreation without gentrification. That balance will most likely come with legislation and laws that protect and benefit individual states in the long run.
Yes, when it comes to outdoor recreation, there is money to be made for municipalities, states and the nation. But there's also the money that's being saved. For example, those states that embrace and enjoy thriving outdoor communities and easy access to natural places end up with healthier citizens. And that can result in impressive cuts in health care costs and taxes required to support health care systems.
David Knight, North Carolina's new Outdoor Recreation Director, said he is taking a close and thorough look at creating ways to reduce spending on providing access to public lands by getting the state to become proactive when constructing roads, bike lanes and affordable transportation.
Many see this new government interest as one way to bridge the seemingly insurmountable gap between political parties. Mountain bikers, hikers, rock climbers, and mountaineers will all finally have a voice at the state level that centers on outdoor recreation and protecting wilderness in order to protect a way of life.
Sure, there will be public "dust ups" about who can do what, where and when, but hopefully that translates into the development of even more "wild spaces" to enjoy our outdoor time.
See you on the trail.
– – – – – – – – – – – – – – –
About the Author: Stephen Mullaney is the Director of School Partnerships at The National Center for Outdoor & Adventure Education in Wilmington, North Carolina.
TALK TO US
Have any further questions about our courses, what you'll learn, or what else to expect? Contact us, we're here to help!