When folks find out that my work often takes me into the backcountry, one of the first questions they usually ask me is, "Have you ever had a run-in with a bear — a bear encounter?"
After I tell them that I have had run-ins with bears in the backcountry, they ask what's that's like. And that's when I share that there are many emotions attached to an encounter with a bear in the wilderness, ranging from shock, to humor, to the sudden and unexpected "meet and greet" where you wonder, "Am I going to have to physically engage with this bear?"
First up in this three-part series on bear encounters in the backcountry is a true story about ashocking bear encounter.
A Shocking Bear Encounter
It was Day Two on a multi-day backcountry expedition when someone in the group needed to stop and use the facilities, meaning off the side of the trail. The hiker asked for the "Poop Kit," which contains hand sanitizer, a trowel to dig a hole and everything else needed for a semi-comfortable sitting.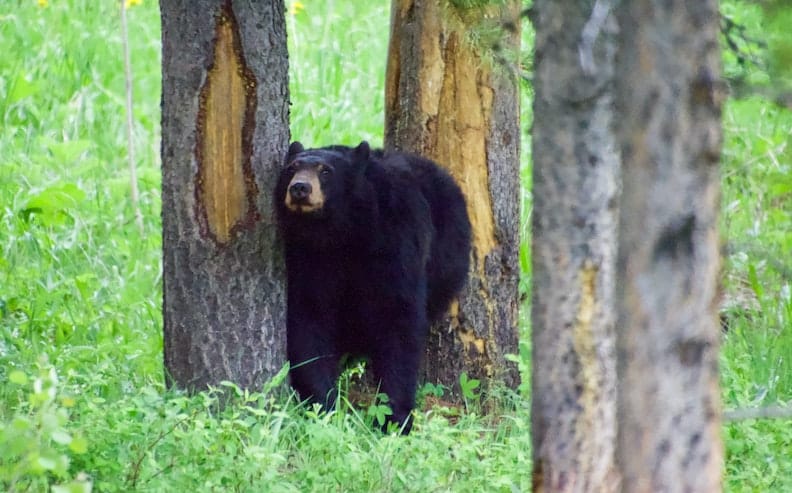 Problems arose when no one could find the kit. As an aside, when traveling as a group, each participant is responsible for carrying the same communal gear each day — that way, nothing gets lost. So, who had been carrying the kit for the entire trip?
A voice spoke up, "I'm supposed to have it, but it's not in my bag."
Someone else said, "I saw it by the fire ring this morning while we were getting ready to head out."
Not too happy, I looked at my co-leader and told him, "One of us needs to hike back and get it while the other gets the group into camp." I lost the coin toss, and prepared to head back to get the kit. Wanting to travel light, I hung my backpack up in a tree, grabbed a snack and a bottle of water and headed the four miles back to the previous night's campsite.
On my way back, I was cruising along, thinking about the last 12 days on the trail with this group, when I smelled the sweet aroma of soap and shampoo. As I rounded the corner I saw a group of day hikers. It's amazing how your sense of smell improves when you've been in the backcountry for a decent amount of time.
On the other hand, as I passed the day hikers, I wondered what they thought I smelled like.
Arriving at the campsite, I walked straight to the fire ring and there it was the kit. I grabbed it up and started back the way I came, calculating in my head that I would arrive at our new camp after dark and after dinner. By the time I arrived back at the tree where I had hung my backpack, I had already hiked 12 miles that day and had two more miles to go. Not an outrageous number of miles, but it was summer and I was hot, tired, and hungry.
A Thick and Musky Smell
As I made my way through dense mountain laurel, a new smell greeted my nose. This time it was thick and musky — not unlike a wet dog smell. I looked to the right, and the terrain was a series of small cliff bands. To my left, there was a steep drop off to the river.
When I looked straight ahead again, there was a large bear lumbering down the trail toward me. My first thought was the terrain offered me few options to get out of its way. I briefly felt faint, which is the best way to describe shock. I was shocked. So I started yelling at it. It drew closer. And bigger. So I yelled at it some more. And I kept yelling until it stopped, stared at me, and then suddenly scampered up the cliff bands and disappeared. It was as if the bear had never been there. Shocking!
I arrived in the new camp slightly shaken, and looked up in the trees for the bear bag. I asked if it had been hung and I asked if it was hung properly. Somebody said, "We haven't put it up yet." I told the campers that I was just face-to-face with a big bear, and if I could smell the bear, it certainly could smell us. "Could you please hang it up now," I asked?
Exhausted, I sat down, ate a bowl of food and recalled how quickly the bear had appeared and vanished into the dark woods. I looked around, out into the night, and felt pretty sure the bear had also been shocked by my vocal response to its presence. And I was fairly certain the bear was out there staring back at me.
Editor's Note: In the next two posts in this series, we'll try and see the humor in a bear encounter in the backcountry, and then we'll pose the question, "Can a mountain bike outrun a bear?" And in this case, it's not a hypothetical question. Stay tuned!
TALK TO US
Have any further questions about our courses, what you'll learn, or what else to expect? Contact us, we're here to help!