Blog
Wilderness
Winter Camping Offers an Exciting Challenge to Your Comfort Level
As the numbers on the thermometer continue to drop in many regions of the United States, fewer people are packing up their camping gear and venturing into the backcountry. Not unlike our nation's bear population, most outdoor enthusiasts lose a little of that enthusiasm for wilderness when winter makes its appearance.
Many part-time adventurers prefer to snuggle indoors, heat up some coffee or hot chocolate, catch up on their reading or TV binge watching, and begin planning for their first outing — next spring.

However, there are those of us who can't wait to see how winter has decorated the trails, hillsides, and mountains, and how similarly can't wait for the challenges offered in the outdoors when the cold settles in and the snow really hits the deck. Yes, there are myriad challenges and yes, wintertime spent in wilderness will definitely test your mettle. But just look at the advantages:
No long lines at the entries to your favorite spots. No lotteries or camping permits in many locations.
No bugs! No bears! Practically everything you dislike, or fear, is asleep in the dead of winter.
No campgrounds full of novice campers and their loud "toys." No caravans of raucous "juerguista" (party animals). No huge Ram Charger trucks parking four inches from your campfire.
There's no need to head off to an unknown destination. Your favorite spot — when seen in the winter months — can be a totally new experience. Where there are normally meadows surrounded by lush green trees, you might find yourself ankle deep in snow, accented by lacelike bare branches covered with powder.
Fact is, you just might arrive at your favorite spot and find far fewer — or possibly no other — visitors at all. Talk about remote. It's just you and the environment.
Wildlife a la Carte
With fewer bipeds on the scene, the chances of spotting wildlife increase substantially. Have you ever looked up and spotted a wolf staring down at you from a rock? Ever been paced by a coyote? Or see owls land on a tree over your campfire? If not, it's probably because there have always been too many people in the area.
In other words, the old becomes the new. We call that shoshin — a word from Zen Buddhism meaning  beginner's mind, often referring to having an attitude of openness.
It is when a camper experiences the return of eagerness — a lack of having done this before. There are no preconceptions, even when it involves doing something you have done a thousand times before.
Remember when you were a backcountry beginner, seeing the possibilities of each adventure rather than their limitations? Why is it that so many of us pursue — sometimes to a fault — climbing, camping, biking, and living outdoors? We are seeking to capture that "first time" high we got during our first encounter in a wilderness environment.
Winter camping forces us to reevaluate our objectives, gear, clothing selection, and cooking, shelter, and sleep systems. For those of us who think we have it all dialed in, this is an opportunity to challenge that comfort level. It's that first-time feeling all over again.
Geek out on the Gear
If you are looking for an excuse to research and use new gear, this is it! You don't need to explain or justify to a parent, partner, or friend just why you had to buy that new sleeping bag, puffy or Faux-fur lined hat. Just go and get it. You're going to need it, right?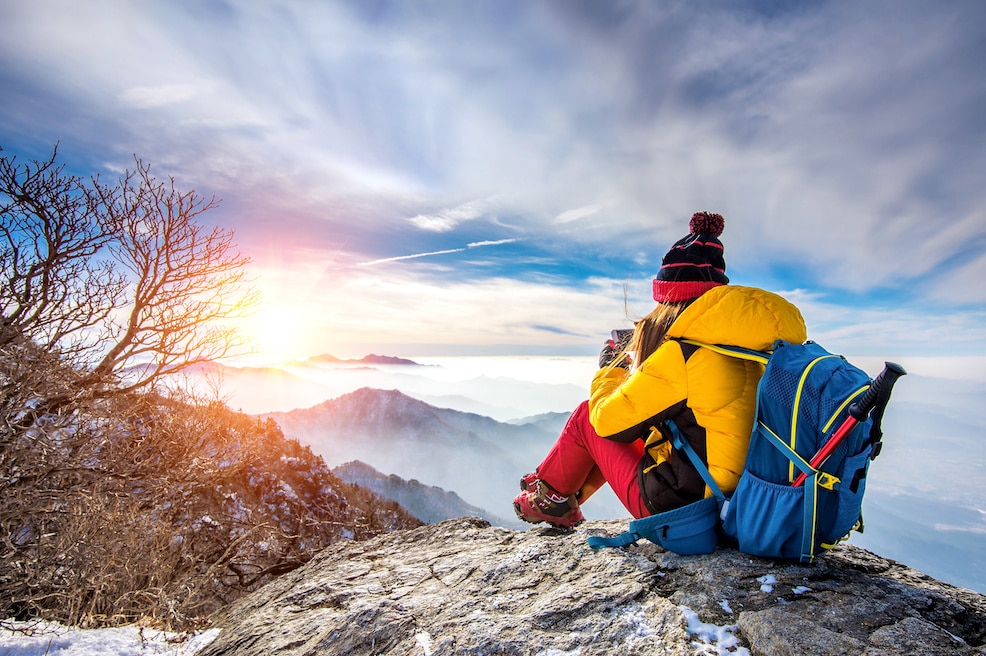 Same goes for food selection. Think cheeses, warm foods, hot drinks and more. Remember, the weaker winter sun will be setting earlier, and you'll be spending more time in camp, burning up calories to stay warm. Winter camping means paying closer attention to meals. And especially comfort food. Meals always taste better in the outdoors. But in the winter, your appreciation for the quality of food goes through the roof.
An Opportunity for Empowerment, Enlightenment and Clarity
Winter camping is a great way to test your limitations and discover what kind of decision maker you really are. How are your winter weather predicting skills? How well do you handle challenging situations and demanding tasks?
You might have the opportunity to navigate in whiteout conditions, which can boost your confidence and abilities. You can also be greatly humbled during this same experience. You might face the decision of staying out or heading home. Sometimes, that decision will be obvious. Other times, you will be treading that fine line between good and bad choices. But when you do finish the trip, you will have upped your game — even if you find yourself walking back to your car with your tail between your legs.
And you may experience the most beautiful of weather or skies so thick you feel boxed in. However, when there are breaks in storms, those snippets of beauty are what keep you sharp, in tune. And grateful.
Of course, after all is said and done, you will have stories. Lots of stories. While your coworkers, friends, and family are whining about how uncomfortable the seats are in their car, or how difficult it was removing snow and ice from their windshields, you can quietly nod your head, knowing full well what real discomfort and overcoming winter challenges is really all about.
Because the bottom line is this: While there's a ton to be said about bragging rights, discretion continues to be the better part of valor.
TALK TO US
Have any further questions about our courses, what you'll learn, or what else to expect? Contact us, we're here to help!