Outdoor and adventure-based summer camps for teens provide a life-enriching and world-changing experience for those who participate in them. These experiences, offered by accredited adventure-based experiential and outdoor education providers like The National Center for Outdoor & Adventure Education (NCOAE), offer a unique opportunity for teens to develop personal competencies in the following four areas, as well as technical outdoor skills that will last a lifetime:
Self
Community
Action
Impact
Or, as we here at NCOAE prefer to present it:
Self + Community + Action = Impact
This formula for personal growth, development, and leadership sets us apart from a traditional summer camp, where backcountry experiences are electives and not the backdrop for everything that's offered.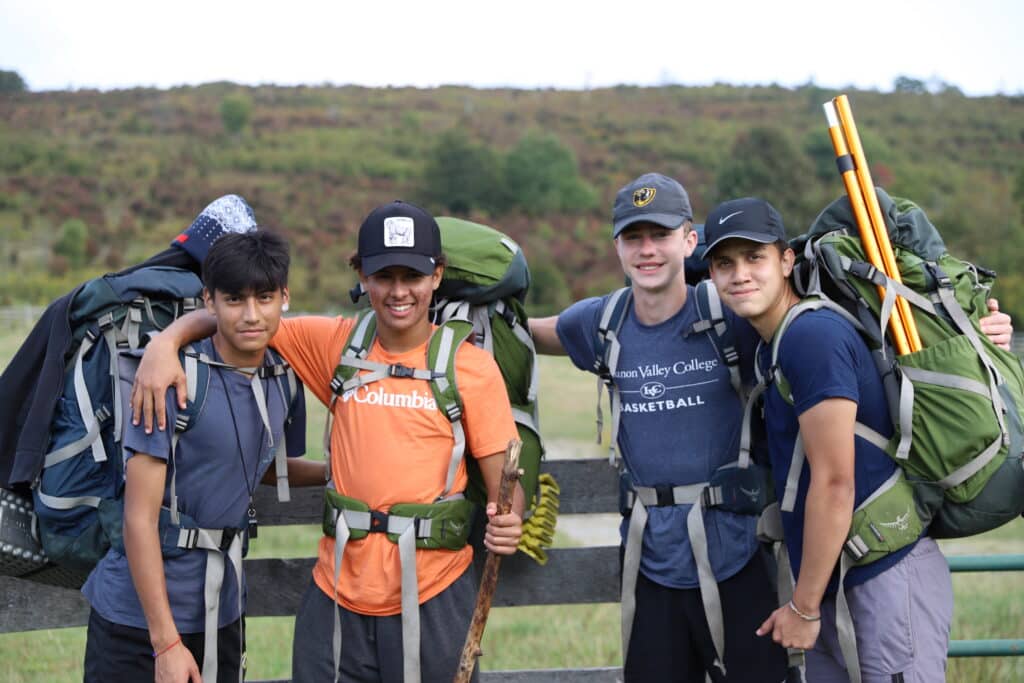 Parents of teens who choose to participate in our adventure-based summer camps often tell us their teens return home with much more than campfire-building skills. These parents report an increase in caring and empathy on the part of their teens, and a better understanding of the importance of sharing and giving. They also exhibit a greater willingness to stand up for what they believe in, taking responsibility for their actions instead of shifting the blame elsewhere. These teens have discovered that such qualities are essential for building a progressive society and making a positive impact on the world.
Outdoor and adventure-based summer camps experiences that take place in the backcountry create a sense of community and provide opportunities for intergenerational relationships. They help teens develop important social skills in the areas of leadership, communication, and participation. They also foster self-respect and community building by encouraging responsibility, resourcefulness, and resilience.
In addition, these backcountry and wilderness-based experiences promote community living and service skills such as caring, fairness, citizenship, and trustworthiness. And they teach teens to respect and protect not only each another, but also the environment in which they live, inspiring a sense of appreciation and responsibility for the natural world.
Through outdoor and adventure-based summer camps, teens develop connections with the world around them and gain a deeper understanding of the strength of humanity. The simple teachable moments, and those passing experiences touched by the human spirit, build character and values that will serve campers for a lifetime. Whether it's a moment of connection with a fellow tripmate, a challenge overcome on a hike or climb, or an appreciation for the environment, these positive experiences have the potential to impact someone for years to come.
Need more reasons to encourage your teen to participate in backcountry teen adventure this summer? Below are five reasons why leadership and interpersonal development are so important in outdoor and adventure-based summer camps:
1. Building Confidence and Resilience
By pushing themselves outside of their comfort zones, participants in our outdoor and adventure-based summer expeditions develop confidence and resilience. They learn to mitigate for and take highly calculated risks, and to profoundly characterize and rebound from obstacles that at first seemed overwhelming and unnavigable. Through these experiences, young participants in our summer backcountry expeditions gain a deeper understanding of their own abilities and are better prepared to tackle future upsets and opportunities.
2. Fostering Teamwork and Collaboration
Outdoor and adventure-based summer camps offer a unique opportunity for teens to collaborate with one another and work together as a team, supporting each other as they participate in group problem-solve. Through these experiences, they practice effective communication effectively, successfully resolve conflicts, and appreciate the perspectives of others when they differ from their own.
3. Developing Leadership Skills
Outdoor and adventure-based summer expeditions provide teens with opportunities to assume leadership roles, practice decision-making and problem-solving, and to refine or develop their own leadership style. Whether it's leading a group hike or helping to create a group meal, participants benefit from taking on new responsibilities and striving to complete achieve shared goals and objectives.
4. Encouraging Independence and Self-reliance
During outdoor and adventure-based summer expeditions, teens — along with their field instructors and course directors — are responsible for taking care of themselves and their gear, preparing meals, and navigating through unfamiliar terrain. These practices, which require teens to assume ownership of their own experiences, foster self-reliance and a sense of sustainable independence.
5. Cultivating a Sense of Adventure and Exploration
Hands-on outdoor and adventure-based summer experiences encourage teens to explore the natural environments in which they find themselves. Participants have the rare opportunity to experience stunning vistas; learn about natural ecosystems, flora, and wildlife; and gain a unique appreciation for the environment. These adventures offer teens the opportunity to develop a lifelong passion for human-powered outdoor recreation, backcountry exploration, and conservation of natural environments.
The last thing you don't want to do is to leave your teen's personal growth and development to chance or to the many negative influences in the world. Instead, give your teen a transformative experience with opportunities to develop the character, skills, and leadership qualities necessary to navigate life successfully and make the world a better place. Enroll your teen in one of our outdoor and adventure-based summer camps today and expect to reap the benefits of having done so for a lifetime to come.
TALK TO US
Have any further questions about our courses, what you'll learn, or what else to expect? Contact us, we're here to help!