Here at The National Center for Outdoor & Adventure Education, we're known for bringing gourmet meals to the wilderness. And since we carry all our food either on our backs or in our boats, we try to pack ingredients that begin in their lightweight dehydrated form. That makes for an easier time on the trail, and it leaves room in our packs for fresh vegetables and fruit to mix things up.
Meals in the backcountry offer a variety of options — from meat and grains to fresh baked bread and pizza made from scratch. Our students learn to cook meals on the trail, often developing cooking skills that they can bring home to the front country.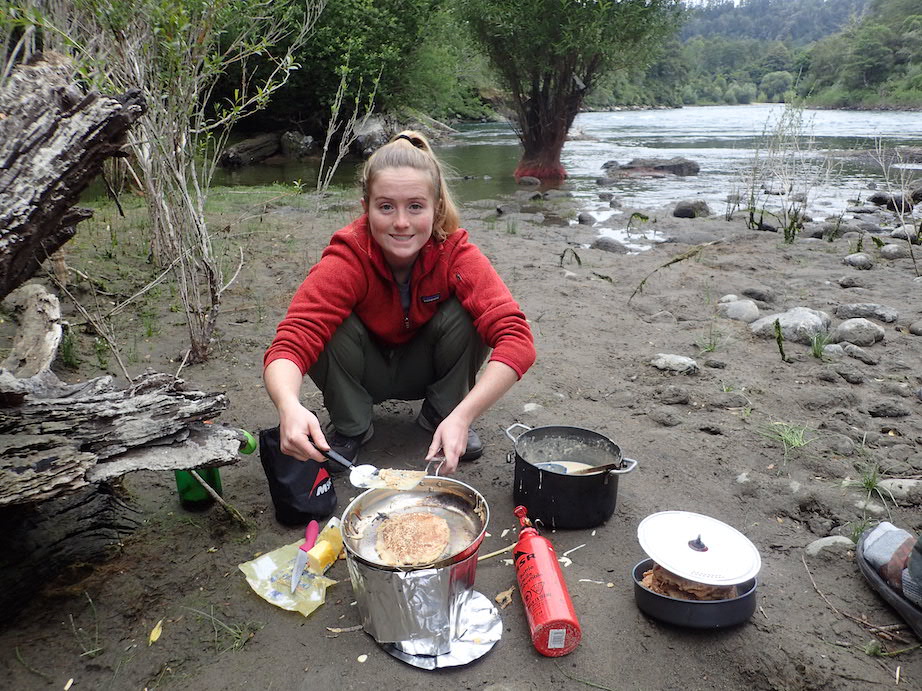 Here are some our staff members' and students' favorites from the trail that you might want to prep and cook on your next outdoor adventure:
Blueberry Pancakes
Who doesn't like pancakes first thing in the morning? This trail-proven recipe is sure to get your day started on the right footing. Blueberries, after all, are more than just sweet and nutritious — they're also known to play a role in reducing muscle damage, especially after strenuous exercise.
Here's our recommended recipe for blueberry pancakes:
Serves 2-3
Ingredients
2 cups of instant buttermilk pancake mix
½ cup of blueberries (dried or fresh)
Nuts (optional)
1 tablespoon of Maple Syrup
1 tablespoon of Oil or Butter
Directions:
Add cold water to pancake slowly, mixing until desired consistency.
Mix in blueberries and nuts.
Heat oil or butter in skillet, then cook pancakes until brown.
Add syrup to taste.
Wilderness Chicken Salad Pitas
Chicken salad, when properly made, is a favorite of our staff and students. This recipe, which relies on prepackaged chicken that's now available in multiple varieties, is a quick, simple, and unexpected treat in the backcountry.
Serves 2-3
Ingredients
1 7 oz. pouch of chicken
2-3 packets of mayonnaise
2-3 packets of relish
1 apple, chopped
Raisins (optional – to taste)
Cinnamon
Salt and pepper
Pita bread
Directions:
Mix chicken, mayo, relish, and chopped apple together.
Add cinnamon and salt and pepper.
Serve with pita bread.
Lentil Curry Pilaf
For a savory backcountry meal option, try this recipe for Lentil Curry Pilaf:
Serves 2-3
Ingredients
1 ½ cups of rice
3 cups of water
1 ½ cup of coconut milk
1 cup of lentils
1 small onion, chopped
2 carrots chopped
1 garlic clove chopped
Curry powder
Turmeric
Salt and Pepper
Directions:
Add the rice, lentils, and spices to water and coconut milk.
Bring everything to a boil, then heat to low (just enough to maintain the simmer) and cover.
Continue cooking until rice and lentils are tender and most the liquid is absorbed, about 30 minutes.
Meanwhile, heat oil in a skillet.
Sauté carrots, then onions and garlic in a skillet until slightly tender.
Add to rice and lentil mixture.
Backcountry Apple Crisp
Finally, this simple recipe for Apple Crisp has been delighting the tastebuds of backcountry travelers for years. With just five basic ingredients and a short amount of prep and cooking time, you'll rediscover flavors you never knew you missed.
Get started with the following ingredients (serves 2-3):
2 cups of dried apples
1 tablespoon of butter
1 cup of brown sugar
1 cup of quick oats
1 teaspoon of cinnamon
Directions:
Cover dried apples with boiled water. Let set for 15 mins.
Mix dry ingredients in a small bowl.
Place the dry ingredients and apples in the center of a skillet and top with butter.
Cook until warm and crispy.
For more on backcountry nutrition, read my previous post "Planning and Prepping Backcountry Meals."
TALK TO US
Have any further questions about our courses, what you'll learn, or what else to expect? Contact us, we're here to help!