Few things on Earth can match the unsurpassed contentment of sleeping outdoors. "If people sat outside and looked at the stars each night," Bill Watterson once wrote, "I bet they'd live a lot differently." Amen to that!
The stars above, the clouds floating by like sailing vessels, the trees whispering in the breeze. And, of course, there's the mosquitos, the rain, the crawling critters, and Mother Nature. Like I said, nothing better, with the only caveat being what comes next.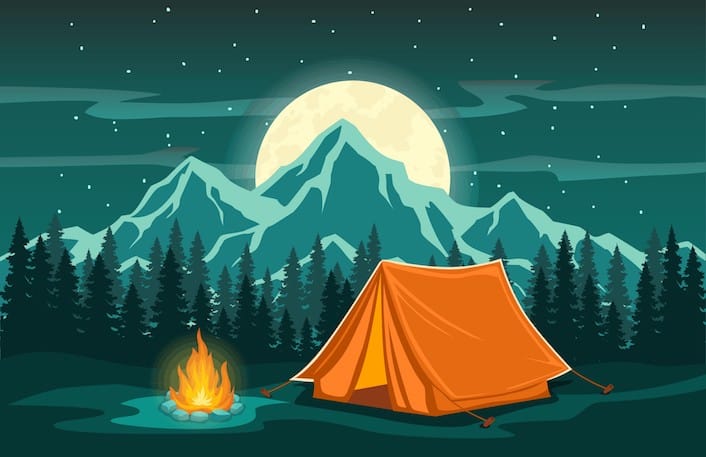 If you want to sleep under the stars, you're going to need a plan. And coming up with that plan entails understanding what types of shelters are out there and what fits your personal or group shelter profile. During this tour of common shelters, we look at the most basic/minimal shelters and work our way up to more complete shelters.
Let's hit the trail!
Cowboy Style
Here's how this one works: You get tired, you make a fire, and you fall asleep under the stars. That's it. Welcome to 'cowboy camping.'
Why cowboy? You wanted an experience in nature. This style of camping places you cheek-to-cheek with nature, the stars, the breezes on your face and the sounds of nature in your ears.
The Benefits of the Cowboy Way
Lightweight, no tent and no tarp — just a sleeping bag and pad.
You become one with your surroundings.
It's incredibly cost effective.
Your abilty to adapt in the backcountry improves. Even if you have a tent and find yourself in uneven territory, you have the ability to just toss down your bag and fall asleep.
Friends will see you as a complete badass!
Possible Drawbacks of the Cowboy Way
Many people are afraid to sleep out in the open, which means you're going to need to overcome that fear if you want to cowboy camp.
Exposure is another concern. Exposure to weather, bugs and animals. Without a covering, bugs are going to seek you out and find you. If it rains, you will get wet. If it gets cold, it's more difficult to stay warm.
Bottom line on cowboy camping… the hard part is getting the courage up to risk slight discomfort for big rewards.
Tarp Camping
If cowboy camping is not for you, that means you're looking for a little more coverage. If that's the case, tarp camping is pretty much cowboy camping with the addition of a covering.
Here's what you need to know about tarp camping:
Practice makes perfect: If you're going to use a tarp as a shelter, learn how to set it up in all conditions. Practice at home in the backyard. Carry a tarp on day hikes, allowing you to practice using it for sun protection and protection from the elements while taking a snack or lunch break. The more you practice setting up and tearing down your tarp, the better you'll get at it.
Know your knots: You don't need a PhD in knot tying. Learn two or three knots that work for you and are flexible to the environments in which you find yourself camping.
Shape and Size Matters: Next, figure out the type of tarp that makes you happy, whether that be square, rectangle, or even bat wing. If you're sleeping on the ground, all these will work. However, if you're thinking of incorporating a hammock into your sleep system, you might want to check out the selection of "bat wing" or hammock-compatible tarps. Hammock tarps give you more coverage atop your tie-in spots.
Remember, you want to be able to set up your tarp as a reliable shelter, not as a festival shelter for covering an annoying party.
Do your research: My first tarp was one of those blue ones you see in a dollar store. I took good care of it and it worked well, and it kept me shaded and dry for a couple of seasons. Cost: Ten bucks.
If you've pretty much figured you like tarping it, it might be time to step up your game.
MSR, Sea to Summit, and Mountainsmith all make tarps ranging from around $70 to $300. Hyperlite Mountain Gear makes incredible shelters and tents right here in the U.S. That raises the price a bit, but you get insane quality.
Benefits of the Tarp
You are more protected from the elements than cowboy camping.
You have great ventilation.
Depending on the size of the tarp, you can get two to eight people and their gear under it.
Offers easy night sky viewing.
Tarps are easy to pack, cost effective, and light.
Tarps provide protection from the elements.
Possible Drawbacks to the Tarp
You're still exposed to weather and all critters — big and small — that Mother Nature provides.
You need to practice setting up a tarp to deflect rain, withstand wind, capture heat, and allow airflow.
You have to know how to tie a good knot in all conditions.
The Bivvy
Claustrophobic? Skip down the page to tents, because the bivvy (short for bivouac shelter) is tight quarters. Me? I love the bivouac shelter! 
For many, the bivvy defines lightweight flexibility and freedom. Pitch the bivvy virtually anywhere. Use only as a bag cover to combat condensation. Use to ward off mosquitoes and other little beasts. Zip completely up to capture heat on frigid nights. Also, these compact abodes will protect you from rain.
After years of bivvy use, I have a routine that allows me to place my pack, my shoes and everything else that needs protection from the elements in the bivouac shelter with me. I believe the bivvy offers all the benefits of cowboy camping with the protection of a tent. In fact, if you partner your bivvy with a tarp, you've pretty much constructed a backcountry mansion.
Benefits of the Bivvy
Flexibility to move between cowboy camping and providing more protection.
Super lightweight and packs into a small space.
Cost effective.
Many configurations and options available.
Paired with a tarp, the possibilities are mind blowing.
Possible Drawbacks to the Bivvy
Tight space.
Learning to get your gear inside with you.
Only room for one.
Tents
Finally, we arrive at the wonderfulness of tents — our little backcountry homes away from home. This is a category in which we could dive deeper than Death Valley, but we'll narrow things down and describe just a few types of tents. Specifically, freestanding, non-freestanding, teepee, and dome.
Freestanding Tents
For most people, freestanding tents tend to offer the easiest setup and comfort level. Toss in some poles, place it on the ground and crawl in. Freestanding tents offer the ease of being able to be fully set up and then picked up and moved to a better location. Other tents in this category don't offer this convenience.
Most modern, freestanding tents also use a multiple door system that eliminates having to crawl over someone while entering and exiting the tent. People find the floor space and sleeping arrangements easier to navigate with the shape and configuration of the body of freestanding tents.
From my experience, freestanding tents seem to be easier for most people to set up quickly and properly, so they are relatively bombproof from weather.
Non-Freestanding and Teepee Shelters
These are among my favorites of the tent options. They are lightweight, they can be set up as a tarp or a tent, or you can pitch just the body and be protected from pesky flying and walking critters.
Non-freestanding tents tend to take more practice to set up correctly. Much like the tarp, practice is the key. Once you've mastered the set up, you can be more flexible. And you have the option of using your trekking pole or a tree branch to hold the fly up. That way, you can leave the pole at home and reduce weight.
The most common complaint I hear from folks using a teepee or non-freestanding tent for the first time is figuring out the sleeping configuration for multiple people. Again, practice at home is key to working out the bumps.
Benefits of Tents
There are so many styles from which to choose.
You can divide up the weight between friends.
You can go tiny home or mansion (the choice is yours).
All your gear can fit inside.
Most decent tents provide great protection from bugs, critters, and weather.
Possible Drawbacks of Tents
There are so many styles from which to choose.
Finding the tent that is just right for your size and weight takes patience.
Tents carry the biggest price tag of any of the shelter choices.
There are more parts to break, lose, or maintain while in the backcountry.
Wrapping it up
As you can see, you can be outdoors overnight and enter into deep slumber — as people have done for years — with nothing but a blanket to keep you warm.  Or you can zip yourself inside a completely sealed tent. And if you want to gaze at the stars, it's as easy as pulling your sleeping bag outside and under a tarp for a few hours or the whole night. 
You're in the woods, and it's your trip. So stay safe, build up some courage, and make the planned choices that take you to the next level of your wild adventure.
– – – – – – – – – – – –
About the Author: Stephen Mullaney is the Director of School Partnerships at The National Center for Outdoor & Adventure Education (NCOAE). He has worked domestically and internationally with schools, organizations, and wilderness programs. His classrooms have ranged from dilapidated trailers at overcrowded, underfunded  schools to the Himalayan mountains and everything imaginable in between. His past students include gang members/prisoners, education majors, college and university professors, and pioneers in the field out outdoor and adventure-based experiential education. Stephen's philosophy is to focus on the development of positive working and learning environments. He brings more than a quarter of a century of education experience and understanding of human nature to any organization, whether it is an education institution or a private company. His writing has appeared in adventure sports/education journals, magazines and on the web. Stephen prefers to arrive by bicycle and sit in the dirt.
TALK TO US
Have any further questions about our courses, what you'll learn, or what else to expect? Contact us, we're here to help!