In the world of emergency medical services (EMS), future EMTs and paramedics accept the reality that their immediate future includes hundreds of hours of lectures, extensive bookwork, and plenty of written tests.
Each of these students has an objective in mind for taking EMT training courses, and their reasons are many. Some are looking to start careers in the EMS profession. Others plan to use their EMT certification as a stepping stone to medical school or physician assistant (PA) school. And there are those who are uncertain about what direction their future might take, so they're exploring their options.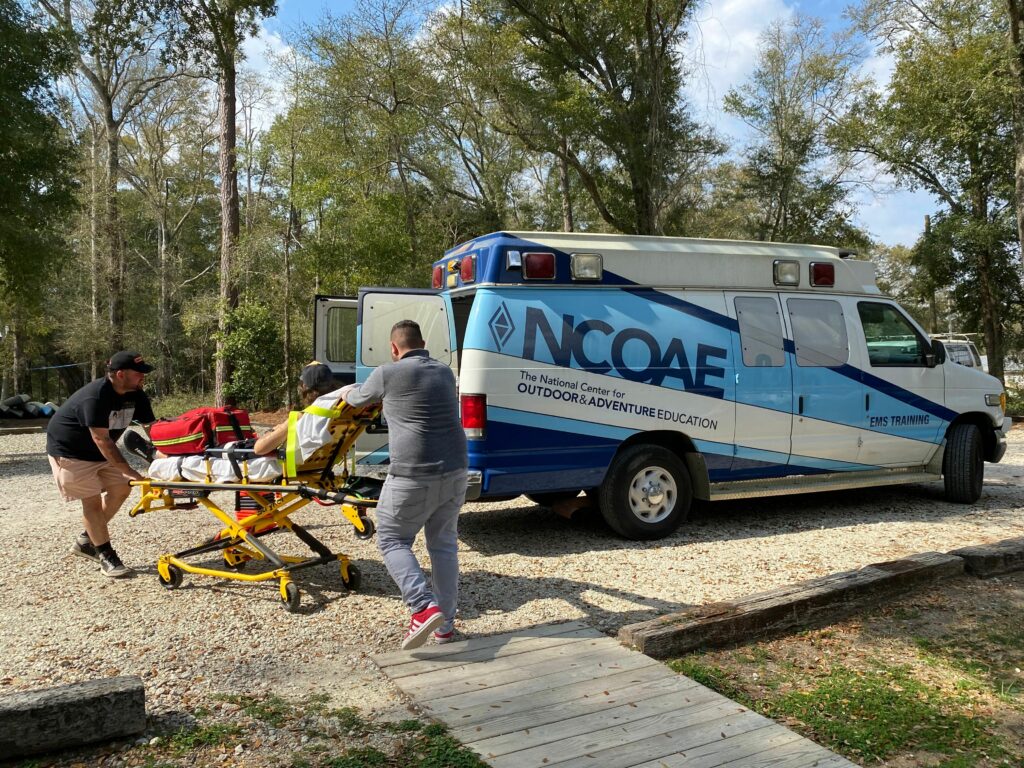 Regardless of the reason why, there are a number of things that simply can't be "taught" in the classroom. Equally important as "book learning," and perhaps more vital, is clinical and field experience. What is clinical experience? In the real world, clinical settings feature healthcare providers conducting actual exams and procedures on real patients. Physical examples might be a bustling hospital emergency department, a crowded local health clinic, or finding yourself hovering directly over an injured patient in an ambulance.
NCOAE EMT Training Places an Emphasis on Clinical Time
Here at The National Center for Outdoor and Adventure Education (NCOAE), all of our EMT training programs place an emphasis on clinical experience. Our students complete 48 hours of clinical time in local emergency departments and on-board EMS ambulances, applying their newly learned skills in real life under the guidance of trained preceptors.
Why is this important? Well, for one, there's a world of difference between reading about a broken bone in a textbook and actually holding a broken leg in place while it is splinted. And while the skill of face-to-face communication has seemingly fallen to the wayside in this age of smartphones and social media, clinical experience brings that reality to the forefront.
Clinicals shouldn't be confused with shadowing, which merely entails observing. Maybe you shadow a physician for a few hours, standing in the background and watching the professional work. True clinical experience needs to be practical and hands-on. Ideally, EMT students are paired one-on-one with a certified healthcare provider (a registered nurse, EMT, or paramedic) and allowed to interact with patients.
Direct Interaction with Patients Outweighs Book Learning
EMT students perform assessments and practice skills — within their knowledge — under direct supervision. They perform chest compressions on those actually in cardiac arrest. They hold direct pressure on an injury to stop bleeding. They are interacting with other humans in a professional, medical way.
These skills are taught in class, but there is no true way to replicate the sights, sounds, smells and atmosphere of reality. A great clinical experience will provide students the opportunity to apply the skills they learned in class under the stress of real life, but with guidance. Such experiences build confidence and students learn that they can do what needs to be done. Having a teacher or instructor (called a preceptor) there to guide or even appropriately force students to have the interaction can make a huge difference. It can also be critical to watch an experienced healthcare provider take charge in a challenging situation.
Clinicals as we call them can be an excellent litmus test for those who aren't certain a future in emergency medical services is a good fit. There is no shame in admitting that the healthcare field is not for you, and it's certainly better to find that out before committing to the cost and time of medical school.
A good EMT program provides students with a variety of settings and allows them to experience what prehospital and emergency medicine looks like. The number of patient contacts is really more important than the number of hours. Clinical shifts on EMS ambulances can be awesome, but if the crew doesn't go on any calls, then there is limited value.
A shift in an emergency department will undoubtedly provide many opportunities for patient interactions, but the vast resources available in a hospital aren't what an EMS provider will have in the field. Basic Life Support (BLS) level transports provide extended opportunities for patient assessment and interaction, typically under lower stresses, but with few opportunities for skills.
No one setting is perfect, which is why a variety is best.
If you're ready for a clinical experience of your own, see the Emergency Medicine Training courses that are offered by the pros here at The National Center for Outdoor & Adventure Education.
= = = = = = = = =
About the Author: Kate Javes is a North Carolina paramedic and Level 2 EMT instructor at The National Center for Outdoor & Adventure Education. A former two-sport NCAA Division I athlete at Rutgers University, Kate received her Bachelor of Science degree in math, and a second bachelor's degree in history from the United States Naval Academy in Annapolis, Md.
TALK TO US
Have any further questions about our courses, what you'll learn, or what else to expect? Contact us, we're here to help!