Blog
Meet the Team
Meet the Staff: Kate Javes, NCOAE EMT Instructor, Clinical Coordinator and AHA Training Site Coordinator
Kate Javes has been a huge part of NCOAE's continued success for a number of years, most recently as our EMS program director. Recently, Kate has decided to step back from that leadership role following three years of developing our Hybrid EMT training program.
In addition, Kate oversaw all of our EMT and AEMT courses as well as instructed students, helped author the first editions of the NCOAE Wilderness Medicine Field Guide and the NCOAE EMT Program Manual, and played a pivotal part in helping our organization navigate the health pandemic caused by the virus named "SARS-CoV-2" and the disease it causes, named coronavirus disease 2019 (COVID-19).
A 2003 graduate of the U.S. Naval Academy who also attended Rutgers (The State University of New Jersey) where she played Division I soccer, Kate is now taking on the duties of an NCOAE EMT instructor, teaching hybrid and in-person 21-day EMT courses, both in North Carolina and in Oregon. In addition, Kate is our clinical coordinator, working with local hospitals and EMS agencies to schedule required clinical hours for the courses in both states.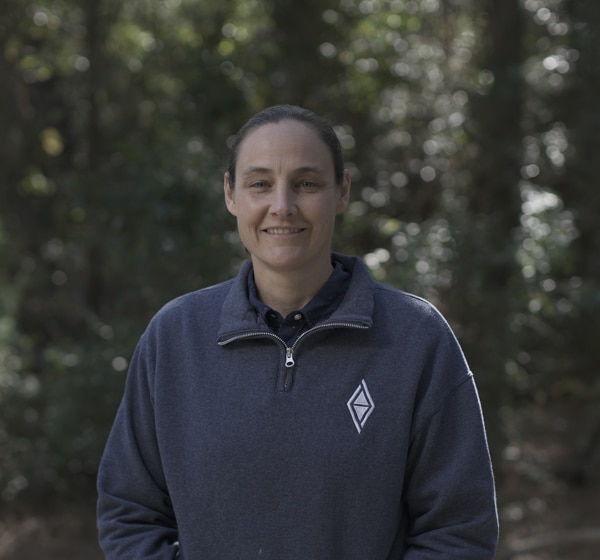 And she's also our American Heart Association (AHA) training site coordinator. As such, she is the point of contact for the Southern Regional American Heart Education Center regarding all of our AHA courses, responsible for maintaining and submitting documentation for these courses. This is primarily for our BLS (basic life support) for Healthcare Providers courses taught as part of our EMT curriculum. It also includes HeartSaver CPR and First Aid courses as well as instructor certification and recertification.
Before joining NCOAE in 2013, this Maryland native was a paramedic for the New Hanover (NC) Regional EMS for eight years. Prior to that, she was a paramedic and firefighter for a summer for the Antarctic Fire Department. And while serving in the U.S. Marine Corps, Kate was a logistics officer and later an EMT and firefighter for the Camp Lejeune Fire and Emergency Services in Jacksonville, NC.
Her designations include paramedic for NREMT, North Carolina and Oregon, Level II EMT instructor for North Carolina, AHA BLS instructor (training facility). Kate is also a certified Wilderness First Responder (WFR), Firefighting I and II, FEMA ICS 100s-400s, and ACLS, PALS, and ASLS.
If you ask her, Kate will you tell you she's been teaching since she was a child and enjoys helping others understand new concepts and achieve their goals and objectives by effectively communicating with a wide range of people. She's also a stickler for staying on schedule and getting things done in a timely manner, which we appreciate more than we let on.
We decided to get a bit more personal with our questions, and here are Kate's gracious responses to our queries:
NCOAE: What do you enjoy doing in your free time?
Kate: I used to play soccer and go mountain biking. Now, when I actually have free time, I like to sit on my front porch and watch the birds, mess about in my garden, and hang out with my kids.
NCOAE: Kids? What can you tell us about your family?
Kate: I'm married with two children (Alice 8 and Robert 4). We currently have a dog (a crazy Dutch Shepherd) and four chickens. We used to have one more chicken, but it was eaten by a coyote. And we had bees, but they were eaten by bears this year.
NCOAE: Who is your role model and why?
Kate: That would be my mother. She grew up in an era and a family where she was expected to, at most, work as a secretary for the family business or, more likely, stay home and help take care of the house. Instead, she moved out, went to college and became a teacher. She drove me across three states for soccer practices and taught me to rely on myself and that I could do whatever I set my mind to.
NCOAE: If you were granted one superpower, what would you want it to be, and why?
Kate: Being able to fly. I'm tired of traffic.
NCOAE: What do you think about when you're alone in the wilderness?
Kate: How amazing it is to be such a small part of such a gigantic universe.
NCOAE: Ten years from now, I will be (fill in the blank) because (fill in the blank.
Kate: Ready to start going back out on adventures because my children will (almost) be out of the house and on their own.
Thank you, Kate, for everything you've done for us here at The National Center for Outdoor & Adventure Education. We're thrilled about your new role and eagerly anticipate witnessing you and your family thrive in the years ahead.
TALK TO US
Have any further questions about our courses, what you'll learn, or what else to expect? Contact us, we're here to help!