It may surprise you to learn that drownings — along with heart attacks and falls — are among the leading causes of death for those who venture into the wilderness for recreation or education in the United States.
Statistics show that there are nearly 4,000 fatal drownings each year in the United States, with a little more than 8,000 nonfatal drownings. These figures include boating-related drownings. In fact, the threat of drowning is so prevalent that the first edition of the NCOAE Wilderness Medicine Field Guide devotes an entire section to Environmental Submersion and Drowning Injury.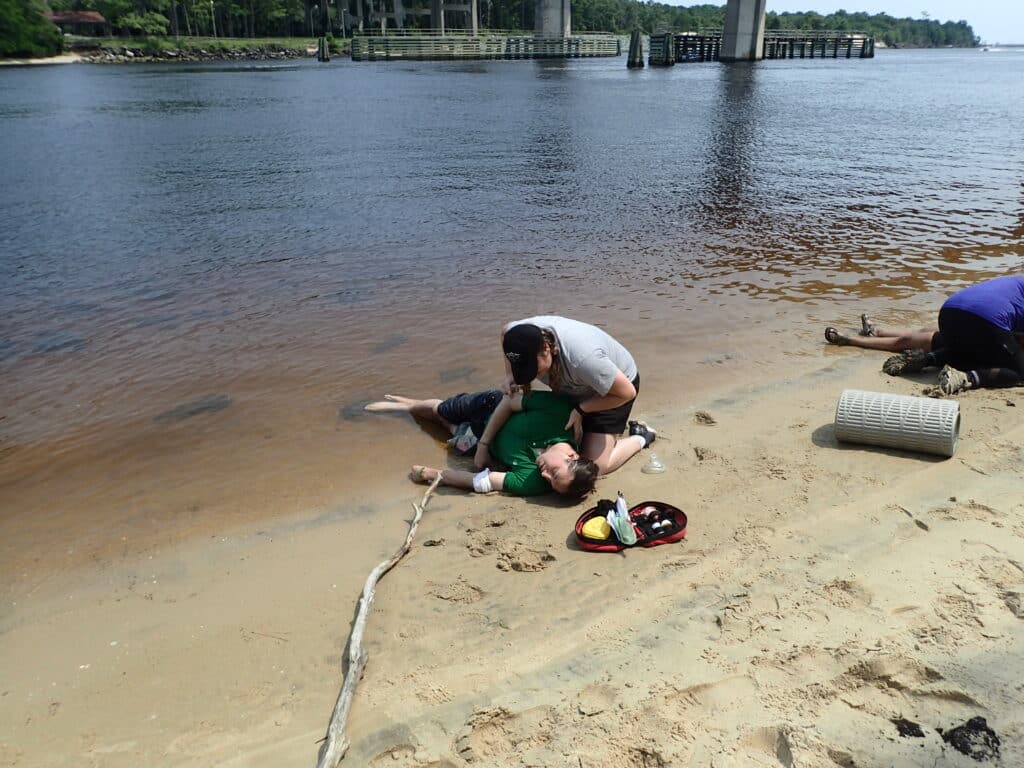 Of course, it's during the spring and summer that most outdoor explorers are on the water, including those participating in backcountry expeditions. Lakes, rivers and streams provide much-needed relief in the backcountry on a hot August afternoon and are sought-after destinations for many outdoor enthusiasts.
For those training to become Wilderness First Responders (WFR) and those participating in Wilderness First Aid (WFA) training, a major consideration is assisting with medical emergencies that occur on or near the water.
Here at NCOAE, our Wilderness Medicine Training not only focuses on how to prevent, identify, and treat medical emergencies, but how to think critically during such events as well. And this is particularly true when it comes to medical emergencies happening on the nation's waterways.
Which brings us to the focus of today's post: rescue and assistance to a drowning victim. First off — and this isn't just semantics — drowning is not always fatal. In fact, Wilderness First Responders no longer use the term "near drowning." It's a fatal drowning or a non-fatal drowning.
Reach, Throw, Row and Go
The primary consideration when arriving at the scene of a drowning emergency is the safety of the rescuers. After calling for help, we teach and train on "Reach, Throw, Row & Go," which means:
Reach for the victim from a dock or shore with a paddle or other object
Throw a floatation device or rope to the victim
Row (or paddle) a boat out to the victim
Go (swim) only as a last resort
Actual in-the-water swim rescues are dangerous and we recommend that they should only be attempted as a last resort, ideally by trained rescuers. And that whenever possible, have a flotation device handy and wear a life jacket. Pushing the flotation device toward a conscious victim and letting them hold on is also recommended, because it's important to not allow a panicked swimmer to grab onto you and pull you under the water.
Helping a Drowning Victim Once on Land
Once you and the victim are out of the water, check to see if they are alert. If they are somewhat aware, but lethargic and slow to respond to questions, put them on their side in case they begin to vomit.
If they are barely or completely unresponsive, check for a pulse and breathing. If you can't find a pulse, you'll want to begin CPR.
Important: If you attach and use an AED (automated external defibrillator), make sure the victim isn't in a large pool of water and dry the chest before placing the pads.
Provide rescue breaths — one every five to six seconds for adults and every three to five seconds for a child. Be sure to check for a pulse every two minutes or so.
Surprisingly, drowning victims don't have large quantities of water in the lungs, dispelling the belief that you have to get the water out before you can get the air in. In fact, it's just a waste of time. However, such victims do tend to swallow a large amount of water, so expect vomiting. And if vomiting occurs, roll the patient onto their side until they finish.
For more information about training to be a Wilderness First Responder, please visit the Wilderness Medicine section of our website.
– – – – – – – – – – – – –
About the Author: Kate Javes is a North Carolina Level 1 Paramedic and EMT Instructor at The National Center for Outdoor & Adventure Education. A former two-sport NCAA Division I athlete at Rutgers University, Kate received her Bachelor of Science degree in math, and a second bachelor's degree in History from the United States Naval Academy in Annapolis, Md.
TALK TO US
Have any further questions about our courses, what you'll learn, or what else to expect? Contact us, we're here to help!