Blog
EMT Training
Thinking About Going to Med School? Start with EMT Training and Certification
If one of your goals is to apply to medical school and eventually become a doctor, here are a few of the hurdles you'll need to jump through. First, you'll need a four-year Bachelor of Science degree with a minimum 3.0 GPA, a passing score on the MCAT exam, and a few glowing letters of recommendation.
But how would you like to increase your odds of getting admitted and succeeding in med school? If so, you may also want to consider getting trained and certified as an emergency medical technician (EMT) and gaining some valuable experience in the field first.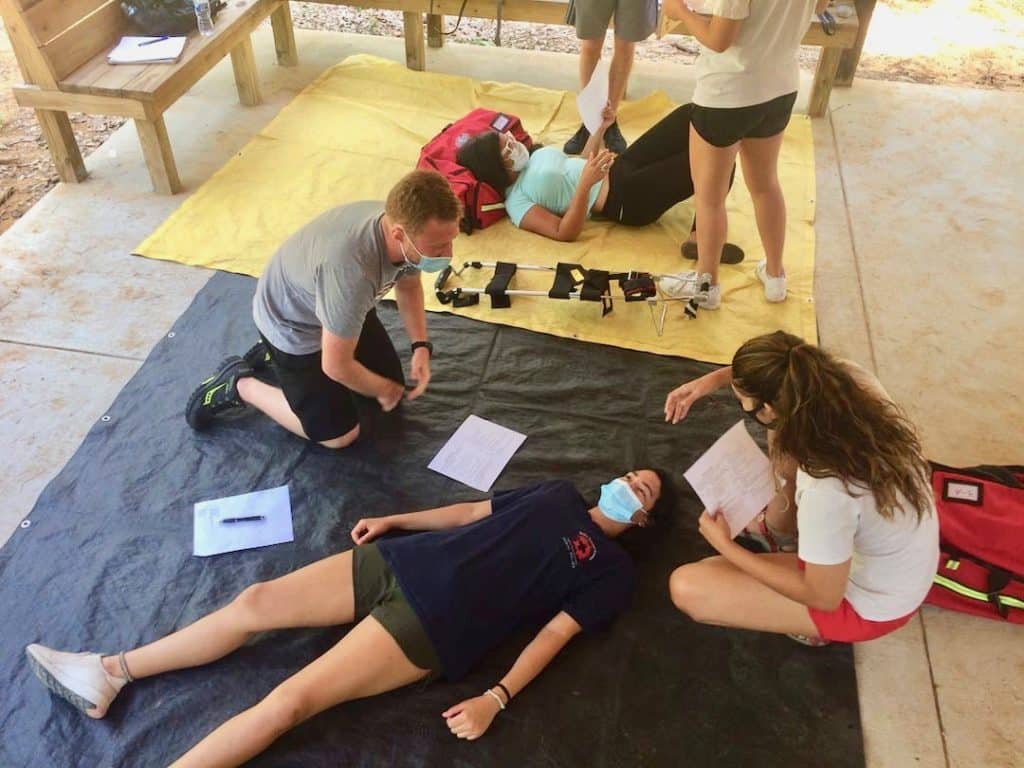 According to a survey of 67 medical schools in the United States and Canada, 85 percent of those schools responded favorably to applicants with experience as EMTs or paramedics. That's not exactly surprising. After all, EMTs have real-world experience in the medical field.
In this post, we highlight the advantages of obtaining EMT training and experience prior to applying for and enrolling in medical school.
Build Your Foundational Knowledge
EMT training helps to build your foundational knowledge in several medical disciplines, including the following:
Basic anatomy and physiology
Patient assessment, stabilization, and triage
Immobilizing injured patients
Recognizing the signs of trauma and shock
Airway management
Basic life-support techniques, such as cardiopulmonary resuscitation (CPR)
Gain Experience Working Directly with Patients
EMT training and experience puts you in direct contact with patients in real-world medical and emergency situations:
Gain experience with all age groups, genders, demographics, etc.
Interact with people in crisis
Gain confidence in leading others
Maintain a calm and collected demeanor during challenging and stressful moments
Determine whether you enjoy the work and have a passion for providing medical care
Work Alongside Other Medical Professionals
As an EMT, you interact with a wide range of other medical professionals, including Advanced EMTs (AEMTs), paramedics, nurses, physicians, and other medical technicians. In the process, you:
Deepen your understanding of what each medical professional does
Learn from people with a variety of knowledge, training, and experience
Develop valuable connections that can improve your success in medical school and beyond
Earn Money While Gaining Experience
According to the U.S. Bureau of Labor Statistics, doctors and surgeons received average median pay of $208,000 in 2019, which is nearly $175,000 more than the average earnings among EMTs. However, you can still earn a respectable income as an EMT while gaining experience in the medical field:
According to the U.S. Bureau of Labor Statistics, EMTs are paid, on average, about $17 per hour.
Emergency medicine is a growing field.
A wide variety of opportunities are available — you can work as a firefighter, industrial medic, offshore medic, emergency dispatcher, emergency room technician, a medic for concert venues or amusement parks, and more.
Full-time and part-time positions are readily available.
Improve Your Chances of Success
About 46 percent of medical school applicants are accepted, and about 81–84 percent complete the four-year program. The graduation rate is about 96 percent for those enrolled in a six-year program.
EMT training and experience can improve your chances of success in the following ways:
You learn for yourself whether medicine is something you are truly passionate about. In a way, EMT training and experience enables you to screen yourself, so you don't waste valuable time and resources pursuing a career you won't enjoy.
Medical schools often require applicants to have clinical care experience. Required experience varies among schools but typically ranges from 100 to 150 hours. For example, according to the University of Utah's medical school:"Working alongside physicians and some health care professionals is helpful in determining future career goals, and it is important that the applicant has a thorough understanding of what it is like to be a practicing physician. This includes having some idea of how science is involved in patient care as well as being comfortable around individuals who are physically and/or mentally ill. This knowledge is best obtained through a combination of direct patient services and physician shadowing."
EMT experience shows medical schools you are serious about medicine — holding a job in the field shows that you have maintained consistent interest.
Take the First Step
If you're planning on applying to medical school and want to get a leg up on your competitors by earning your EMT certification, consider taking an "Intensive" 21-day EMT-Basic training like the one we offer here at The National Center for Outdoor & Adventure Education — one that satisfies the eligibility requirements for the National Registry of Emergency Medical Technicians and state EMT certification.
For more information or to see about available dates, visit our Emergency Medicine training page, where you can learn all about our Hybrid "Intensive" EMT-Basic training and our Standard "Intensive" EMT-Basic training. Or call our office between 8:30 a.m. and 4:30 p.m. (Eastern Time) for more information: (910) 399-8090.
TALK TO US
Have any further questions about our courses, what you'll learn, or what else to expect? Contact us, we're here to help!