As you're probably aware, we here at The National Center for Outdoor Adventure & Education (NCOAE) do a lot more than just organize backcountry trips for teens, Outdoor Educator courses for outdoor education industry professionals, GAP Year Programs for college-age students, and wilderness medicine and EMT training for anyone desirous of such certifications.
For certain, our wilderness outings and trainings are our bread and butter, focusing as they do on three-day to three-month adventures targeting everything from mountaineering to surfing and certification-granting trainings ranging from Emergency Medical Technician training to Leave No Trace ethics.
But among our tasks — and admittedly it's more of a rewarding commitment than a task — is giving back to the outdoor education and adventure recreation industry what was so freely given to us. Our aim has always been to serve as a clearinghouse for information related to our profession, and one of the ways we do that is promote and participate in select outdoor industry meetings, markets and conferences.

And by promote, we mean we go the extra step to keep our industry peers up to date on happenings that affect our employees, our clients, our profession and of course, the environment. We want to get the word out about these upcoming and most important outdoor shows, seminars and confabs.
Having said this, what we offer below is a list of upcoming outdoor industry conferences and events that you might consider attending. Here's what the calendar looks like for the rest of 2018 and the beginning of 2019:
2018 AORE & WEA Joint National Conference
Oct. 24 — 26, 2018
Snowbird Resort
Snowbird, Utah
The Association of Outdoor Recreation and Education (AORE) and Wilderness Education Association (WEA) Joint National Conference meets to offer those professionals, students and organizations who advance outdoor recreation and education the opportunity to learn, network and improve performance while ensuring the association's financial viability.
Both organizations design and deliver transformational learning opportunities that advance individuals, programs and organizations in the field of outdoor and adventure education. Outdoor programmers, teachers, leaders, students and supporters from college and university non-credit recreational programs and degree granting programs, military bases, community recreation centers and other not-for-profit outdoor programs tell us this conference is the year's most important event for career development. These outdoor professionals come together to share ideas, learn new techniques and re-energize themselves for another year.
AMGA Annual Meeting
Oct. 25 — 27, 2018
Petzl Technical Institute
Salt Lake City, Utah
The American Mountain Guides Association's (AMGA) 2018 annual meeting will feature technical and classroom clinics, annual awards, an AMGA/ International Federation of Mountain Guides Associations (IFMGA) graduation, a roundtable discussion with the organization's Board of Directors, and much more. All the action will be held at the Petzl Technical Institute in Salt Lake City. This year's meeting will include more technical clinics (including outdoor) and a new Saturday night program.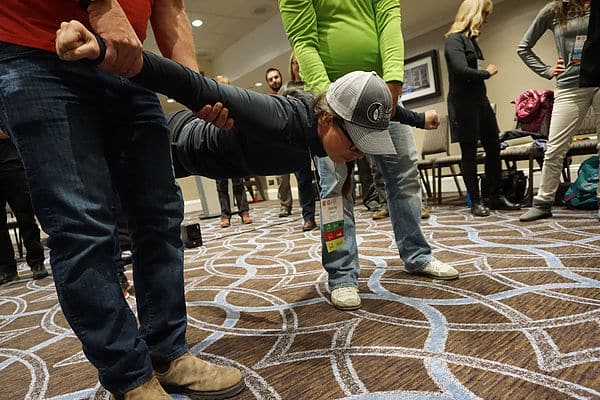 2018 AEE & GYA International Conference
Nov. 7 — 10, 2018
DoubleTree by Hilton Orlando at SeaWorld
Orlando, Fla.
The Association for Experiential Education (AEE) and the Gap Year Association (GYA) are hosting about 900 professional peers and colleagues in Orlando for a conference that's expected to connect, share, and grow this excellent community of experiential educators. Join them in Orlando for something special: The experiential education tribe is broad, diverse and powerful. This is a great space for networking and professional development.
Outdoor Retailer Summer Market
July 23 — 26, 2018
Denver Convention Center
Denver, Colo.
…and…
Outdoor Retailer Winter Market 2018
Nov. 8 — 11, 2018
Denver Convention Center
Denver, Colo.
Outdoor Retailer is a must-attend event for those serious about the human-powered outdoor recreation industry. It is among the world's leading business-to-business outdoor sports shows, where industry brands, retailers, reps, suppliers and leaders gather. This show houses the largest collection of innovative and unique outdoor recreation gear, apparel, hard goods, footwear and accessories. In addition to writing new orders, launching new products or finding new accounts, this tradeshow is the place to discover everything "new." In addition, participants have daily access to a number of speakers, training sessions, leadership seminars and educational opportunities.
Wilderness Risk Management Conference
Oct. 3 — 5, 2018
Red Lion on the River Jantzen Beach
Portland, Ore.
The Wilderness Risk Management Conference (WRMC) has but one prime objective: to offer a comprehensive educational experience that will enable you to mitigate the risks that inevitably accompany exploring, working, teaching, and recreating in wild places. This conference offers the opportunity to gain practical risk management training and skills, network with others in the outdoor education industry, share field and administrative techniques, and develop risk management standards for the outdoor adventure and education industries.
2018 NAI National Conference
Nov. 27 — Dec. 1, 2018
New Orleans Marriott
New Orleans, La.
Celebrating its 30th anniversary this year, The National Association for Interpretation (NAI) National Conference has adopted the theme of "It's Our Time." This is an opportunity for members to reflect on the important role interpretation plays at parks, nature centers, botanical gardens, historical and cultural sites, and commercial tour companies. It's a chance for us to discover how we can improve to shape a better future. How are threats such as changing landscapes and disappearing resources shaping our present? How will they shape our future?
Outdoor Retailer + Snow Show
Jan. 30 — Feb. 1, 2019
Denver Convention Center
Denver, Colo.
Located in the heart of ski country, next year's Outdoor Retailer + Snow Show is where the outdoor and snow industries come together, creating an unprecedented opportunity to reach influential buyers across all product segments. If you're the creator of a new brand and want to reach a larger, more diverse and valuable retail audience, this is the show that offers an enhanced media presence to tell your story to consumers nationwide.
International ACCT Conference & Exposition
Feb. 7 —10, 2019
Colorado Convention Center
Denver, Colo.
The 29th Annual International Association for Challenge Course Technology (ACCT) Conference & Exposition is four days of education for builders, owners, operators, practitioners, facilitators and others who are serious about the evolution of the challenge course / aerial adventure park industry. The conference is custom-designed for those whose careers are directly affected by the success or failure of challenge course technology.
2019 ACA National Conference
Feb. 19 — 22, 2019
Gaylord Opryland Resort & Convention Center
Nashville, Tenn.
Call for Sessions is now open (until Sept. 14, 2018):
The national American Camp Association (ACA) conference draws camp and youth development professionals from across the country and around the world, working in camp and other out-of-school-time settings. Presentations target directors, owners, executives, mid-level managers and year-round program staff, as well as other youth development professionals and educators. Although we draw some professionals relatively new to camp, the balance of the national conference audience is made up of experienced professionals committed to life-long learning.
TALK TO US
Have any further questions about our courses, what you'll learn, or what else to expect? Contact us, we're here to help!