Every now and then, we like to introduce — or expand upon — a new product or material that outdoor educators might be interested in. By keeping our ear to the ground and paying attention to what's impacting the outdoor industry, our peers in the adventure-based, outdoor education community can continue to be informed about what's next.
Today, we're pleased to shed some light on an ultra-high molecular weight polyethylene fiber named Dyneema.
What is Dyneema and why should I care? 
Dyneema is a new age fiber that stops bullets in law enforcement gear, provides lighter weight jibs and thus faster speeds on sailboats, and gives tents and backpacks incredible strength while dramatically reducing weight. Oh, and it floats in water.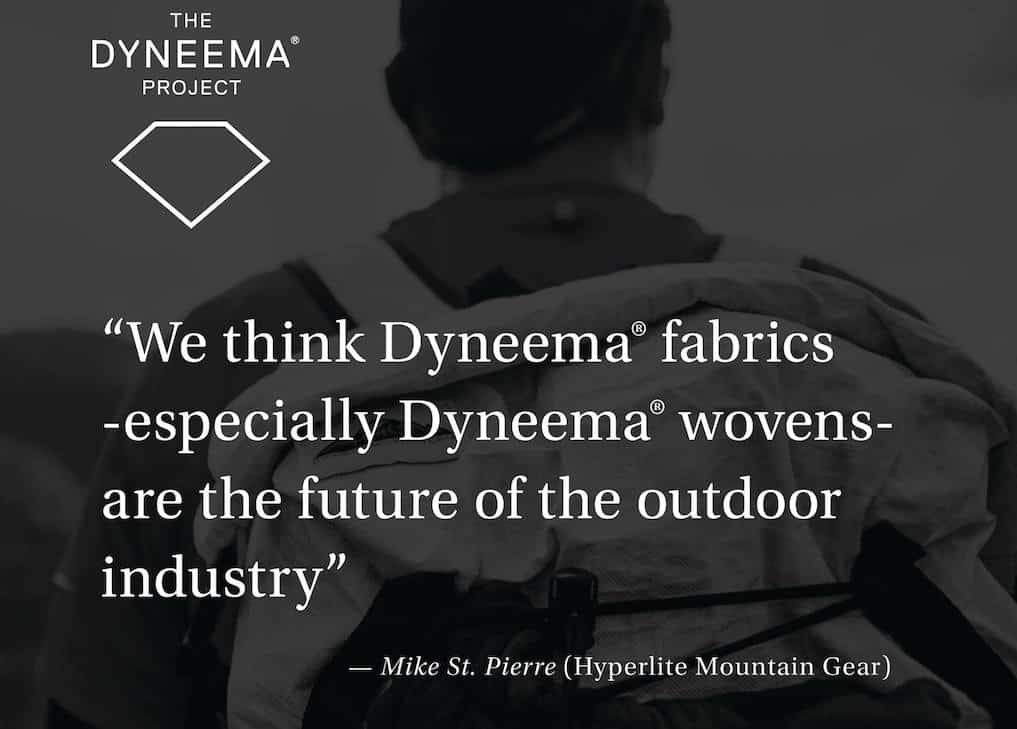 Dyneema is solely manufactured by Royal DSM, a Netherlands-based firm that's recognized as one of the oldest players in the European chemical industry. Dyneema itself is a superlight fiber that's up to 15 times stronger than steel by weight. Its base — the ultra-high-molecular-weight polyethylene — makes it the strongest of any thermoplastic.
And while it's been used in climbing gear for quite some time — often referred to as Spectra or Dynex — you would have been hard pressed to find Dyneema products like tents and backpacks until just a few years ago. But today, there are entire companies that use only Dyneema, building their product lines around this highly touted, lightweight fabric.
What are the benefits of Dyneema in the backcountry?
In the outdoor adventure segment, manufacturers using Dyneema have made great strides in several product areas, including tents and tarps. Due to its strength-to-weight ratio, it offers the lightest weight in the industry with the added bonus of being completely waterproof with no water absorption.
In active apparel and footwear, the ultralight category is coming up with a variety of strength-added offerings, including hiking boots. Other advantages include:
Dyneema appears to have superior strength to any other fabric on the market. In certain applications, it even outperforms steel! Check out this strength test video of Dyneema rope vs steel cable.
Dyneema is 100 percent waterproof without the use of any other coatings.
Backpacks manufactured with Dyneema can be incredibly light, meaning outdoor educators can reduce wear and tear on their bodies when in the backcountry.
Are there areas of concern for Dyneema packs and tents?
While Dyneema is incredibly strong, its strength can be compromised by mishaps, especially those that cause punctures. So, even though it is strong, you need to practice good judgment and care for your gear made with Dyneema like you would any piece of gear that you want to keep in great condition and continue using season over season.
Other factors to consider when choosing a product made with Dyneema include:
Shelters made from Dyneema may not pack down as small as those made with other materials.
Dyneema products are susceptible to abrasion wear and tear.
Dyneema is costly compared with other materials.
What are outdoor equipment experts saying about Dyneema?
When considering innovations in your professional outdoor gear, it's not a bad idea to know what the experts have to say. Here are some comments related to the use of Dyneema from several well-known designers and founders of outdoor gear companies:
"Backpacking gear needs to be as lightweight as possible without sacrificing too much on durability or function. Naturally we want the lightest, strongest materials we can get our hands on. Dyneema fabrics beat the alternatives in both strength and weight – it's as simple as that." ~ Joe Valesko, Founder – Zpacks

"The ethos of climbing the big walls is to carry the least amounnt of gear you need to achieve your goal. And so, I use that same 'climbers ethos' to apply towards my desire to backpack lighter. I started making gear for myself and that grew into developing this company. The main thing that Dyneema does for our products is that it lets us build a lighter weight product that maintains the full strength of a product that weights three or four times more." ~ Ron Bell, Founder – Mountain Laurel Designs

"With my shelters, I go for as much refinement in the design as possible, and as a result I achieve simplicity — which is reflected in my experience on the trail. I enjoy working with Dyneema because it allows me to be very precise with what I'm doing. I'm working directly with material rather than through an interface such as a sewing machine." ~ Gen Shimizu, Founder – Yama Mountain Gear
What's Next for Dyneema?
Royal DSM is focusing its resources and capabilities in addressing what the company says are urgent societal and environmental challenges linked to the way the world produces and consumes food. To further its focus, the company is seeking a buyer for its materials division and Dyneema. To prepare for this, the company is moving the division's employees —about 10 percent of its workforce — into a new, standalone business.
With the right ownership and focus, Dyneema may become a household name like Gore-Tex, PrimaLoft, Cordura, and Polartec.
In the meantime, some of the outdoor-focused gear manufacturers currently using Dyneema include:
If you've had an opportunity to use outdoor gear or accessories made with Dyneema, let us know about your experience by leaving a comment below.
TALK TO US
Have any further questions about our courses, what you'll learn, or what else to expect? Contact us, we're here to help!