You're thinking about becoming an EMT. Awesome! If you follow through, you will be joining the ranks of today's modern-day heroes, the frontline of the frontline workers — bona fide life savers!
Emergency Medical Technicians (EMTs) are trained professionals who provide care in critical and emergency situations. Such emergencies can range from simple, routine calls to intense and complex scenarios.
You may show up for a call only to discover that there is no victim, or the person is okay and refuses help, or a patient simply needs transportation from one medical facility to another. On the other hand, you could be called in to attend to the victim of a car accident or a shooting or a heart attack, drowning, mountaineering accident, or drug overdose. You may even have to deliver a baby! You can never predict what will happen over the course of any given shift.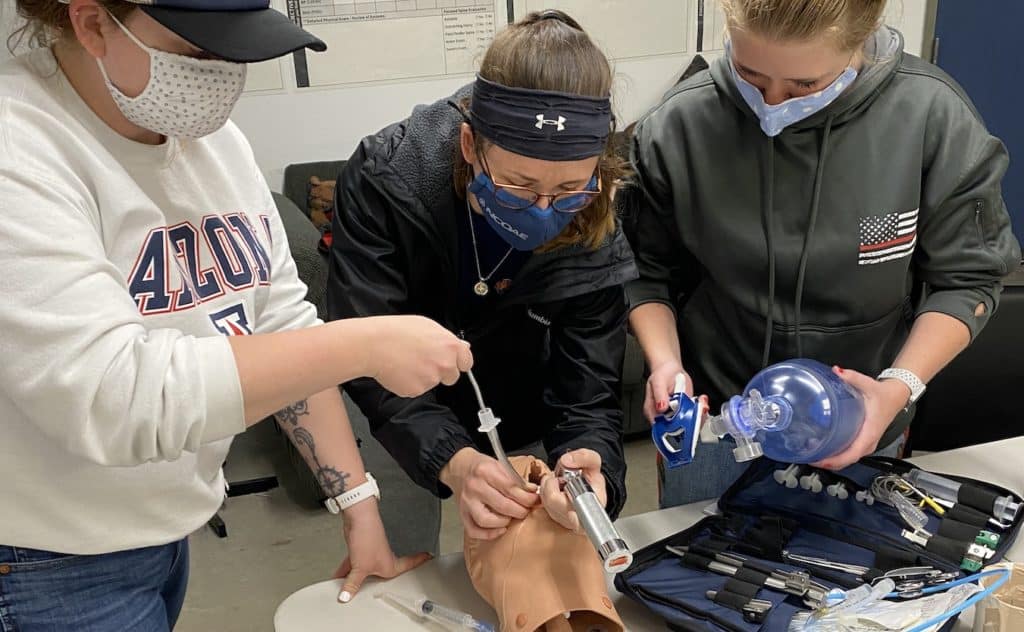 As an EMT, your job responsibilities generally boil down to keeping patients alive using non-invasive medical procedures and transporting them safely to a hospital or clinic where they can receive a higher level of professional medical care. More specifically, you have three fundamental job responsibilities:
Assessment and stabilization of the patient's condition
Basic life support
Transportation
In this post, we bring you up to speed on the different levels in emergency medicine and credentialing while explaining the basic education and skills required to become an EMT.
Recognizing the Difference Between EMTs, AEMTs, and Paramedics
The National Registry of Emergency Medical Technicians (NREMT) — that's the leading certification agency in the U.S. covering prehospital medical providers — recognizes three levels of EMTs/paramedics:
EMT: EMTs provide non-invasive life-support services, such as cardiopulmonary resuscitation (CPR), administering oxygen, performing automated external defibrillation, basic and advanced airway management, and administering authorized medications.
Advanced EMT: Advanced EMTs have higher level assessment skills and are permitted to administer about 20 different medications depending on their state license. They can also start IV therapy, perform intubations, and monitor EKGs.
Paramedic: Paramedics generally have at least two years of training, which qualifies them to provide advanced airway management, administer life-stabilizing medications, and preform emergency procedures outside of an emergency department.
Do You Have What It Takes to Become an EMT?
Before you sign up for EMT training, determine whether you have the right stuff to become an EMT:
Education: A high school diploma or the equivalent, such as passing a General Education Development (GED) test.
Certifications: A variety of certifications are required of EMTs. Some EMT courses require CPR as a prerequisite, while others, including ours, include CPR training and certification. If you take a course that does not include it, you will need to acquire a CPR certification on your own.
Soft skills: You must be understanding, flexible, personable, and communicative, as well as have good judgement and good decision-making and leadership skills.
Becoming an EMT 101
So, you understand what being an EMT involves, you have the basic education and skills, and you're eager to get started. Now what? Here, we lead you through the process step-by-step:
Step 1: Find out what your state requires
EMT licensure is handled at the state level, and different states have different requirements. For example, in North Carolina you can gain your EMT license by taking the North Carolina Office of EMS Exam or by filing for legal recognition after passing the NREMT exam.
Almost every state accepts a NREMT credential to obtain an initial license, gain reciprocity, or gain legal recognition. (Reciprocity means that one state accepts credentials issued in another state or by the NREMT.) Some states, such as New York and Tennessee, require a few extra steps or additional paperwork to become licensed. If you intend to work in one of those states, we're happy to help guide you through that process.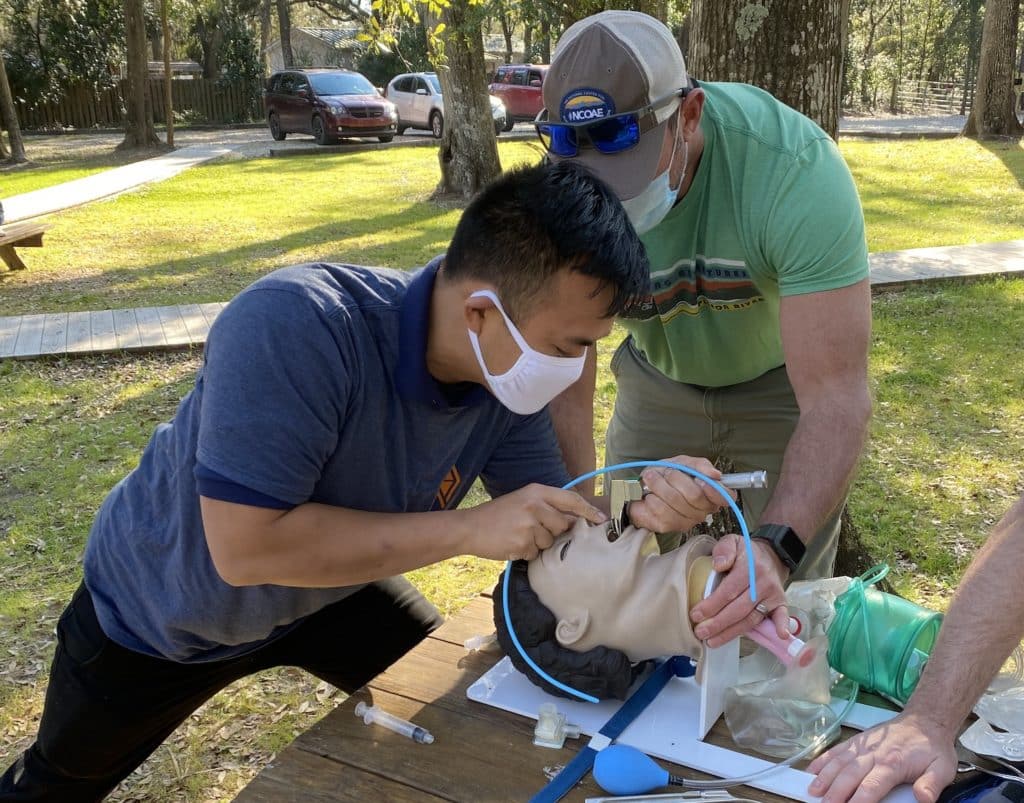 To discover state requirements, conduct an online search for the name of your state followed by "office of emergency medical services." Then click the link for your state's EMS page and look around the resulting web page for information related to certifications and training.
Pro Tip: Your state's EMS web page may contain a link to a list of public safety job openings that may come in handy after you receive your license.
Step 2: Sign up for an EMT training course
You can find plenty of EMT courses by conducting an online search. Most courses require a four- to six-month commitment.
We offer three different EMT courses approved by the State of North Carolina and credentialed through the North Carolina Office of Emergency Medical Services. These courses can prepare you to pass your state or NREMT exam:
Hybrid Intensive 21-Day EMT: This course combines 11 days of virtual instructor-led training with 10 days of practical skill sessions at our campus in Wilmington, North Carolina. Students will also complete 25–30 hours of pre-course training before beginning virtual instruction. A hybrid course allows for independent study prior to the hands-on section of the training.
Standard Intensive EMT: This 21-day, in-person, intensive course prepares you to pass your state or NREMT exam. This course is taught by our experienced instructors on the NCOAE campus in Wilmington, NC.
Advanced EMT (Bridge): Our Intensive 23-Day Advanced EMT (Bridge) training (A-EMT) gives you the skills to become the critical link from the scene to the emergency health care system. The A-EMT Program is for EMTs who want to further develop their skills in acute management and transportation of critical and emergent patients through advanced life support techniques. This course is taught by our experienced instructors on the NCOAE campus in Wilmington, N.C.
For additional details about these courses and our current course schedule, visit our Emergency Medicine training page. Passing an EMT course is an important step in getting authorized to take your EMT exam.
Step 3: Take your NREMT exam or state exam
Once you've passed your EMT course, you will be eligible to take your state or NREMT exam. Students travel from all across the country to take our course, so they usually choose to take the NREMT exam. However, the decision of which exam to take is up to you. Some states do not offer their own exam and will simply require you to take the NREMT exam.
Step 4: Get licensed in your state
If you choose to take the NREMT exam, you will need to use this credential to become licensed in your state. This process may be called reciprocity or legal recognition depending on your state. Simply put, this means your state legally recognizes that you have the skills and knowledge to function as an EMT based on the results of the EMT exam you passed.
If you take a state-specific exam, passing the exam typically initiates the process for you to become licensed in that state.
Step 5: Land the right job
EMTs can serve in a variety of positions in various organizations, including the following:
Hospital EMT
Firefighter
Search and rescue
Private patient transportation services
Park services
Entertainment venues, such as at concerts or amusement parks or on cruise ships
Industrial medic
Offshore medic (working on an oil rig)
Emergency dispatcher
Emergency room technician (ERT)
EMT training programs, such as those offered by us, provide specifically tailored medical skills for urban, remote, and wilderness settings. Upon completing one of our courses, you will be prepared to pursue a successful career as an EMT in any of these settings.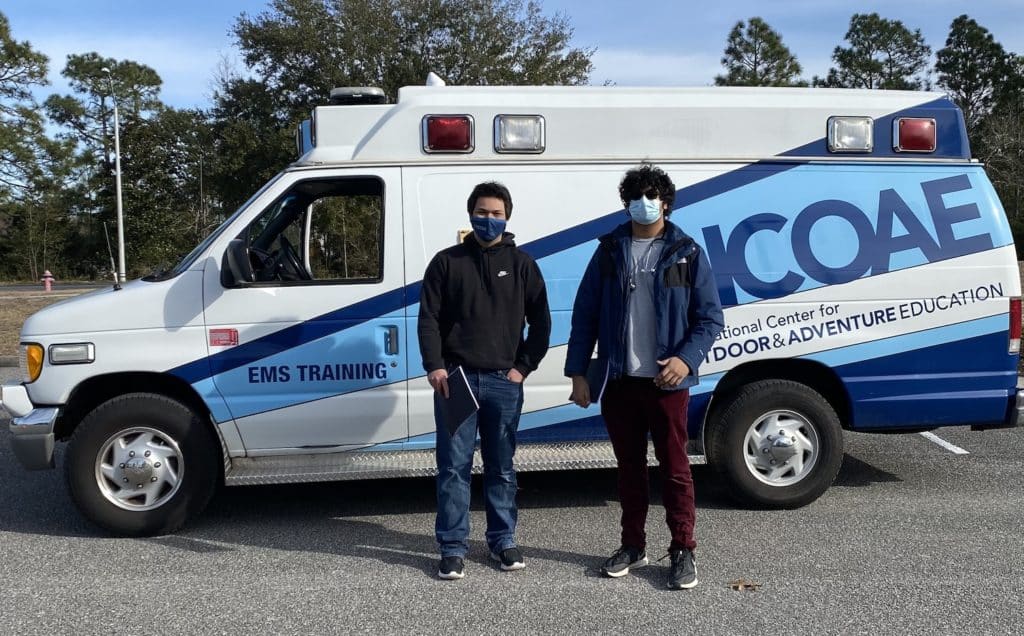 Regardless of the EMT career you envision for yourself at this stage, we encourage you to consider the broad range of opportunities available to you as a certified EMT. The knowledge and skillset you develop during training and in the field are highly marketable and transferrable. When you have the education and experience, you can easily seek to become licensed and start working as an EMT wherever life and your interests lead you.
TALK TO US
Have any further questions about our courses, what you'll learn, or what else to expect? Contact us, we're here to help!