A little more than three decades ago, two educators and researchers from Canada partnered with the Association for Experiential Education (AEE) on a groundbreaking book titled Safety Practices in Adventure Programming.
Simon Priest, Ph.D., and Tim Dixon, M.Ed., regarded at the time as among only a handful of leading experts in outdoor adventure education and leadership, penned what some argue was the first widely-published best practices for the outdoor education and adventure programming industry.
Known as the Red Book, due to its bright red cover, their work coincided with AEE's foray into accreditation, inspiring outdoor education program administrators across the globe to adopt common approaches to the safety and well-being of their clients and staff while facilitating adventure-based programs.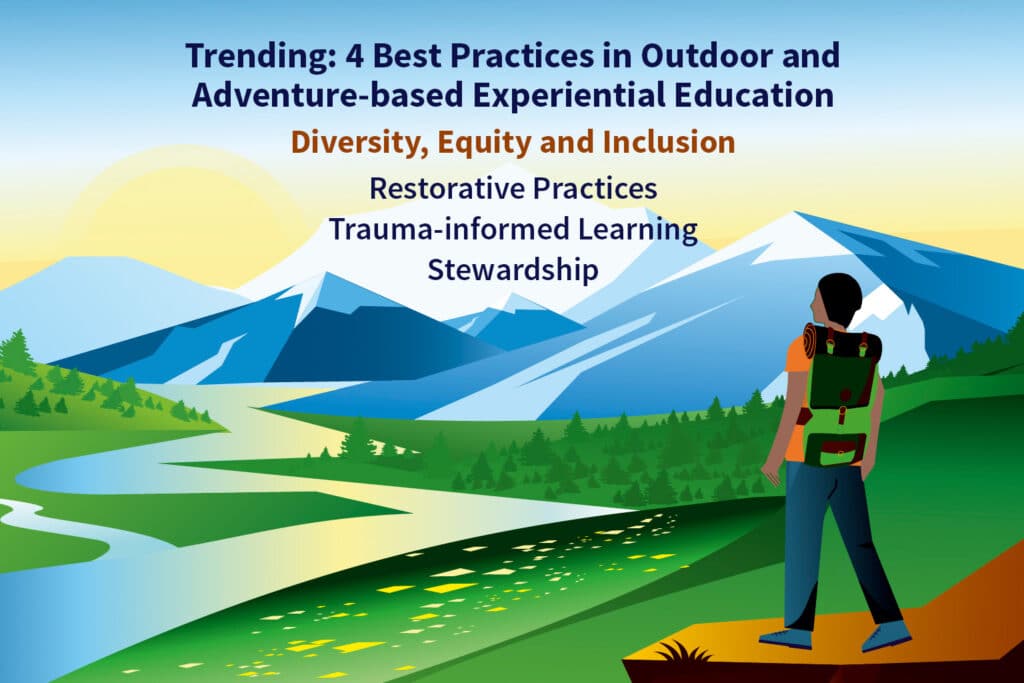 And while it likely isn't fair to suggest that best practices didn't exist within our sector of the outdoor industry before Priest and Dixon's Red Book, the publication of that forward-looking guidance saw the rapid adoption of such practices for our sector like no other. Fast-forward 33 years, and we find most all outdoor education or adventure-based programming operations pay close attention to best practices in the realm of safety and risk management.
In today's post, I'm pleased to call attention to four areas with associated best practices for which all outdoor educators and adventure-based organizations should be aware. After hearing from college and university outdoor program managers, organizational leaders, and by performing research of our own, four themes rise to the top as trends and best practices in outdoor education and adventure programming to follow over the next year:
Diversity, equity and inclusion (DEI): A framework for creating an inclusive workplace or community that values and leverages the unique perspectives and experiences of all individuals, and works to eliminate systemic barriers that may prevent equal opportunity and advancement.
Restorative practices: A set of principles and practices that prioritize repairing harm and restoring relationships in educational communities — practices based on the idea that when harm is done, it is important to focus on the needs of the individuals affected, and work collaboratively to address the harm, rather than simply imposing punishment.
Trauma-informed learning: An approach to education that acknowledges and responds to the impact of trauma on students — an approach that recognizes students who have experienced trauma may struggle with a variety of issues, including anxiety, hyper-vigilance, difficulty with trust and relationships, and difficulties with concentration and memory.
Stewardship: The careful and responsible management of something entrusted to one's care. In our case, that includes our students, clients, partners, and the beautiful and wild locations in which we work.
Here at The National Center for Outdoor & Adventure Education (NCOAE), we often conduct anecdotal research and write about topics like this in order to see where we might be missing important work, where we are strong, and how we can tie our work to what is happening beyond our own four walls.
The four areas of focus above should not come as a surprise to anyone who regularly seeks information about societal trends and where our sector of the outdoor industry might be headed.
The question now becomes this: How does our industry synthesize these trends to design and deliver even more relevant and powerful experiences for our students and clients. At NCOAE, we're mission- and values-driven, which means it takes a certain amount of time to bring the pieces of the puzzle together to design a clear path forward. Everything we consider doing is first run through three filters that include our mission statement, our core values, and the NCOAE educational framework.
Take for instance an intentional effort to address and account for diversity, equity, and inclusion in the outdoor education and adventure-based programming here at NCOAE. While we have a statement about DEI on our website, and all of our staff is trained to understand and support our DEI efforts, there's always room for advancement in our thinking and approach. For example, diversity, equity, and inclusion in outdoor and adventure-based experiential education can have a number of benefits, such as:
Increased cultural awareness and sensitivity: By including diverse participants and staff in outdoor and adventure-based experiential education programs, participants can gain a greater understanding of different cultures, perspectives, and experiences, and develop greater cultural sensitivity.
Promotion of equity: Outdoor and adventure-based experiential education programs can help to promote equity by providing opportunities for students and others from marginalized and underrepresented communities to participate in activities to which they otherwise may not have access.
Development of inclusive leadership skills: Through participation in outdoor and adventure-based experiential education programs that emphasize DEI principles, participants can develop inclusive leadership skills that are applicable in a wide range of settings.
Enhanced teamwork and communication: By working with diverse individuals in outdoor- and adventure-based experiential education settings, participants can develop enhanced teamwork and communication skills, which can translate to greater success in academic, professional, community, and personal settings.
Increased environmental stewardship: By promoting diversity, equity, and inclusion in outdoor and adventure-based experiential education, participants can develop a greater appreciation for the natural world and become more effective environmental stewards.
By consistent consideration of the emergence of DEI — including opposition to it by some state's governors, legislators, and even local school boards — we can determine for ourselves if integrating DEI principles into our outdoor and adventure-based experiential education programs can lead to more inclusive and equitable experiences for all participants and can help to promote positive personal and social development in a variety of areas.
At NCOAE, while we may be ahead of the curve on this particular best practice, we can always improve or be supportive of others in the industry who are looking for guidance and support for DEI initiatives of their own.
In my next post on this topic, I'll dive into the second the of the four emerging best practices — restorative practices.
– – – – – – – –
About the Author: Stephen Mullaney is the Director of School Partnerships at The National Center for Outdoor & Adventure Education (NCOAE). He has worked domestically and internationally with schools, organizations and wilderness programs. His classrooms have ranged from dilapidated trailers at overcrowded, underfunded schools to the Himalayan mountains and everything imaginable in between. His past students include gang members/prisoners, education majors, college and university professors, and pioneers in the field of outdoor and adventure-based experiential education. Stephen's philosophy is to focus on the development of positive working and learning environments. He brings more than a quarter of a century of education experience and understanding of human nature to any organization, whether it is an education institution or a private company. His writing has appeared in adventure sports/education journals, magazines and on the web. Stephen prefers to arrive by bicycle and sit in the dirt.
TALK TO US
Have any further questions about our courses, what you'll learn, or what else to expect? Contact us, we're here to help!