Why We Need Trauma-Informed Learning
Time warp yourself back to early-February of 2020. We were a month into a new decade when news broke that the U.S. Department of Homeland Security had directed all flights from China be routed through one of 11 airports in the United States for enhanced screening procedures and possible quarantine.
A few months later, just as our nation's students were preparing to end another school year, our country found itself in virtual lockdown.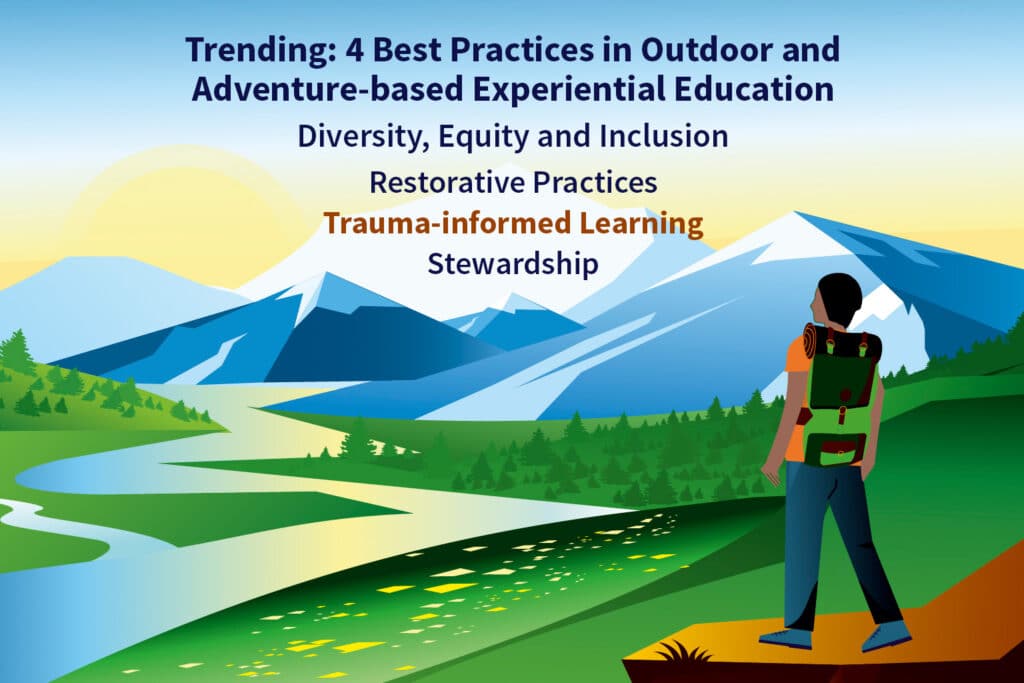 While students of all ages may experience loneliness, anxiousness, and uncertainty, the global health pandemic caused by the virus named "SARS-CoV-2" and the disease it causes — COVID-19 — had an unequivocal impact on school-age youth.
From extreme levels of disengagement and isolation to the loss of school-based nutrition and healthcare programs, we've only recently begun to understand how bad it really was. As more children fall behind in terms of social and academic development, the more serious the case for trauma-informed learning and trauma-informed practices in education.
But First, What is Trauma-Informed Learning?
If you're unfamiliar with the terms, trauma-informed learning is an approach to education that recognizes the impact of trauma on students' ability to learn, and seeks to create a safe, supportive learning environment that fosters resilience and healing. It is considered a holistic approach to education that benefits all students by creating an environment that promotes emotional and social well-being, reduces stress and anxiety, and fosters a sense of connection and belonging among all students.
Trauma-informed practices (TIPs) refer to a framework for teaching and learning that considers the impact of trauma on student education and behavior. TIPs recognize that some students experience trauma, such as abuse, neglect, violence, or loss, as well as in our example above — which is the trauma associated with school closures and virtual learning. These experiences affect academic achievement, emotional well-being, and the ability to properly develop through healthy social interaction. 
By incorporating TIPs into their educational framework, school systems and educators can foster a safe and supportive learning environment that helps students academically succeed in school and heal from their trauma.
In this post — the latest in our Trending series — we introduce you to trauma-informed practices (which are informed by trauma-based learning) and share how they're incorporated in the outdoor education programming here at NCOAE. Previous posts in this series have covered the emergence of Restorative Practices in Outdoor Education, and the role of Diversity, Equity, and Inclusion (DEI) in Outdoor Ed.
Example of How to Implement Trauma-informed Practices in Outdoor Education
Many children and young adults have found themselves in situations surrounded by domestic violence, food uncertainty, and chronic homelessness. For those affected by these and other issues, school was the place that felt safe and broke the cycle of emotional darkness. And when the health pandemic hit, no one it seemed was spared.
That's where outdoor and experiential education come into focus. When incorporating trauma-informed practices into educational experiences that occur in the wilderness, educators are better able to foster and facilitate safe and supportive environments for students to explore and learn. From relationship building, providing structure and predictability, and offering agency and choice, to fostering a sense of safety and connection with nature, and incorporating approaches that support mindfulness and self-regulation, TIPs are more useful now than ever before. Explore the different ways this is learned in outdoor-based experiential education:
Relationship Building:
Trauma-informed practices (TIPs) emphasize the importance of building positive relationships with students. In outdoor and adventure-based education, this can involve taking the time to get to know each student, understanding their individual needs and experiences, and providing opportunities for students to build trust and connection with each other. At NCOAE, this has always been our practice. Our "expedition mentality" accounts for an intentional student enrollment and intake process that leads to the trauma-formed facilitation of each student's individual experience, placing TIPs at the forefront of the experience we deliver.
Providing structure and predictability:
While risk is inherent in the backcountry, and calculated risks are offered to participants in outdoor education experiences as part of the curriculum, operating with TIPs emphasize the importance of providing structure and predictability for students who have experienced trauma. Here at NCOAE, this may involve establishing clear expectations for behavior, providing some predictable routines and schedules, and ensuring that students have a clear understanding of what to expect during each activity that takes place in the backcountry.
Offering choice and agency:
TIPs emphasize the importance of providing students with choice and agency in their learning. At NCOAE, this may involve offering students choices in the types of activities in which they participate, and the pace at which they move through the environment. Providing opportunities for students to make decisions and take on leadership roles help build an individual's sense of agency and self-efficacy.
Incorporating mindfulness and self-regulation strategies:
TIPs emphasize the importance of teaching mindfulness and self-regulation strategies to manage student emotions and behaviors. At NCOAE, this is most readily apparent during a core practice of ours that we call Summit — a daily forum for processing and reflecting on each day's activities.
Fostering a sense of safety and connection with nature:
TIPs emphasize the importance of creating a sense of safety for students who have experienced trauma. At NCOAE, this inherently involves our approach to risk management and site management. Both of these create a safe and supportive backcountry experience, including establishing supportive boundaries and providing opportunities for students to connect with the natural environment through safe hands-on experiences.
Trauma-Informed Learning at NCOAE
At NCOAE, our field instructors and guides are trained not only to help every participant thrive in wild environments, but to also ensure students return home emotionally equipped to lead themselves and positively influence their communities. The intentional use of trauma-informed practices levels the playing field for all outdoor education and adventure programming participants by accounting for physical and emotional safety, trust and transparency, healthy peer-to-peer interaction, and a respect for diversity.
—————
About the Author: Stephen Mullaney is the Director of School Partnerships at The National Center for Outdoor & Adventure Education (NCOAE). He has worked domestically and internationally with schools, organizations and wilderness programs. His classrooms have ranged from dilapidated trailers at overcrowded, underfunded schools to the Himalayan mountains and everything imaginable in between. His past students include gang members/prisoners, education majors, college and university professors, and pioneers in the field of outdoor and adventure-based experiential education. Stephen's philosophy is to focus on the development of positive working and learning environments. He brings more than a quarter of a century of education experience and understanding of human nature to any organization, whether it is an education institution or a private company. His writings have appeared in adventure sports/education journals, magazines and on the web. Stephen prefers to arrive by bicycle and sit in the dirt.
TALK TO US
Have any further questions about our courses, what you'll learn, or what else to expect? Contact us, we're here to help!