Blog
EMT Training
Jump Start Your Outdoor Education or Emergency Medicine Career with EMT Training
For those of us who work in the fields of outdoor and adventure-based experiential education and/or emergency medicine, the importance of professional medical training cannot be dismissed as merely "class time."
While it's true EMT training and certification may not be a requirement for many backcountry jobs or outdoor education positions, possessing certification for EMT qualifications far outweighs the Wilderness First Responder (WFR) certification, especially when it comes to landing your first or next job within this specialized field of ours.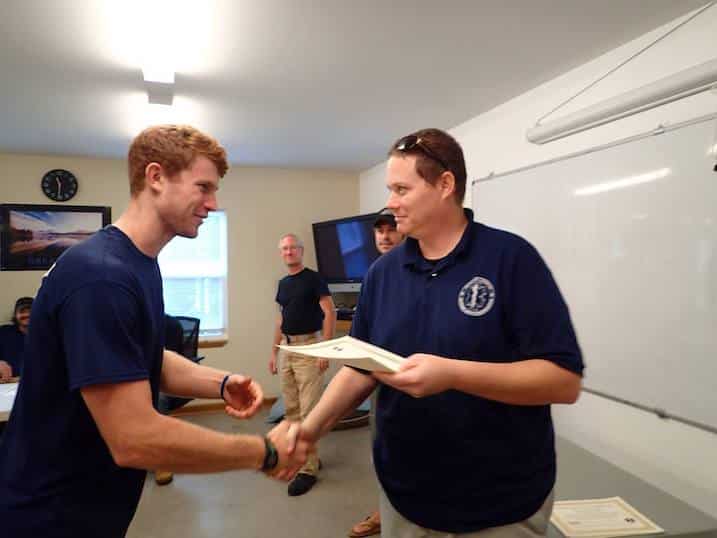 Our certified EMS instructors are among the best in the industry and include veteran wilderness guides, EMT paramedics, firefighters, military operations specialists, and experts in critical care management. These educators provide expert instruction and personalized training that can ensure your EMT training meets and exceeds the high expectations all employers have for someone carrying such a designation.
Why You Should Consider the EMT Option
With EMT credentials in hand, our graduates have door-opening opportunities in a number of areas, including jobs in outdoor and adventure- -based education, the military, police and fire, hospitals, ambulance services, private medical services, and even film sets and sporting venues, where EMTs must be on hand in case of accidents or injuries.
Many of our EMT training graduates now working for police or fire departments receive the same benefits as firemen and policemen — including pensions. Job growth in the emergency medicine sector, according to the Bureau of Labor Statistics, projects a 15 percent or greater increase by 2024, with states like Virginia enjoying a 47.5 percent growth in the field. Such job expansion is significantly faster than the average in the United States.
Medical Training Options through NCOAE
Here at The National Center for Outdoor & Adventure Education (NCOAE), our medical training courses run the gamut, from the basic to the advanced:
The last two options — the intensive EMT trainings — both feature studies of patient assessment, the principles of pharmacology, BLS resuscitation, and include real-word ambulance ride-alongs.
In addition, we provide classes in assessing and providing emergency care for cardiac and respiratory conditions as well as trauma victims. That training – along with many other topics during our EMT courses – help students develop new skills and knowledge that is essential when taking exams (and also shows evidence of hands-on experience, which most employers these days are actively seeking).
Getting to Know the 19-Day Option
By far, our premiere EMT training program is a 19-day Intensive EMT course that is approved by the State of North Carolina and credentialed through the North Carolina Office of Emergency Medical Services. This top-of-the-line training satisfies eligibility requirements for registering for the NREMT (National Registry of Emergency Medical Technicians) exam.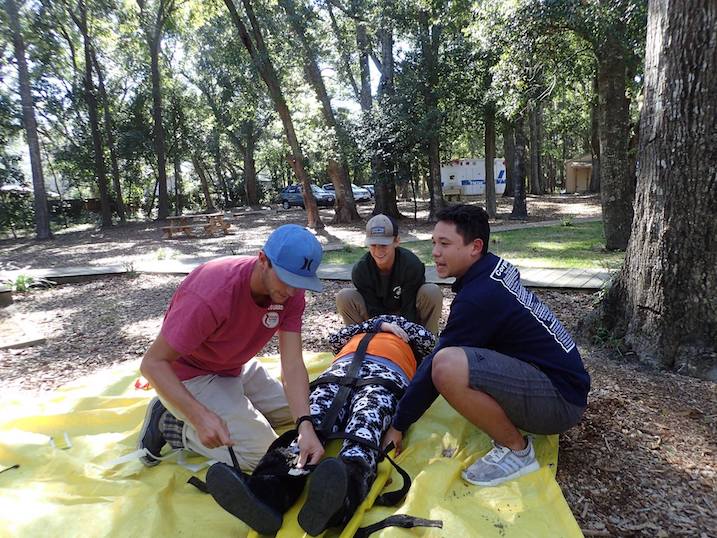 As you would expect, our EMT students meet all day for 19 days, with "down" time built in for connecting with fellow students, swapping notes and discussing a new skill set everyone now has in common.
This efficient and effective EMT training is taught by our professional instructors on the NCOAE campus in Wilmington. Classes meet all day Monday through Friday for 169 hours, with an additional 18 hours of clinical and field practice on Saturday or Sunday. Students completing the course also receive American Heart Association BLS Health Care Provider CPR certification, which is valid for two years.
Course topics include patient assessment, body systems, equipment improvisation, trauma, oxygen administration, automatic defibrillation, environmental medicine, and toxins.
Here is a brief itinerary of daily activities for our Intensive-EMT course:
Day 1-4: EMS, The Human Body, CPR for Health Care Providers, Principles of Pharmacology & Airway Management
Day 5-8: Patient Assessment System, Haz-Mat/Blood borne Pathogens, FEMA Training and Certification
Day 8-10: Shock, Medical Overview, Respiratory, Cardiovascular, Neurological, Gastrointestinal, Urologic, Gynecologic, Endocrine, and Hematologic Emergencies, Toxicology, and Psychiatric Emergencies
Day 11-12: Trauma, Soft-tissue Injuries, Face and Neck Injuries, Head and Spine Injuries, and Chest Injuries
Day 13-16: Ride-Alongs, Clinicals, Study Time, and Personal downtime
Day 17-19: Scope of Practice Review, Scope of Practice/Psychomotor Evaluation, and Final Exam
Additional EMT Training is Available
'Intensive' 23-Day Advanced EMT training (Bridge) (A-EMT): As we mention above, NCOAE also offers 'Intensive' 23-Day Advanced EMT training (Bridge) that results in being prepared to sit for and pass the A-EMT exam. This training gives students the skills to become the critical link from the scene of a medical emergency to the emergency health care system. The A-EMT Program includes advanced skills focused on the acute management and transportation of critical and emergent patients through advanced life support techniques.
Hybrid Wilderness EMT (Hybrid W+EMT): Our Hybrid Wilderness EMT training, which follows either the 23-day or 19-day EMT program, includes an in-depth and hands-on review of the essential medical foundation and skills necessary to successfully handle medical issues that occur in remote wilderness environments. This training — offered in conjunction with the Wilderness Medicine Training Center — allows our students to independently complete 30 to 50 hours of home study and testing prior to hands-on training at our Wilmington, NC, campus.
Learn more about each of the programs mentioned here by visiting the Medical Training section of our website, or call our headquarters in Wilmington, N.C., during East Coast business hours at — (910) 399-8090.
TALK TO US
Have any further questions about our courses, what you'll learn, or what else to expect? Contact us, we're here to help!