As seasonal hiring for outdoor educators draws to a close, we thought it'd be a good idea to share why it's so important that outdoor educators use LinkedIn.
If you're unfamiliar with LinkedIn, it's a professional networking website that allows its members to create and maintain online profiles with resume-like features, including job history, certifications, professional affiliations, recommendations from coworkers and previous employers, awards, educational history, and much more.
For employers, LinkedIn offers a place to post job openings and paid advertisements, and to search for potential employees. There's a lot more to the site than that, but for the purposes of today's post, that's what you need to know.
With about 300 million registered users, LinkedIn has become the default online tool for professional networking. In the United States alone, around 93 million people are using LinkedIn. So don't think for a minute that just because you work in outdoor education — where we're known for bucking trends and ignoring technology — that LinkedIn doesn't matter. Anytime a website attracts nearly 30 percent of the adult population, it matters!
Here at The National Center for Outdoor & Adventure Education, we're just as likely to search for an applicant's online profile as we are to call for references. In other words, we take this hiring thing pretty seriously, and if you don't have a LinkedIn profile, well, that just makes us question how serious a professional you are. Think about it: Just because we're hiring you to hike, climb, raft and guide doesn't mean you're not to be taken seriously.
So how should you use LinkedIn? For starters, you want to create and maintain as complete a profile on the site as possible. And since LinkedIn is free to use, there's no reason why your outdoor education work history shouldn't be on the site. In addition to completely filling out your profile, you should: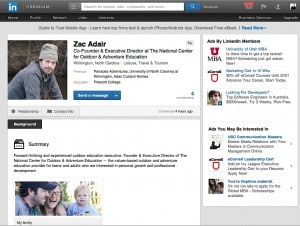 Connect with others on LinkedIn: LinkedIn offers a contact network that's made up of your direct connections, including people to whom you choose to connect your account, the connections of each of their connections (LinkedIn calls these "second-degree connections") and the connections of second-degree connections, which become your third-degree connections. All of these connections can be used to gain an introduction to a future employer or someone else you'd like to get to know for professional purposes.
Ask for recommendations on LinkedIn: A recommendation is a comment written by a LinkedIn member that recognizes or commends you and your work. Those of us who look at your profile are compelled to view the recommendations you've received — as well as to note when you haven't received a single one. The best recommendations come from people whom you've worked with and for, such as current and former managers, colleagues, co-workers and clients.
As hiring managers, we prefer to work with people who come highly recommended. And seeing as there aren't any limits to the number of recommendations you can request on LinkedIn, you should ask for as many recommendations as possible.
Share what you know and appreciate on LinkedIn: Similar to Facebook and Twitter, LinkedIn allows you to update your network with your latest thoughts and links to interesting content. Unlike Facebook and Twitter, you shouldn't use LinkedIn to post pictures of your cat or provide commentary about your personal life. LinkedIn's "Share an update" feature should only be used to share critical insights, professional resources and links to content related to your work. Remember who's looking at what you post — folks who are considering you for a job opening or are researching the company you work for!
While most outdoor educators and wilderness guides spend the bulk of their time in the backcountry, the bulk of our time — that is, those of us who interview and hire you — is spent in an office where we make decisions that could potentially involve your future all day long. If your professional profile isn't online and up-to-date on LinkedIn.com, you're not only missing out on opportunities to be found and recommended, you're also making our job as hiring managers more difficult, and that's probably not going to work in your favor.
To create a free Basic profile on LinkedIn, visit LinkedIn.com and fill in the info under the "Getting Started" section.
TALK TO US
Have any further questions about our courses, what you'll learn, or what else to expect? Contact us, we're here to help!