When the busy season for summer-based outdoor education programming winds down, many in the outdoor education community may have found themselves returning to other avocations and means to make a living. For those of us who remain in the field of education — albeit in a more traditional setting — we continue what we know to be "best practices" as teachers.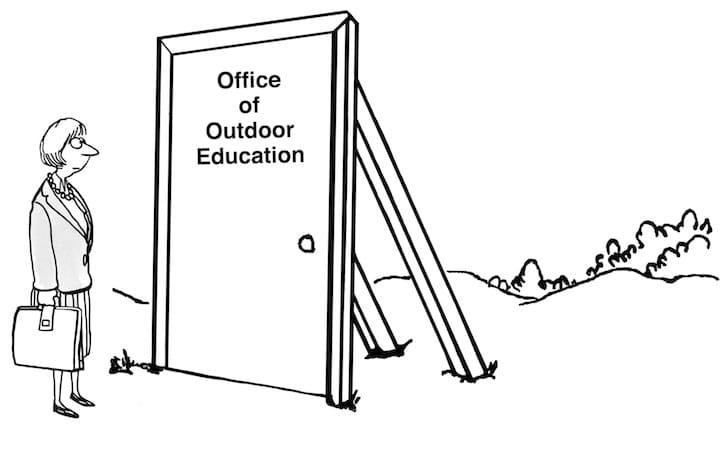 "Classroom" is not a word we're at all excited about. The hum of the fluorescent lights is like something out of a horror movie. And the designs of the windows seem to be lifted from a prison architect's plan book.
Students make it outdoors only for recess, and that depends entirely on how much the teacher enjoys the outdoors. Otherwise, teachers and students alike are stocked away inside most of the day. At some schools, the physical education teacher doesn't even take students outdoors.
All of this is a difficult reality for those of you who just spent three months each summer with students exploring wilderness and outdoor environs.
Experiential education, place-based learning, project-based learning, and adventure education — the list goes on and on. Schools use these terms to sell themselves. Read the descriptions published by public schools, charter schools and independent schools across the country and you'll see these words. However, a short stroll down the halls of these same schools should show you that what they're advertising and advocating might not be happening.
Just ask a few students what they're learning and how they are being taught and you might discover the real truth. There's very little that's "experiential" about the curriculum.
So what can we do? Maybe we should dismiss the trendy terms and programming. When educators hear the words "experiential ed," some immediately dismiss the concept, saying, "I don't camp or climb or kayak."
It's entirely possible that we've poisoned our techniques and programs by actually giving them titles. Names give people something to rally around — or more often than not, something to rally against.
With "best practices" we emphasize what is best for the students learning in the present and how they will learn and lead in the future. If you look at the 21st Century Learning Skills as outlined in The Common Core Standards, you'll see that what students move toward in the wilderness setting is what students are supposed to be getting in the traditional settings as well.
Here are some tips for teaching without walls while in a traditional classroom setting:
Use Common Core 21st Century Learning skills to plan for your subject area. See link above to look at specific course areas.
Teach across curriculums and not just in the vacuum of one subject area.

By doing this you build allies in other course areas because you are supporting diverse learning.

Start planning with expeditions in mind.

At least once a month, head outside to plan and facilitate activities that support your area of study.

Use resources such as "Journey Toward the Caring Classroom 2nd Edition: Using Adventure to Create Community" and ResponsiveClassroom.org to support student growth and to support your planning when administrators or grade-level chairs ask questions about your techniques.
Spend time "setting the stage" of expectations so students are successful.

Student success depends on approvals from those who hold power in the school.

Lead by example, offer to help others step out of their comfort zones, make it look like collaboration (a 21st Century learning skill).
If you are a parent and you want to see your students get out of the box (classroom), here are some clues:
Start by asking the teachers how they are planning on expanding your child's learning needs beyond paper and pencil, standardized tests and scripted curriculum.
Find other parents who support going beyond the walls. A PTA meeting might be the next step.
Speak with administrators about how to create outdoor learning spaces and curriculums that will help the school stand out as a "thought leader."
If all else fails, ask about the school's policy on educational field trips or "home school days." Sign your child out early or take a day off for some real outdoor education.
If you haven't heard the expression, "You can only eat a whale by taking small bites," it means that teaching or raising children in a "traditional school setting" requires you to focus on small victories in your efforts to achieve positive outcomes.
If you would like more tips, information or workshops on how to implement "best practices" in outdoor and adventure education in schools, contact NCOAE and let us guide you in the right direction.
– – – – – – –
About the Author: Stephen Mullaney is the staff development director at The National Center for Outdoor & Adventure Education (NCOAE) in Wilmington, N.C., where he is responsible for the training and education of NCOAE's field instructors. He is a member of the North Carolina Association of Educators (NCAE) and has taught within the Durham, N.C., public school system. Stephen received his undergraduate degree in English from Framingham State University, and an independent, alternative Masters in Education.
TALK TO US
Have any further questions about our courses, what you'll learn, or what else to expect? Contact us, we're here to help!