Applicants to our nationally renowned EMT training courses often ask us if they can take
their new EMT credentials to the state where they live, and the answer is mostly yes.
The National Center for Outdoor and Adventure Education's (NCOAE) campus is
located in North Carolina, where we offer 21-day "Intensive" EMT-Basic and 23-day
"Intensive" Advanced EMT training courses among others. Successful completion of
these courses authorize our graduates to take the National Registry of Emergency
Medical Technicians (NREMT) exam.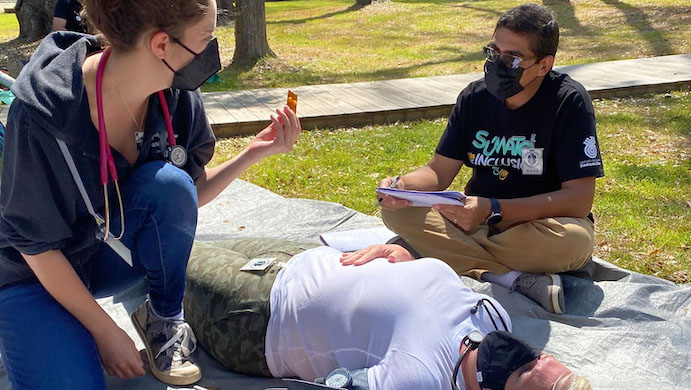 National Registry Certification examinations evaluate the competence of EMS
practitioners at a variety of levels, including Emergency Medical Responder (EMR),
Emergency Medical Technician (EMT), Advanced Emergency Medical Technician
(AEMT), and Paramedic.
NREMT credentials are either required for an initial license or accepted for legal
recognition or reciprocity in all 50 states and Puerto Rico. That makes it easier to
maintain
your credentials even if you relocate or want to take an EMT training course
outside of the state where you live and work.
Pro Tip: To see if your state has additional requirements, see the State EMS Agency Map from the NREMT.
We always suggest contacting your state's EMS office to confirm their processes and
requirements. To learn more about your specific state's requirements, you can download
and read our EMT Certification Reciprocity for all 50 States, the District of
Columbia, Puerto Rico, the U.S. Virgin Islands, and Guam PDF document, or
conduct an online search for the name of your state followed by "office of EMS" to find
your state's EMS website and/or contact information.
When you do this for Ohio, you'll see that the Buckeye State's approach to reciprocity
resulted in a policy of recognizing both NREMT and other state certifications — with no
additional testing required. In Ohio, a verification form is used to determine if additional
course work is needed to meet that state's curriculum requirements.
In the case of Colorado, the Centennial State doesn't have a reciprocity process for EMS
providers. All first-time applicants must be registered with the NREMT at the level they
intend to practice. Another state's EMS provider license or certification does not allow
you to practice in Colorado.
No matter the state, you can be assured that our staff will help guide you through the
process of getting set up to take the NREMT and understand your state's reciprocity
requirements. Upon completion of an NCOAE EMT training course, you will receive an
"Authorization-to-Test" for the NREMT, and you can take the exam at a Pearson Vue
testing center closest to your home.
Pearson Vue testing centers all over the country. You can find one nearest your home by
clicking here.
After you successfully pass the NREMT and receive your credentials, you can apply to
become licensed in your home state, whether that's through initial licensure, legal
recognition or reciprocity.
Learn more about our EMT training programs using the links below:
While this post should answer most questions about EMT training in one state being
accepted by another state, we understand if you're still confused or have additional or
follow-up questions. If that's the case, please feel free to call our office for additional
support. Whether you choose to be trained by us or another organization, we're here to
help.
TALK TO US
Have any further questions about our courses, what you'll learn, or what else to expect? Contact us, we're here to help!