NCOAE Curriculum
In Part 1 of this series, we told you about the unique curriculum offered here at The National Center for Outdoor & Adventure Education (NCOAE) and the fact that its focus is much more than just developing outdoor skills for our students and adult course participants.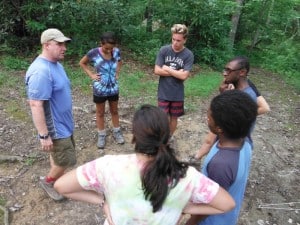 In addition to teaching how to best use nimble feet and hands to ascend a rock face, or selecting the best route around a car-sized boulder in the middle of a fast-moving river, we also like to put the educational emphasis on humanism. And empathy. And self-analysis. To encompass these traits entails mastering the skills of leading, listening and learning.
So, for this — the second installation in our series of blog posts about the NCOAE curriculum — we begin to delve into each one of our 11 Ed Group topics. And we're going to do that in depth. In fact, we're going to cover these topics three at a time. That way, we can take our time, explain the topics, and not overwhelm anyone.
As a refresher, at NCOAE, "Ed Group" is short for Educational Group. Our wilderness programs expose course participants to a core curriculum built upon Self, Community, Action and Impact. We factor in 11 topics to be addressed during the daily Ed Groups, and these same 11 topics are revisited for reflection during evening Process Groups (known as "The Summit"). We also have Feelings Check Ins regularly. Each day — sometimes multiple times a day — we have the group circle up for a quick  'Feelings Check In', which in one or two words describes how one feels. For example, we typically have one Feelings Check In before starting an activity such as hiking or climbing.
Feelings Identification: Accurately identify our feelings is the foundation on which our curriculum is built upon. During the Feeling Identification group we establish a list of feeling words in order to have productive expression of feelings in the future. The long-term objective here is for folks to instinctively identify primary rather than secondary emotions. Here at NCOAE, we find that distinguishing between primary and secondary emotions is helpful when trying to resolve conflict, communicate personal needs, or manage risks. Here is the skinny on the two:
Imagine the layers of an onion. The inside is the core, where you often find the harder to pinpoint feelings such as (more…)
Continue Reading
TALK TO US
Have any further questions about our courses, what you'll learn, or what else to expect? Contact us, we're here to help!